A country spring onion and chive breading
I became aware of the breading recipe in The Zuni Cafe Cookbook when a friend baked a nice double version of it years ago in an oversized AGA Dutch oven and served it at a dinner party. It was the stunning centerpiece of a meal, flanked by a gorgeous wintergreen + chicory salad and gem-colored glasses of wine. The combination of bubbly bread cubes and caramelized onions that melt silky with melted cheese threads is knee-flexing. It's the perfect example of a short list of the simplest ingredients that add up to something much more than the sum of their parts.
I've baked variations of this breading over the past few years and it never disappoints. It's endlessly customizable, which means you can add seasonal ingredients as you wish. In my case, for example, I make a vegetarian version by switching the broth, and I like my onions on the caramelized side of the spectrum. I'll add whatever sauteed veggies or roasted veggies I have around. Judy also listed a number of ideas and variations in the cookbook, so if you have (and you should!) Your original had Swiss chard. I use a lot of spring onions in mine. In short, it's one of those IYKYK recipes. Molly Wizenberg already knew what was going on in 2005 when she wrote about the recipe for Judy breading.
I'll dive in here and answer a number of questions that might come up. The ingredients list for this breading couldn't be simpler, but the devil is in the details and personal preference.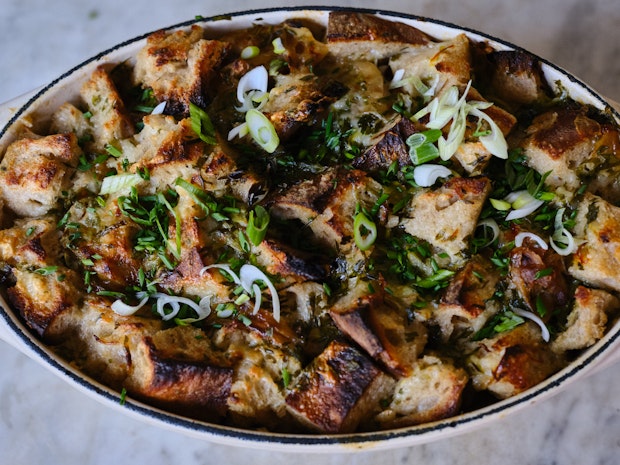 What kind of bread for this breading?
The short answer is a good, chewy sourdough bread. That said, I'll also argue that a lot of this is personal preference. If you are baking sourdough at home, be sure to use this one. Either of these options will likely result in a nicely textured breading, with a nice distinction between some of the components. The bread selection is so important to this recipe that each one will have a huge impact on your end result. I learned the hard way when I used a more commercial sourdough bread to make the breading one night – much finer crumb, less / no chewiness, and I suspect it was 100% all-purpose flour. The resulting breading collapsed too far into an unstructured slump. You want the bread to take a fight and hold a little tension. Don't go to a pulp.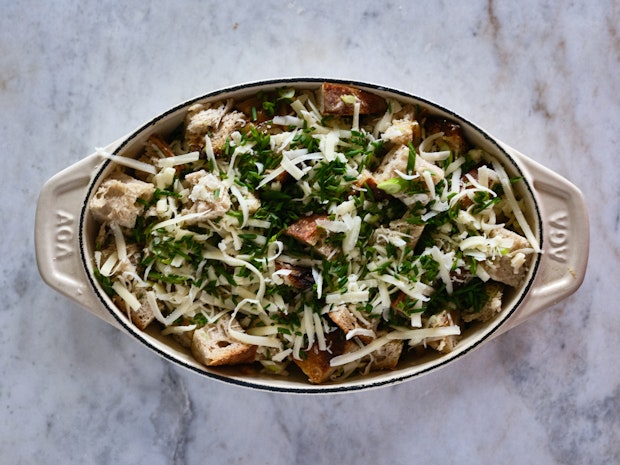 Crust or no crust?
There are arguments for both. The breading here kept the crust on the bread cubes. But I've made crustless versions before. If you decide you love super slimy, silky breading, go crustless. If you want your breading to have more structure, keep your crust. Or go 50/50!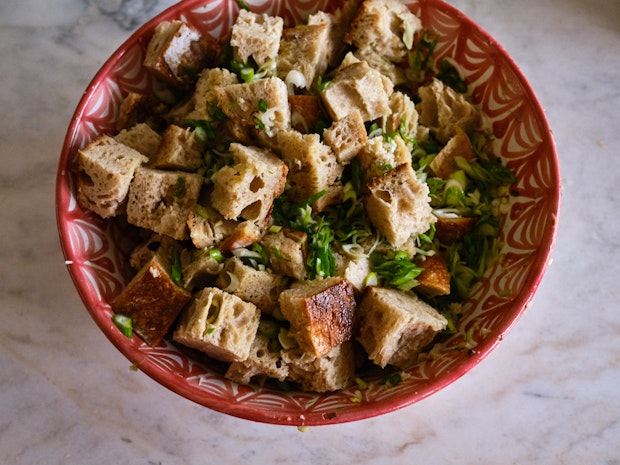 What is the best broth for breading?
We tend to use any great tasting broth that we have around or in the freezer (thaw). I love a herbal broth for this spring onion and chive version, but if you're in a pinch, grab a stock cube or two and go from there. Judy uses a chicken broth (which doesn't work for vegetarians) in her recipe, but I've had great results with mushroom broth and corn broth along with breaded toasted cherry tomatoes and goat cheese. I even used spicy bean broth.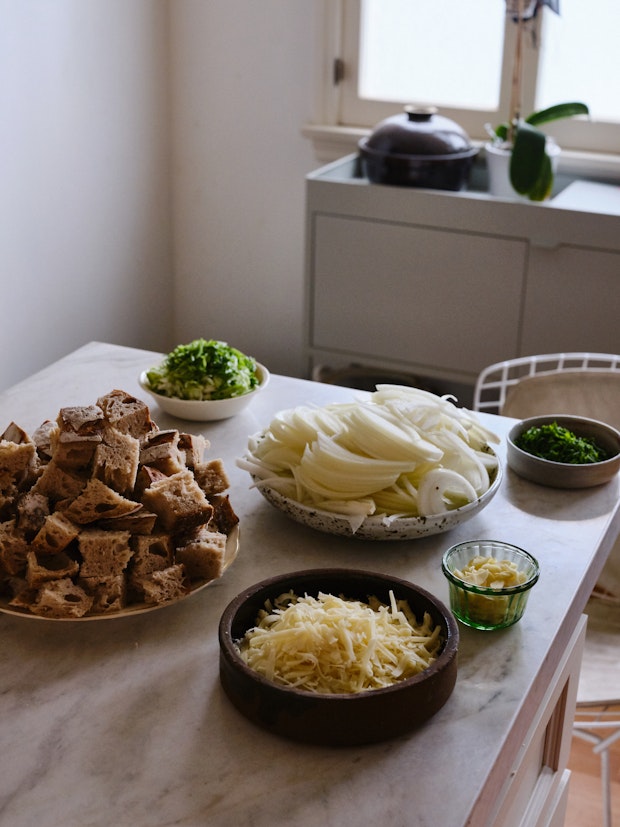 Can I use different types of cheese in this breading?
You can! I call for Gruyère, but mention in the top note that one of my favorite versions was a mix of Gruyère, Parmesan and Pecorino cheese. I prefer slightly assertive cheeses for the breading, at least some of which is cheese that oozes when melted. For example, I wouldn't go for a mozzarella – it's too mild.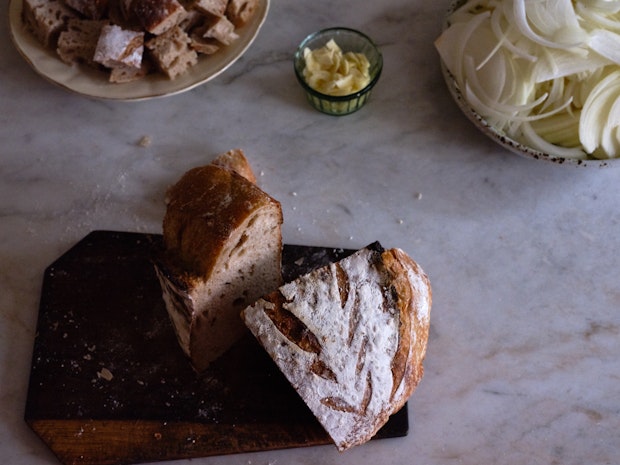 Can I do this early?
I often make the caramelized onions in advance. And then any other fillings that I might be able to pre-roast.
Soups against dry panades
This is also a personal preference. After baking breading once or twice you will get a feel for which style you prefer. You can go the soup route by adding more broth. Or lean more towards a more filling atmosphere with less broth. The recipe below aims to hit the point where the breading transitions from a filling-like texture to more silky magic that's not in the soup yet.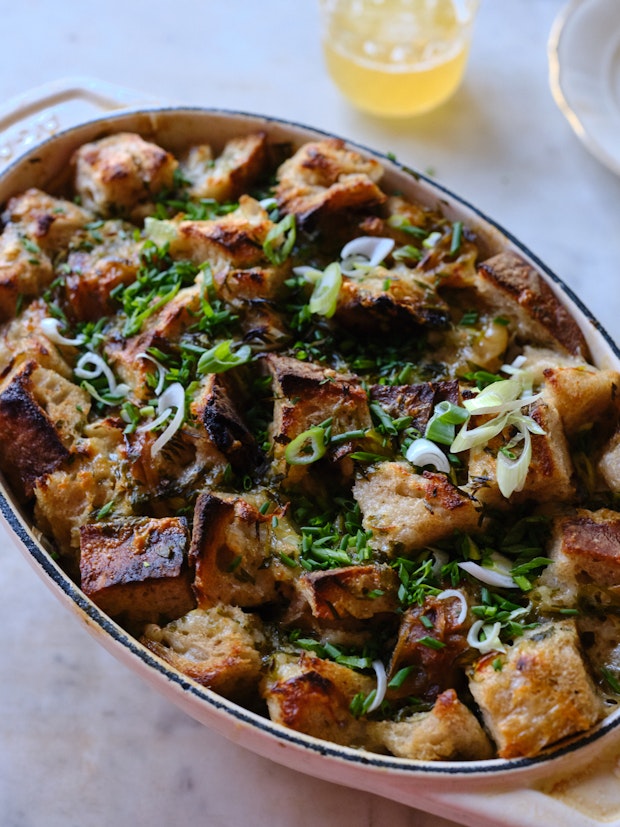 This recipe is a warming hearty winter warmer. It looks so rustic, but the smoothness in the depth is incredibly surprising. It's the ultimate comfort dish that I hope you enjoy as much as I have over the years. Thanks to Jamie & Chanda & Bonni for our SF breading dinner, we miss you (and you) so much!
MY NEWSLETTER + EBOOK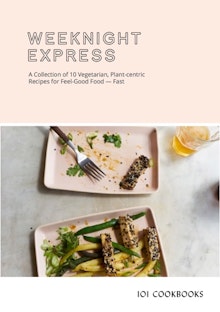 Sign up for my weekly ad-free newsletter, with recipes, inspiration, what I'm reading / watching / shopping.
(You will receive a link for a free PDF e-book with 10 recipes)