Air fryer "roasted" cauliflower
This website may contain affiliate links and advertisements so that we can provide you with recipes. Read my privacy policy.
Air Fryer Roasted Cauliflower is perfectly tender, crispy, and full of amazing flavors. You will love how easy it is to make this delicious side dish!
Air Fryer vegetables are the best, they are roasted to the perfect texture inside and out. From potatoes to broccoli to Brussels sprouts, these time-tested recipes will prove it to you.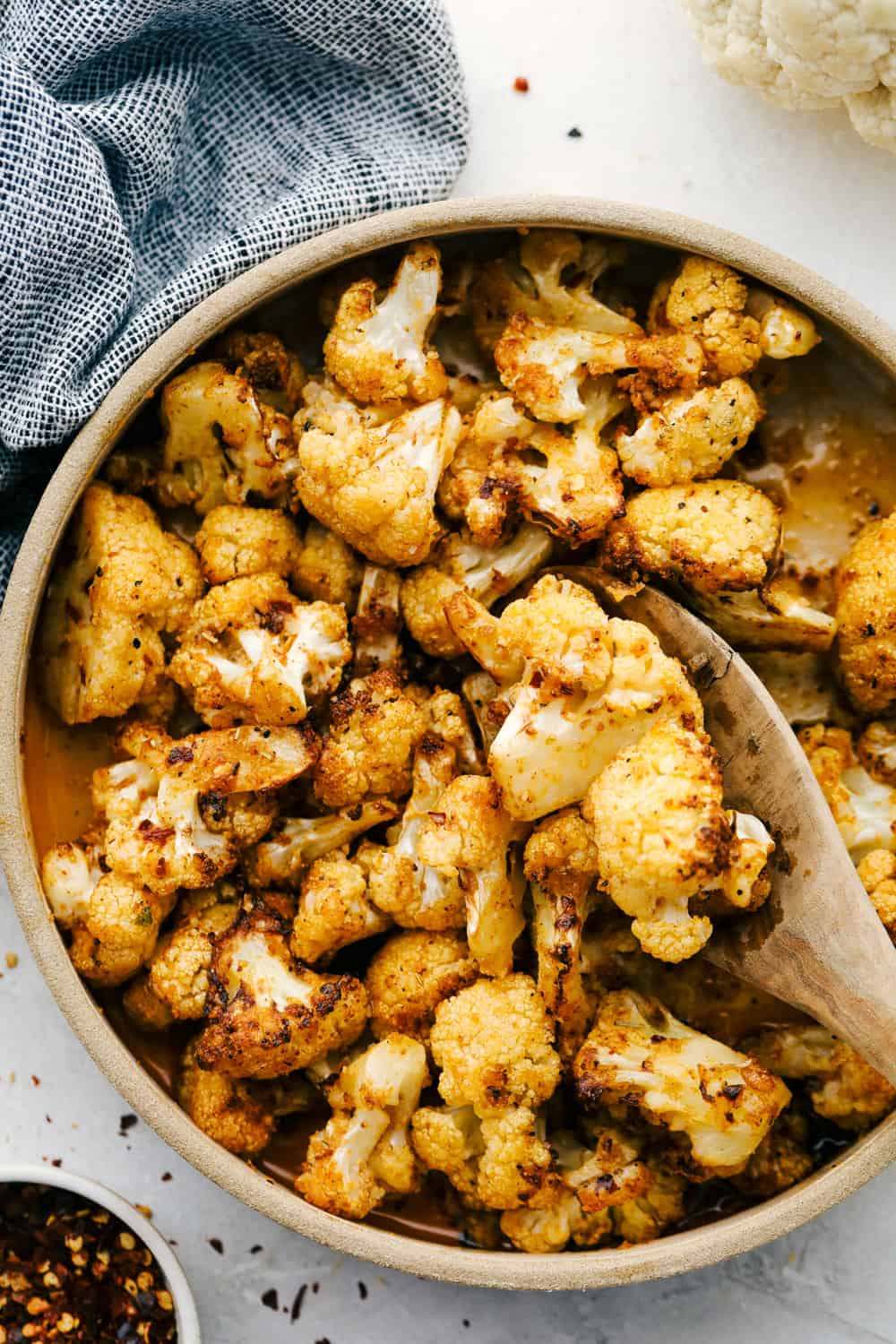 Air fryer cauliflower
I love my air fryer, it changes the way I make food and especially my vegetables. The air fryer makes them perfectly crispy on the outside and soft and tender on the inside without making them mushy. My family loves air fryer vegetables and this roasted cauliflower is no different. And if I can get my kids to eat more vegetables, that'll be a win in my book! This will be the perfect accompaniment to any meal.
The air fryer uses circulating air to "fry" the cauliflower. It's essentially a countertop convection oven. Use the air fryer to prepare your meals, clear the oven, don't heat the kitchen, and usually cook faster and healthier. The marinade in this cauliflower recipe is amazing. It really packs a punch, which is important when cooking with cauliflower. It doesn't have a lot of flavor on its own so you have to add it and that is what it did. You have to try this delicious recipe!
Ingredients for the best cauliflower
This cauliflower cauliflower will come together in no time. You will love how easy this recipe is.
Cauliflower: Wash and cut your cauliflower into bite-sized pieces.
Olive oil: If you want the cauliflower to be coated with oil, it will be crispier.
Parmesan cheese: For best results, use grated parmesan cheese.
Paprika: This will add some color and flavor to the cauliflower.
Garlic powder: You will love how using a powder gives you flavor without the chunks of garlic. It is delicious.
Crushed red pepper: This is optional. You can add as little or as much as you want
Salt and pepper: Add to taste
How to make roasted cauliflower in the air fryer
It couldn't be easier or faster. You will love to eat the results.
Chop: Cut the cauliflower into small pieces.
Sauce: In a small bowl, whisk together the olive oil, parmesan, paprika, garlic, crushed red pepper, and salt and pepper.
Mix: Throw the cauliflower into the mixture until it is evenly coated. Be gentle
Cook: Place in the air fryer basket at 390 degrees for 13-15 minutes or until crispy.
Tips for Easy Air Fryer Cauliflower
It's easy to get the cauliflower just right. However, you may need to double the batch as these go quickly.
Air Roast: Check your cauliflower halfway. You may need to shake the basket to turn the cauliflower. Check again at the minimum time to see if they're done or need extra time. Every air fryer is slightly different, so yours may take more or less time.
Don't overcrowd: If you need to cook it in batches, go for it. You don't want to overfill the cauliflower or it will steam instead of crispy.
Same size: Try to keep the cauliflower the size you cut it for for a more even roast.
Don't have an air fryer? You can roast cauliflower in the oven at 400 ° C for 20 minutes.
Variations for your cauliflower
This air fryer cauliflower recipe is super customizable, do it with the condiments and toppings you love.
Mexican: Use cumin, chilli powder, garlic, taco, or fajita spices for a flavorful touch.
ranch: Cover the cauliflower with ranch condiments, then serve with cheddar cheese and bacon crumbs.
Buffalo: After you've cooked the cauliflower, toss it in homemade buffalo sauce and blue cheese crumble.
Italian: Mix with olive oil, Italian spices, and garlic and Parmesan cheese for a delicious flavor.
Sauce dipping: Keep the cauliflower pretty neutral when seasoning, then serve with your favorite sauce, yum yum sauce, ranch dressing, or even pesto.
Storage of air fryer cauliflower
The key to great air fryer leftover cauliflower is to reheat it properly.
business: Keep cauliflower tightly closed in the refrigerator for up to 4 days.
Warm up: If you reheat them in the microwave, they will lose their crispness on the outside. Heat in the air fryer for 1-2 minutes, or until crispy and warm, or reheat on the stove for best results.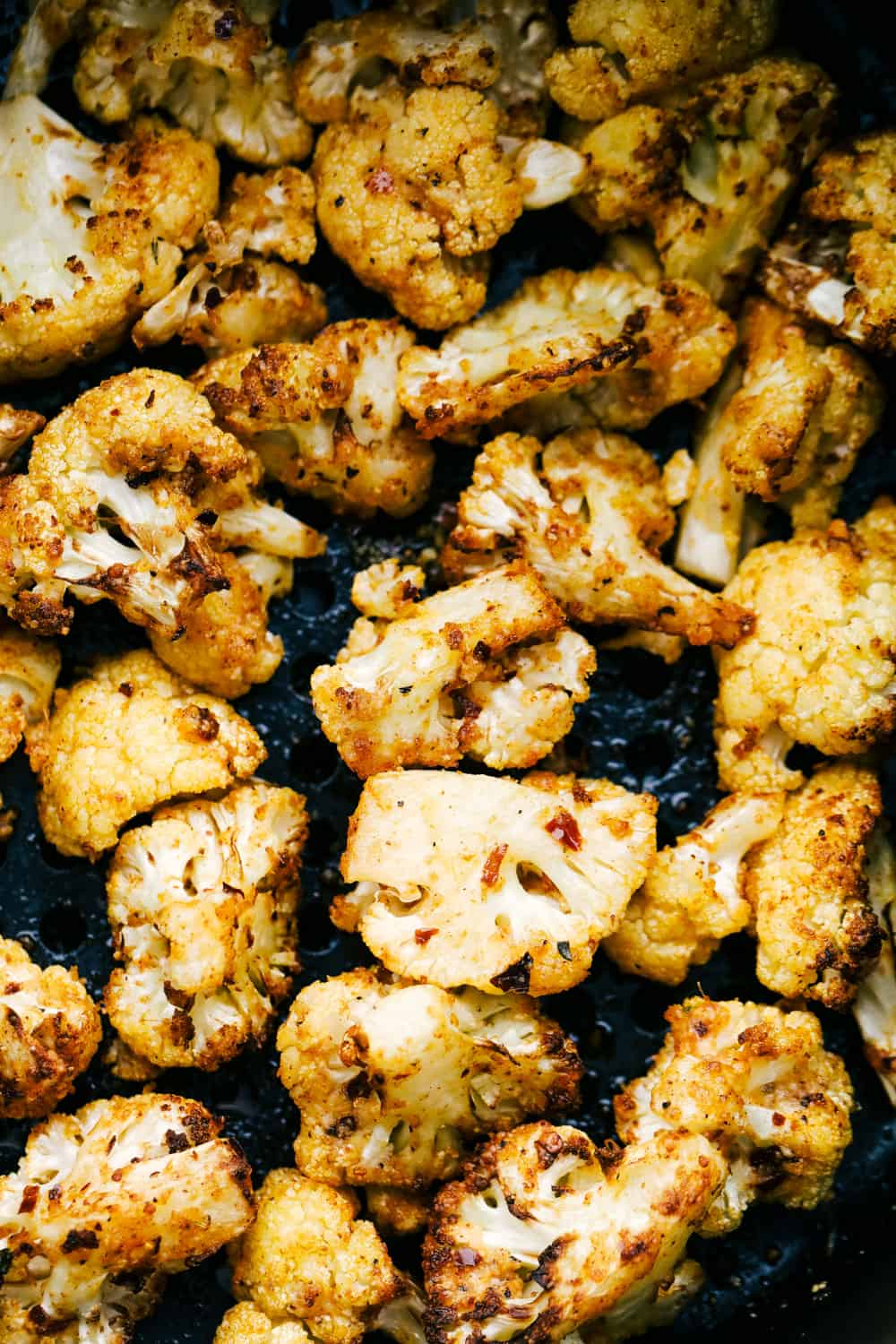 More Air Fryer recipes to try
Air fryers usually cook your food faster, and it almost always tastes better. You can make fantastic side dishes, main dishes and even desserts without heating up the oven. That'll be huge as summer approaches. Enjoy these proven recipes in your air fryer today!
Air fryer "roasted" cauliflower
Preparation time 5 protocol
cooking time fifteen protocol
total time 20th protocol
author Alyssa Rivers
Servings 6th People
Air Fryer Roasted Cauliflower is perfectly tender, crispy, and full of amazing flavors. You will love how easy it is to make this delicious side dish!
1




lb




cauliflower

1/3




Cup




olive oil

3




tablespoon




grated parmesan cheese

1/2




teaspoon




paprika

1/2




teaspoon




Garlic powder

1/4




teaspoon




crushed red pepper




Optional

Salt and pepper to taste
Served: 6th
Calories137kcal (7%)carbohydrates4thG (1%)protein2G (4%)fat13thG (20%)Saturated fat2G (10%)cholesterol2mg (1%)sodium63mg (3%)potassium238mg (7%)Fiber2G (8th%)sugar1G (1%)Vitamin A.128IU (3%)vitamin C36mg (44%)calcium45mg (5%)iron1mg (6%)
All nutritional information is based on third party calculations and is only an estimate. Every recipe and nutritional value depends on the brands, measuring methods and serving sizes used per household.