An incredible vegetarian paella
Let's make paella! You absolutely can, and you don't need a special pan for this vegetarian, California-inspired twist on the Spanish classic. Many paellas contain a variety of meats and seafood, but vegetarian paella can be a revelation. This version is packed with a rainbow of seasonal vegetables cooked into a rice-based dream scented with saffron and paprika.
Once you master the technique, the customizations can be endless. Paella is a great way to use up random seasonal veggies in your crisper, and leftovers are A-Plus. And I will tell you how it can be friendly during the weekdays. For real!
You don't need a special paella pan
If you have a traditional paella pan, great! Use it. Don't let the lack of a dedicated pan thwart your paella efforts, though. I've successfully cooked paella in copper pans (a favorite), as well as stainless steel and cast iron. Use what you have, the wider the better. I am including instructions for two different sized pans with the recipe, please refer to the top notes.
How to Make Paella Weeknight Friendly
Paella can be a great realistic weeknight recipe if you do one thing. Have that sofrito ready. Keep some in the fridge, keep in the freezer. If you have some saffron and peppers with some broth, rice and seasonal vegetables, you can make paella. And it's very simple.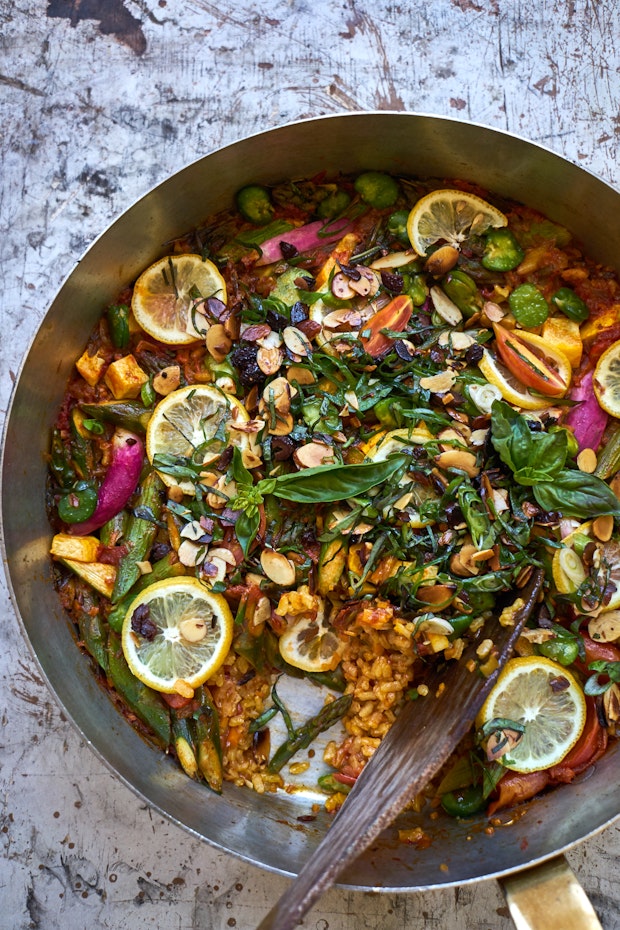 The best rice for paella
Choosing the right rice for the paella is crucial. Ideally, you want a short-grain, stout paella rice, either way. Look for Bomba. Paella rice is celebrated for being able to hold more water (or stock) than other types of rice while retaining structure. This means a paella with definition between grains – not mushy rice. I also love this article on choosing rice for paella with Russ Moore (from Camino in Oakland, CA). He uses a well rinsed local Japanese short grain variety and his paella is beautiful. If you're experimenting with non-paella rice types, you'll need to play around and adjust the liquids a bit.
Can I use brown rice?
I tried. I tested 100% brown rice paella and mixes. Here's the problem. Brown rice takes comparatively much longer to cook. So the way paella comes together is as follows. You get all your ingredients in the pan, stir once, then leave it alone. This is half the battle when it comes to achieving a golden encrusted butt (desirable!), see below. If you use brown rice, you'll end up with overcooked veggies because you have to cook them for so long. My advice? Stick to tradition and use a short-grain paella rice.
The trick to achieve Socarrat Magic
Today's recipe focuses on paella made indoors in a modern kitchen. However, many paellas are prepared grilled over an open flame. One of the things you hope to achieve in both scenarios is socarrat – this golden crusted rice base. The dexterity, of course, comes from just the right amount of roasting – not under, not burnt. If you're feeling brave, give your paella a moment or so on the stove after removing it from the oven to increase your chances of a good socarrat! Needs some practice.
How to make amazing vegetarian paella
Here's the deal, you need to load up on seasonal veggies. Experiment! There are so many ingredients that are fair game here. I like ingredients with some structure that can use some cooking time. Asparagus (thicker stems vs. thinner), baby artichokes, summer squash, broad beans, cherry tomatoes, peas, etc.
Paella Verde variation
A green version of the vegetarian paella you see here is fantastic. Simply stir in 1/4 lb of well-chopped spinach or kale with the other veggies.
This recent paella bender was inspired by a beautiful paella birthday meal made by my friend Bonni Evensen. You can see pictures in my Instagram feed.
101 Cookbooks Membership
Ad-free premium membership includes:
-Ad-free content
-Print-friendly recipes
-Spice/Herb/Floral/Zest recipe collection in PDF format
-Weeknight Express recipe collection in PDF format
– Surprise bonuses all year round