Banana Halva | Banana Sheera
Banana Halwa also known as Banana Sheera or Satyanarayan Prasad is an Indian sweet that I have consumed during most puja events in Mumbai, Maharashtra. This banana halvah recipe is made by cooking semolina or wheat cream and bananas together in milk or water flavored with green cardamom. It is rounded off with dried fruits, nuts and saffron. This sweet dish is a delicious way to consume bananas.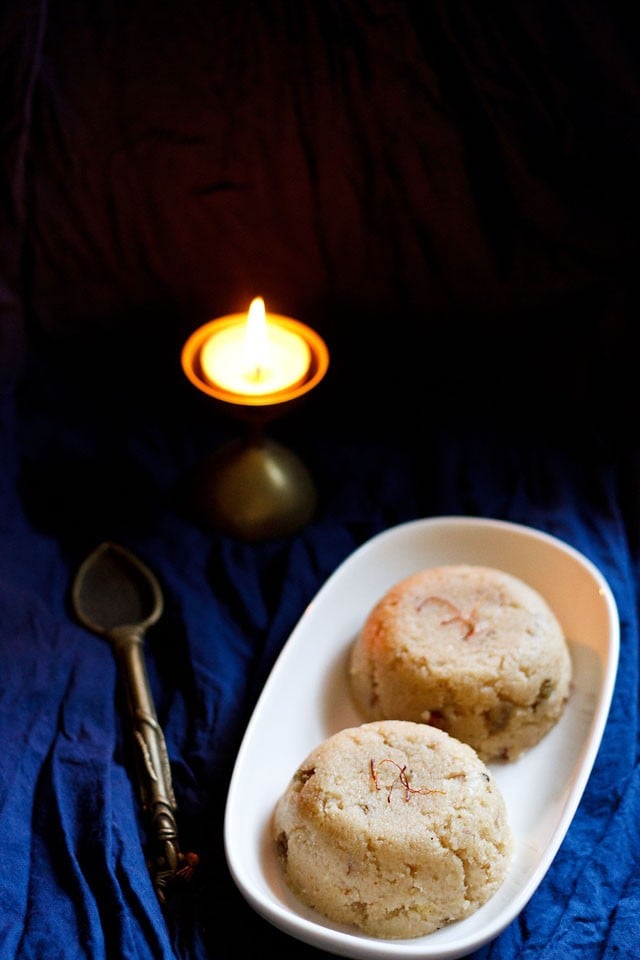 About banana halvah
Auspicious occasion or not, my mother's Banana Sheera was always a regular at home during my childhood. No wonder, this dessert accompanies me to this day. Another fruit sheera that is a personal favorite is this pineapple sheera.
Both halwa and sheera or kesari are made in a similar way as long as you cook it according to the recipe. The main difference is that "Sheera" is a Marathi term and "Kesari" is the South Indian term for the Hindi word "Halwa" which is made of semolina. In English, banana halwa is related to a banana semolina pudding.
A halwa or sheera is one of those classic dishes that is always prepared on a Ganesh puja, Satyanarayan puja, Devi puja or any other Hindu religious/auspicious occasion in India. For this reason, Banana Halwa is also referred to as Satyanarayan Prasad in many Indian households.
Banana Sheera has always been a part of community pujas and functions as prasad throughout Mumbai. "Prasad" means a gift from the Divine, also food, which is first offered to a deity and then served to the devotees.
The sounds of aarti and bhajan, the scent of incense and garlands, and the aromas of the satyanarayan prasad served along with panchamrut (another common prasad) is an experience in itself.
On normal days I might not be able to recreate the sounds of dhol and manjeera (drums and hand cymbals) at home. But I can certainly light up some 'Diyas' (earthen lamps) and incense sticks and enjoy the moment with a nice Banana Halwa made from leftover ripe bananas.
More about my recipe
Essentially, every sheera or halwa is made with copious amounts of clarified butter or ghee. But I occasionally make this sheera with a neutral oil (odorless and tasteless oil) and sometimes add a smaller amount of ghee.
Another point of contention is whether to use milk or water in a sheera. To that I say use what you will. However, using milk obviously makes it richer. This also makes it tastier.
If you're vegan, it's a no-brainer as you have to use water or non-dairy milk in this banana halvah recipe.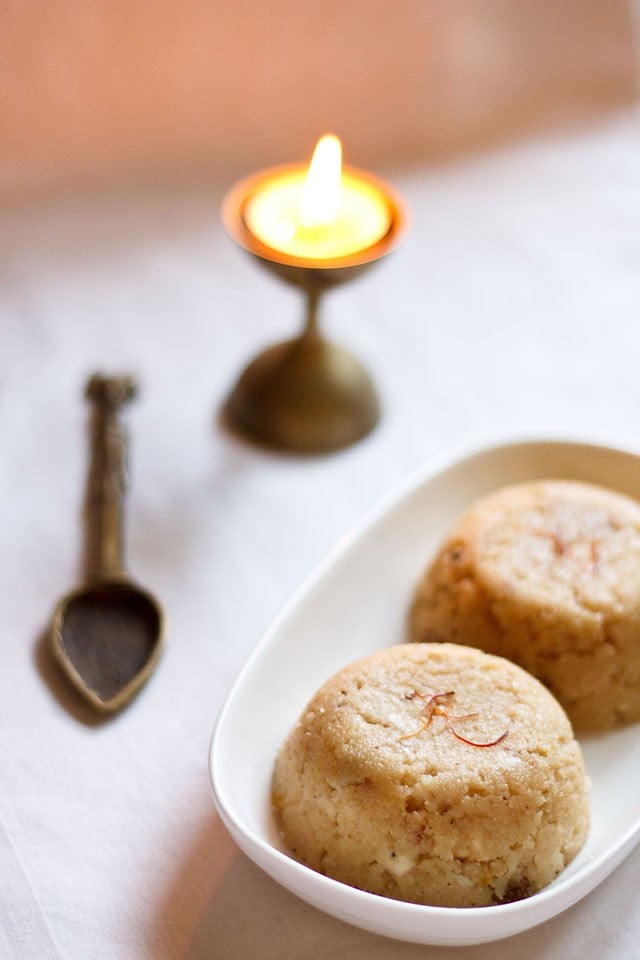 It is best to toast and store the semolina before using it in the recipe. This will prevent the semolina from spoiling and becoming moldy. If you use fresh semolina, you need to fry it in oil/ghee for a long time, about 10 minutes, until it changes color and becomes fragrant.
I used pre-roasted rava in the recipe. If using unroasted rava, you will need to toast the rava over low-medium heat until fragrant and well-toasted, about 7 to 8 minutes.
Note that this banana halwa recipe is very different from the South Indian variant of banana halwa, which is made with ripe bananas, sugar or jaggery, ghee, and flavorings. This variant does not contain any grains like suji or rava and is made exclusively with banana as one of the main ingredients.
Step by step guide
How to make banana halvah
1. Heat 5 tablespoons of ghee or 4 tablespoons of unflavored oil in a kadai or skillet. I mostly use ghee to make Banana Sheera.
Add 1 cup toasted semolina and toast for 2 to 3 minutes, stirring frequently.
If using unroasted rava, you will need to toast it over low to medium heat for 7 to 8 minutes, stirring frequently.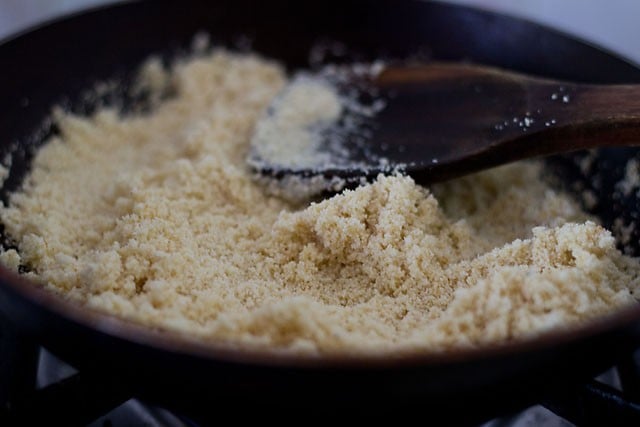 2. Add 2 to 3 chopped bananas and stir to get a mixture.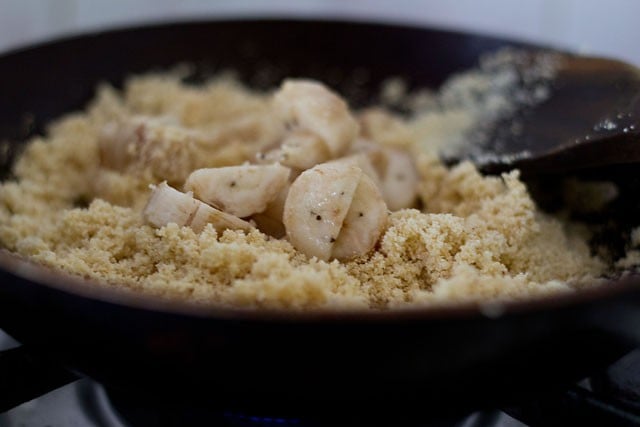 3. Reduce heat, add 2.5 cups of hot water or milk in batches. Mix thoroughly each time you add hot water or milk to avoid lumps forming. Be careful when adding the hot liquids as the mixture will splatter.
Add ½ teaspoon green cardamom powder (or 2 to 3 green cardamom powders, ground) and the dried fruits – 8 to 10 chopped almonds or cashews, chopped and 10 to 12 raisins. Stir to mix.
The semolina absorbs the liquid and swells. Stir well to keep the mixture from clumping.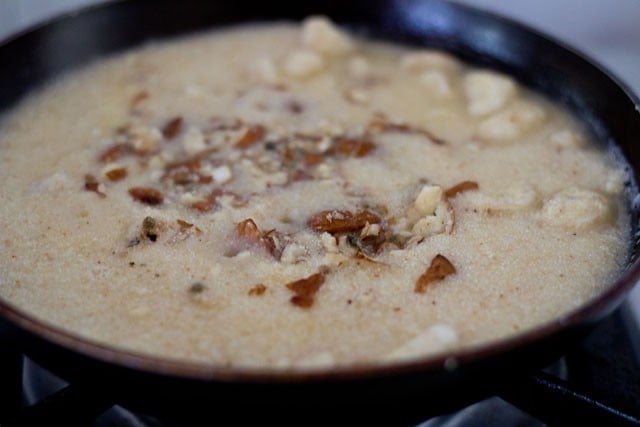 4. Add ½ cup sugar (raw or regular) or as needed and stir until sugar dissolves.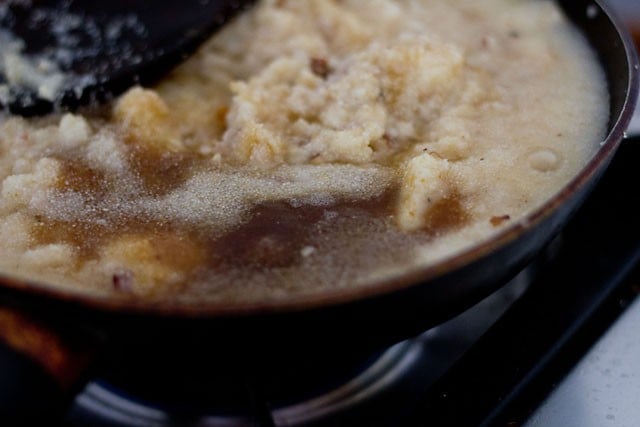 5. Keep stirring. Make sure the mixture is smooth and not clumpy. Simmer the banana halvah over low or medium heat for 2 to 3 minutes.
Finally add a pinch of crushed saffron.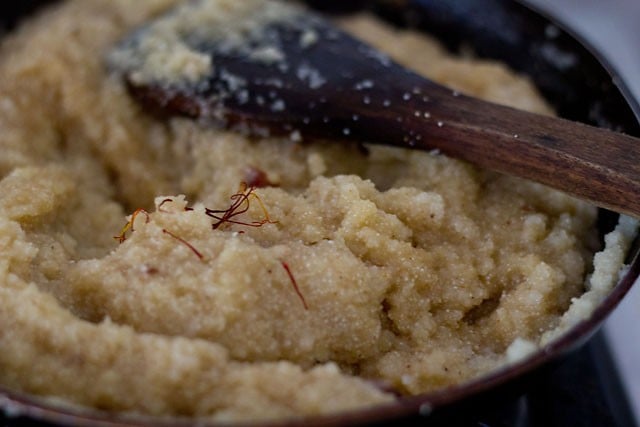 6. Stir again and cook the Banana Sheera for another 2 to 3 minutes.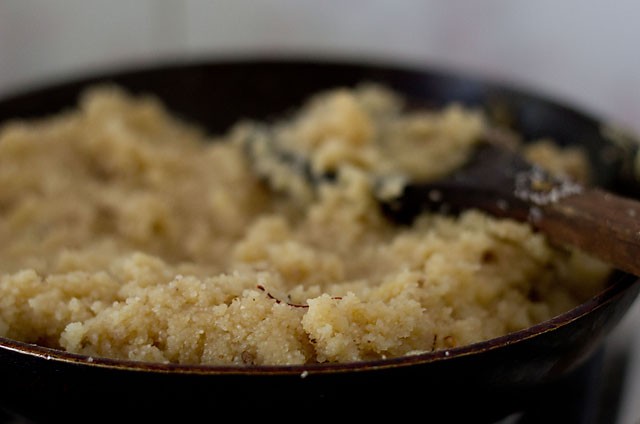 7. Pour the banana halwa into serving bowls and allow to set. Remove from the mold and serve hot or warm. Also choose to serve it hot or warm in small serving bowls if you prefer.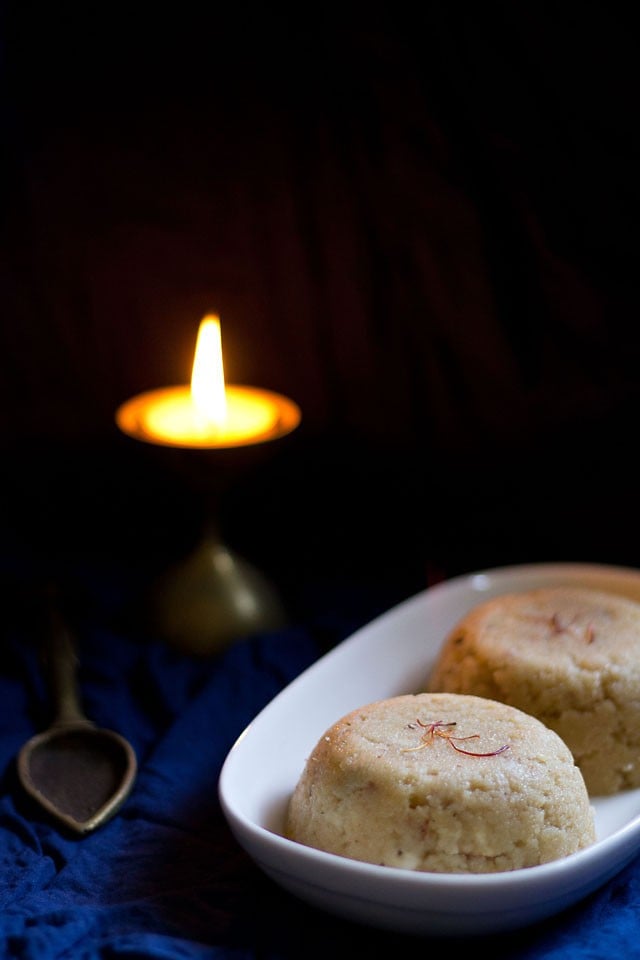 expert tips
If using rava that is not yet roasted, fry rava in hot ghee or oil for 7 to 8 minutes or longer over low heat until it changes color and becomes fragrant. Stir occasionally and make sure it doesn't turn brown.
The rava absorbs the water or milk and swells. Stir well for a lump-free mixture. Add the hot liquids in portions, stirring each time.
Roasted semolina does not spoil and does not mold. Therefore, having a jar of homemade toasted semolina handy when preparing this halvah is helpful if you want to cut down on the cooking time.
You can sauté the dried fruit and nuts in oil or ghee and add them to the banana halvah at the end. You can add a little more ghee or oil for a smooth textured halvah.
You can choose to add milk or water. Adding milk instead of water makes the halvah richer. To make a vegan variant, use water or plant-based milk and neutral-flavored oil.
More Halwa Recipes to Try!
Please be sure to rate this recipe in the recipe card below once you have made it. For more vegetarian inspiration sign up for my emails or follow me on Instagram, Youtube, Facebook, Pinterest or Twitter.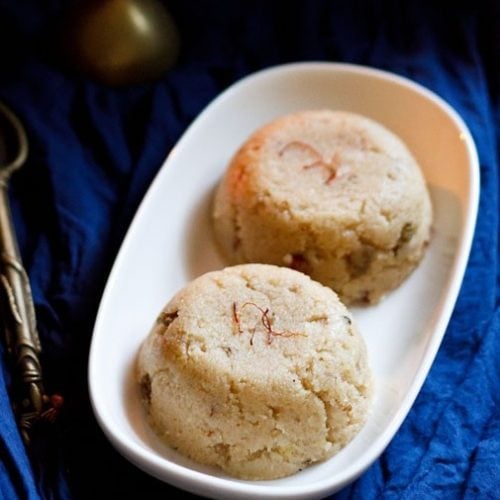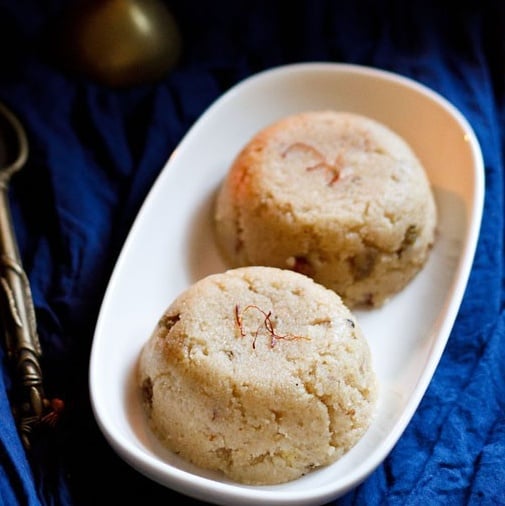 Banana Halva | Banana Sheera
Banana Halwa or Banana Sheera is a delicious sweet pudding made from semolina or cream of wheat, bananas, sugar and dried fruit and is often made as a prasad for Ganesh Puja, Satyanarayan Puja, Devi Puja or for any auspicious occasion.
preparation time 5 minutes
cooking time fifteen minutes
0 minutes
total time 20 minutes
cooking modePrevent your screen from going dark while preparing the recipe
Heat ghee or oil in a kadai or pan. Add the toasted semolina and toast over low-medium heat for 2 to 3 minutes, until the semolina begins to be fragrant. Do not brown the semolina.

Add chopped bananas and stir.

Add hot water or milk in batches, mixing thoroughly after adding hot milk or water to each batch. This will ensure that no lumps form.

Be careful when adding the hot liquids as the rava mixture will splatter.

Add chopped almonds or cashews and raisins and cardamom powder.

Add sugar and stir to mix thoroughly until sugar has dissolved. Let the banana halva simmer for 2 to 3 minutes.

Add saffron. Stir and simmer for another 2 to 3 minutes.

Serve the banana halva hot or warm.
I used pre-made roasted rava to make the banana sheera. If using unroasted raw rava or suji, toast over low heat for about 7 to 8 minutes, or until the rava granules look crisp and have a nice flavor.
Add your choice of nuts and dried fruit to the recipe.
You can use either water or milk to prepare the banana halvah. Make sure the water or milk is hot when adding it to the toasted rava.
For a smooth and richer halwa, feel free to add more ghee if you like.
This recipe can easily be scaled up to make a small batch or a large batch.
nutritional information
Banana Halva | Banana Sheera
amount per serving
calories 326
Calories from fat 126
% Daily Value*
Fat 14g22%
Saturated Fat 8g50%
Polyunsaturated Fat 1g
Monounsaturated Fat 4g
cholesterol 32mg11%
sodium 7mg0%
potassium 227mg6%
carbohydrates 48g16%
fiber 3g13%
Sugar 22g24%
protein 4g8th%
Vitamin A 25 IU1%
Vitamin B1 (thiamine) 0.2mg13%
Vitamin B2 (Riboflavin) 0.2mg12%
Vitamin B3 (Niacin) 2mg10%
Vitamin B6 0.2mg10%
vitamin C 4mg5%
vitamin E 0.5mg3%
vitamin k 0.3 µg0%
calcium 19mg2%
Vitamin B9 (folate) 59µgfifteen%
iron 2mg11%
magnesium 31mg8th%
phosphorus 56mg6%
zinc 0.5mg3%
*Percent Daily Values ​​are based on a 2000 calorie diet.
From The Blog Archives, this Banana Halva Recipe post, first published in January 2013, was republished and updated on June 29, 2022.