Bharwa Baingan (Stuffed Eggplant)
My classic Bharwa Baingan recipe is easy to prepare in just 30 minutes as a calming weekday meal. This filled eggplant dish is filled with a flavorful blend of spices and features baby eggplants and tender potato cubes that are quickly fried on the stove. Follow our step-by-step guide with photos to make a simple and satisfying vegan dinner tonight!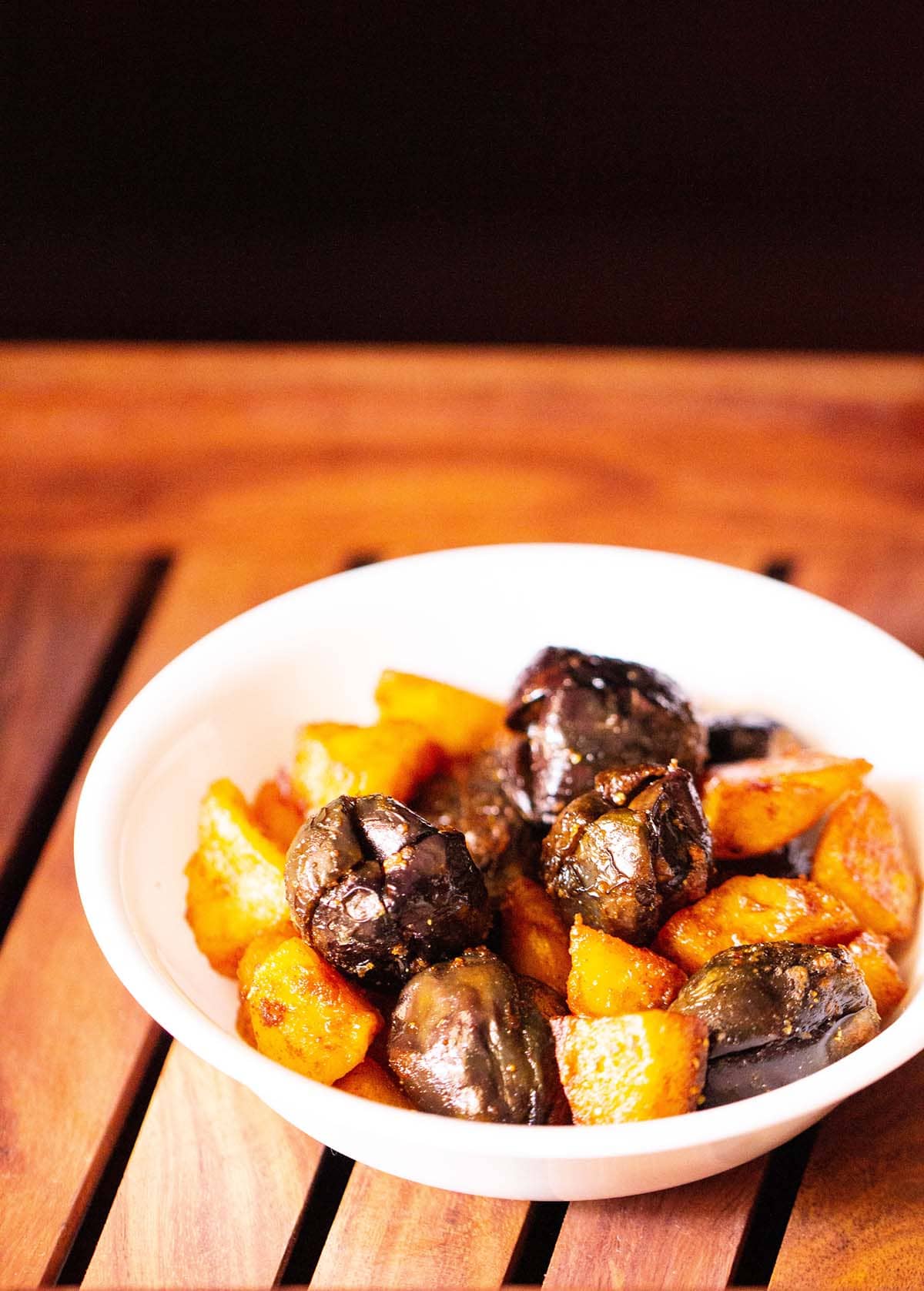 About this recipe
Bharwa Baingan is a traditional Indian recipe that translates as "stuffed eggplant". There are many different variations on the dish – some use onion and garlic in the filling mixture, and it can be cooked dry or as a savory curry.
Bharli Vangi, for example, is a popular filled baingan recipe made from coconut, peanuts and sesame spice paste from Maharashtrian cuisine. This Ennegayi recipe from the Karnataka kitchen also makes a delicious filled baingan curry with a rich sauce.
Today I am sharing with you my family version of Bharwa Baingan from Punjabi cuisine. This recipe involves filling small purple eggplants, also called brinjals, with just a simple mixture of spices and frying them with potato cubes. No need to chop any extra flavorings like garlic or onion! This simple recipe creates a rustic and incredibly spicy dish that really makes the spices shine.
There are a few ways to tweak this basic recipe, such as using medium-sized eggplants or leaving out the potatoes for a lighter dish. Whichever way you choose to prepare them, you'll love the deep, rich flavors and deliciously tender eggplant as a filling meal with a side of flatbread.
How to do Bharwa Baingan
1. First, put all the seasoning powders in a small plate or bowl:
Turmeric powder – ½ teaspoon
Garam masala powder – 1 teaspoon
red chili powder – 1 teaspoon
Coriander powder – 1 teaspoon
Cumin powder – 1 teaspoon
dry mango powder – 1 teaspoon
Salt – 1 teaspoon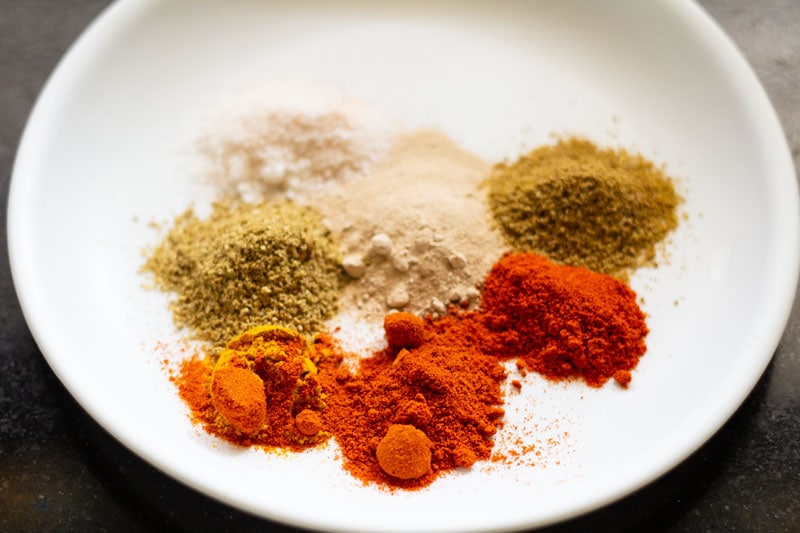 2. Mix the spices very well with a spoon. Put aside.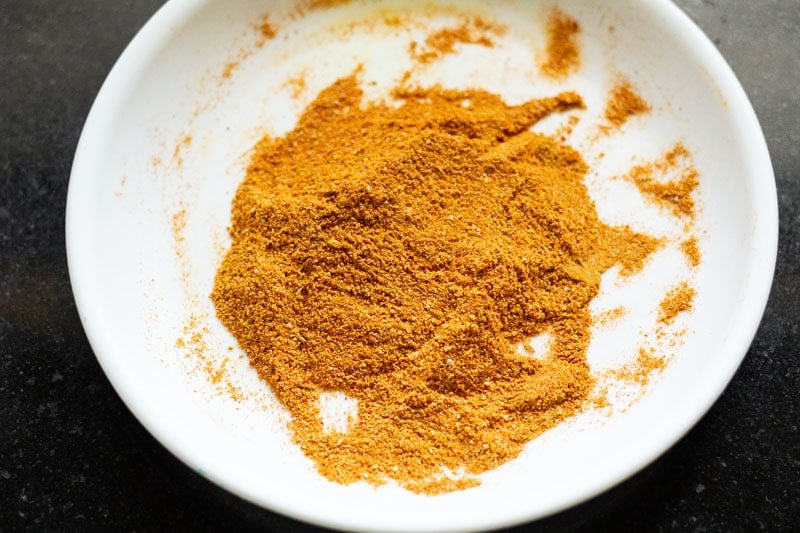 3. Next, gently rinse and dry the eggplants with a kitchen towel. I recommend using baby brinjals or small brinjals for this recipe as they cook faster and work best for this recipe.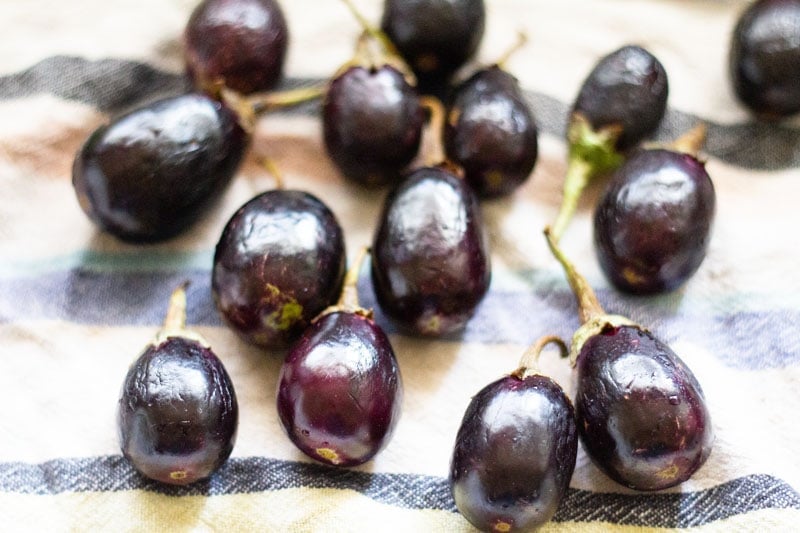 4. Cut each eggplant in four directions: cut the bottom / base of each eggplant about an inch into it, leaving the top intact. You want the brinjal to stay whole and not be completely chopped up like in the photo below.
After you cut through the eggplant, open it slightly and look for worms. If you see black spots or worms, discard the eggplant.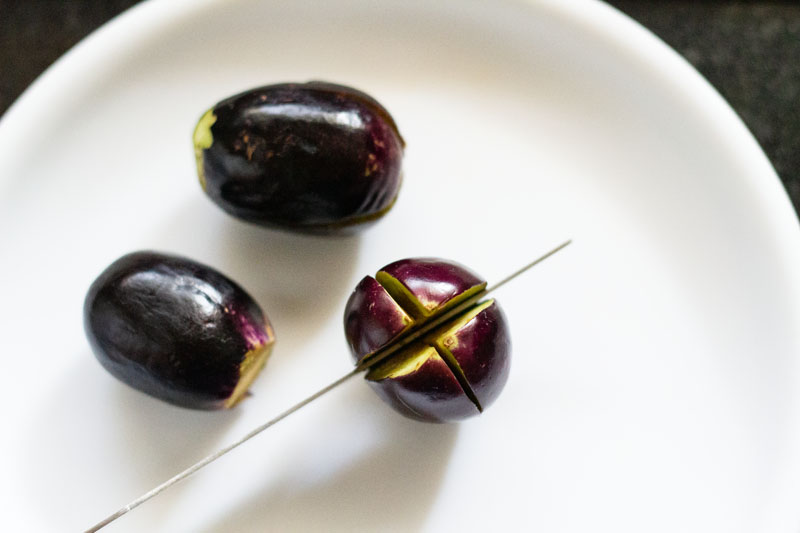 5. Now fill the mixed seasoning powder into the cavity of each eggplant. Leave some of the spice mixture on the plate to refine the dish.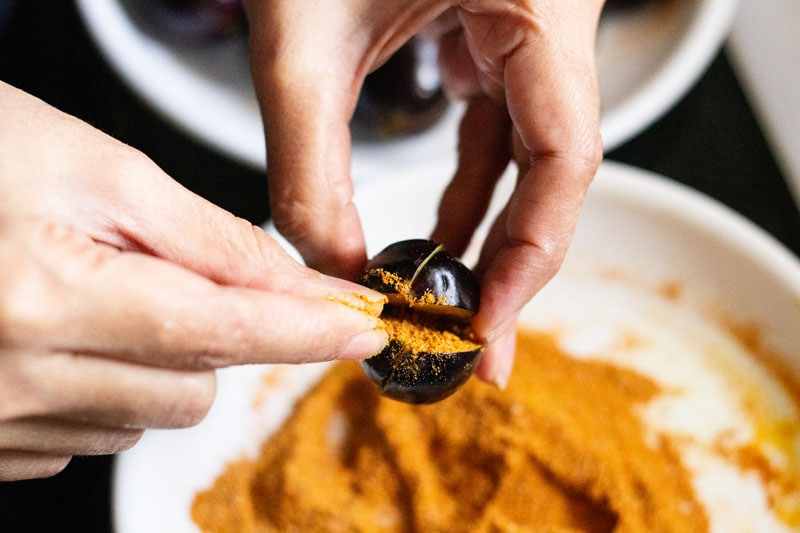 6. Once all of the eggplants are filled, set them aside while you cook the potatoes.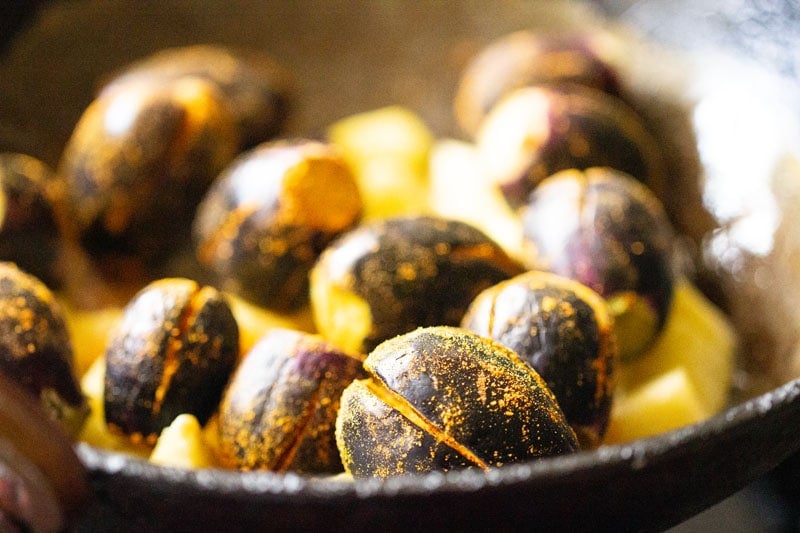 Making Bharwa-Baingan Making
7. Heat 3 to 4 tablespoons of your preferred cooking oil in a kadai or deep pan. Peel, wash and dice the potatoes and add to the hot pan. The addition of potatoes is optional, but it makes for a hearty, filling, and filling meal. You can also use baby potatoes.
If you skip potatoes, replace them with the same amount of eggplant.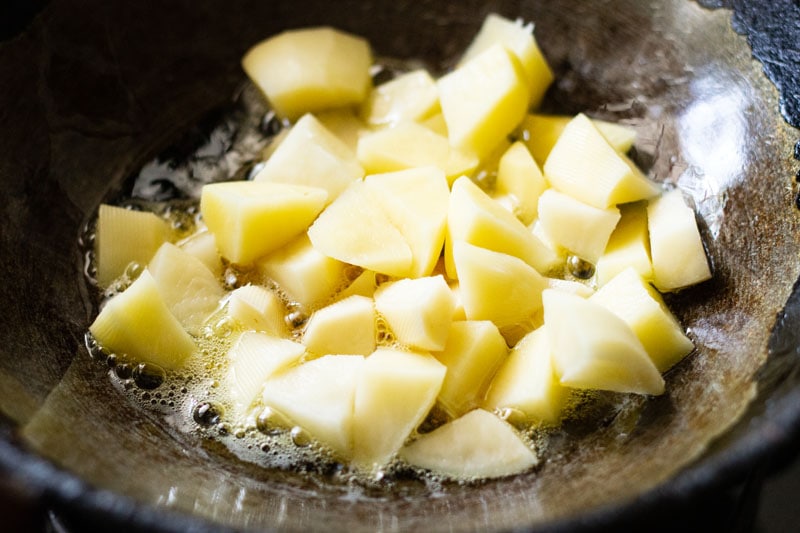 8. Fry the potatoes over low to medium heat, stirring occasionally.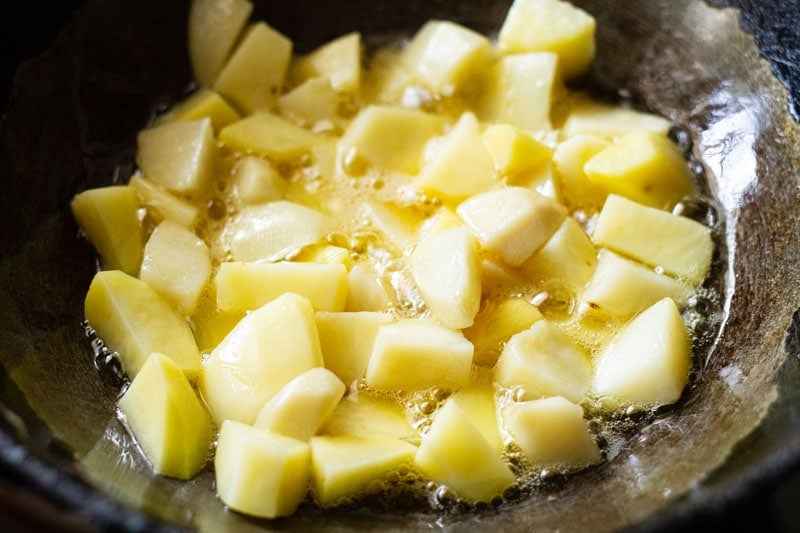 9. Continue cooking until the potatoes turn lightly brown around the edges.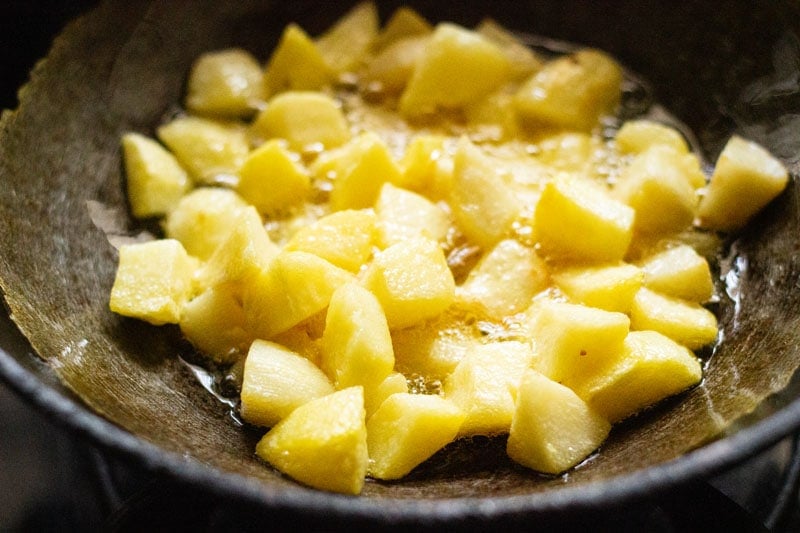 10. Now put the filled aubergine in the pan.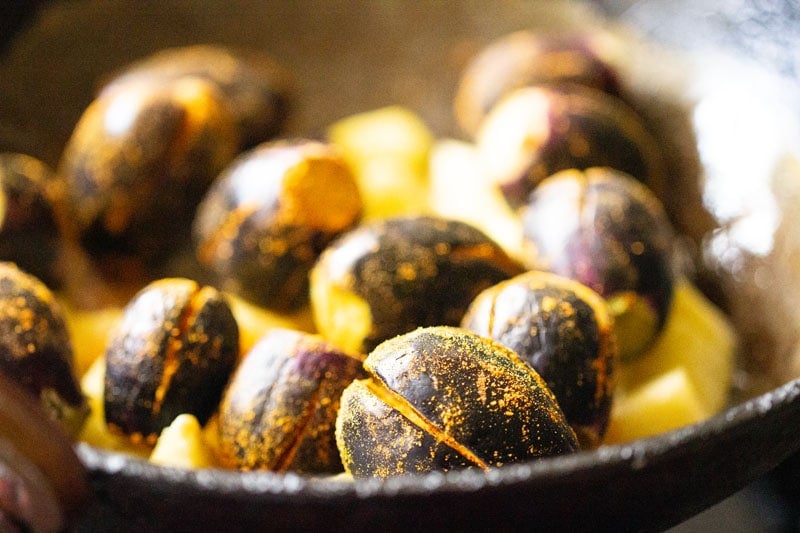 11. Stir well and fry the aubergine for a minute. Then cover the pan with a lid, reduce the stove heat to low and let the filled aubergines cook undisturbed. There is no need to add water as the eggplant will release just the right amount of moisture on its own.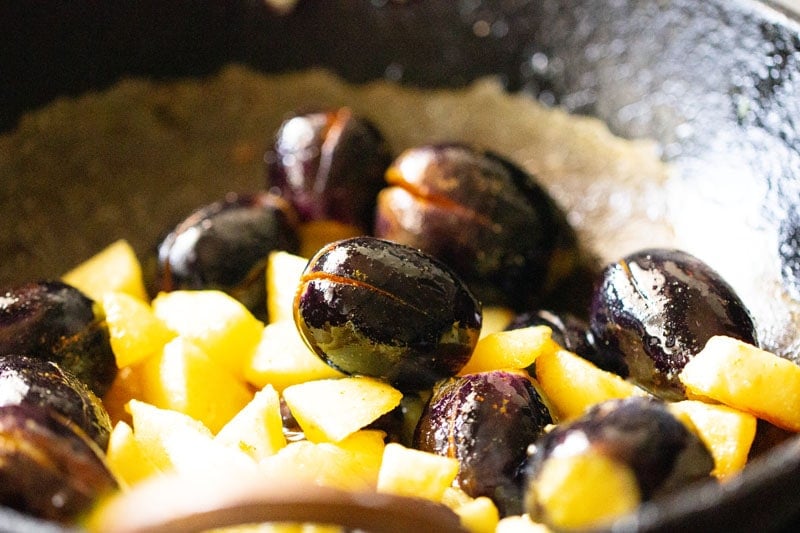 12. After 4 to 5 minutes, remove the lid and stir the vegetables. Then cover again and cook for a few more minutes until the aubergine is soft.
If you see the vegetables stick to the pan, add a splash of water. Mix and deglaze. Cover and continue cooking.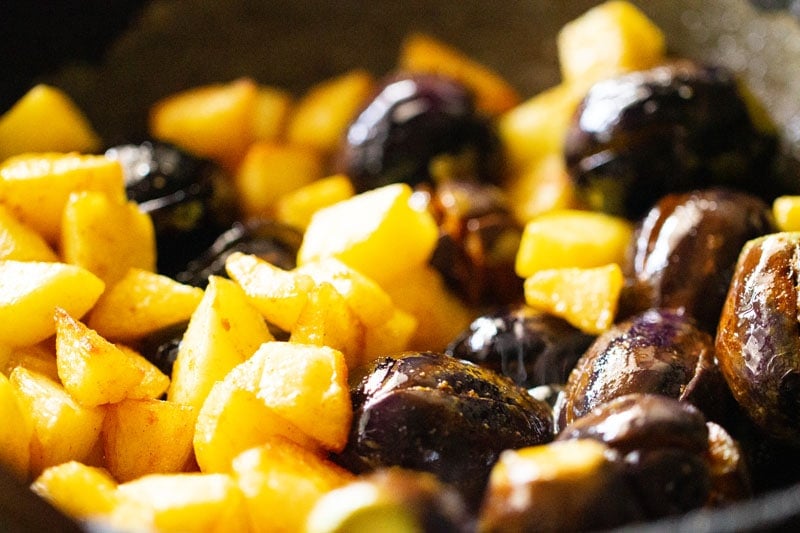 13. As soon as the filled eggplants are soft and tender, sprinkle the rest of the seasoning powder mixture over them. Stir and sauté for about another minute to cook the spices with the eggplant and potatoes. Season to taste and add more salt if necessary.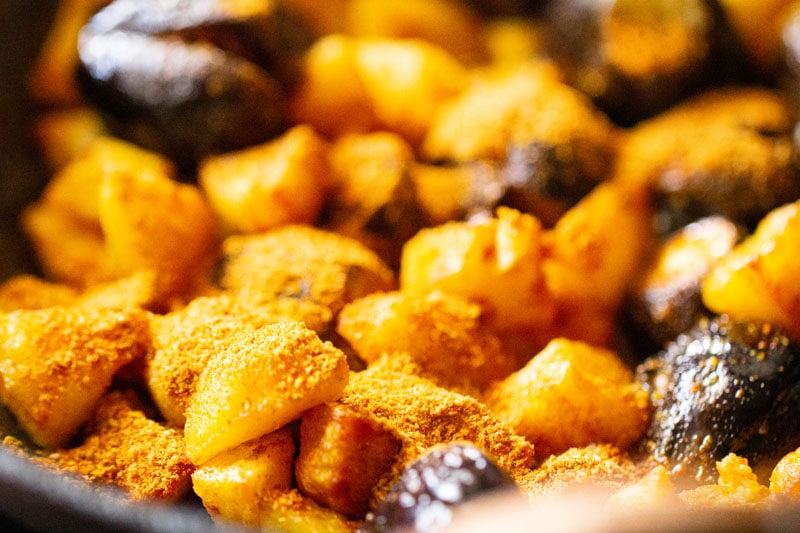 14. Serve the Bharwa Baingan Ki Sabji warm with a side of roti, paratha, naan or bread. You can also combine this dish with any North Indian dish.
When serving, garnish with freshly chopped coriander leaves (coriander) as desired. It can be packed for a lunch box.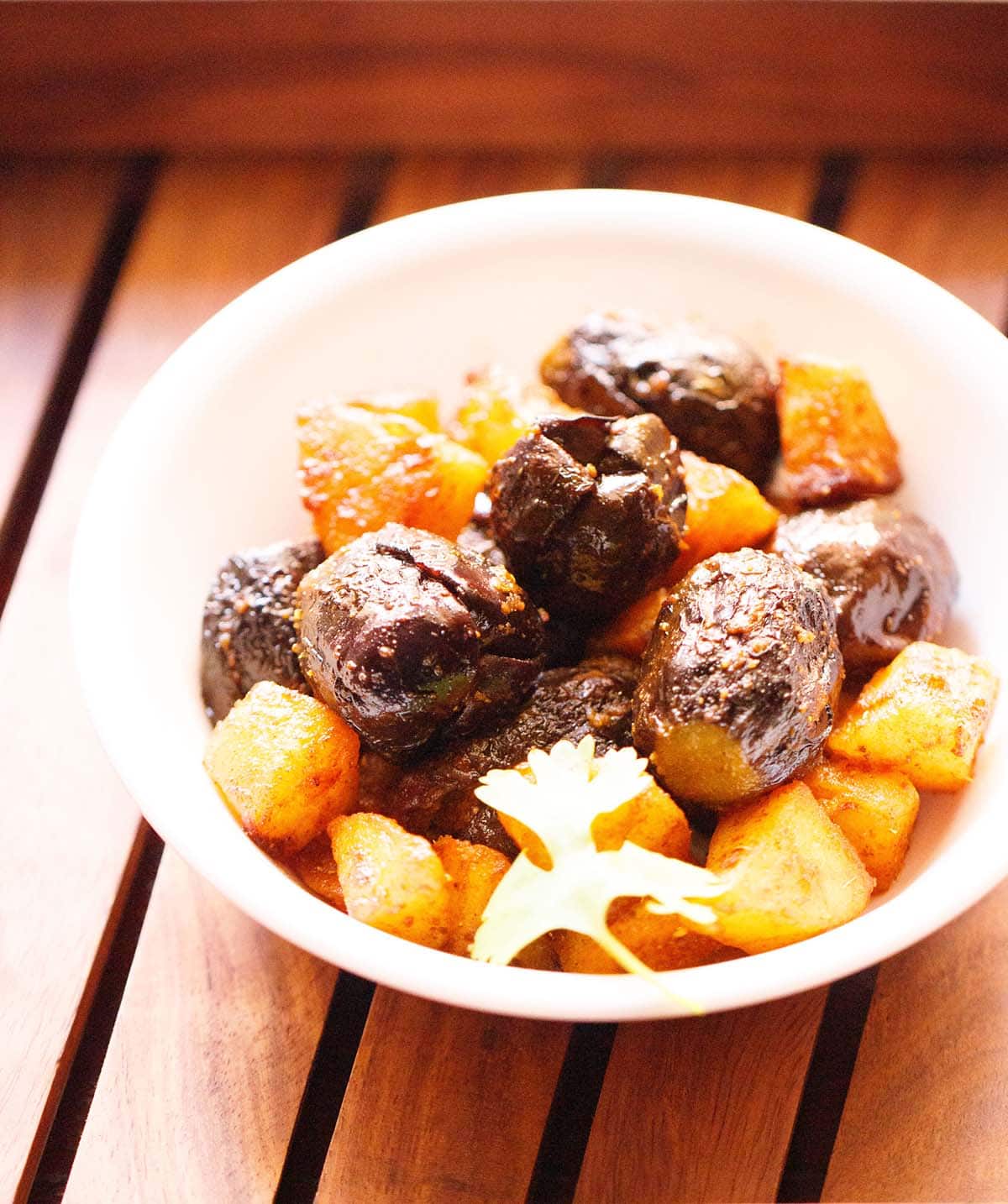 frequently asked Questions
What should I serve with bharwa baingan?
This hearty dish is great to enjoy on its own, or goes well with steamed rice, lentils, or your favorite vegetable side. I also like to serve with roti or paratha. You can also eat it with whole grain bread or pav (Indian rolls).
How long can homemade stuffed eggplants keep?
Bharwan Baingan definitely tastes best when enjoyed immediately, nice and warm. You can store chilled leftovers in an airtight container for a day, but reheating the eggplant will make it even softer.
How do I make this a low carb dish without potatoes?
Just skip adding the potatoes and replace them with the same amount of eggplant instead.
If you are looking for more Brinjal recipes then try it:
When you've made this recipe, please rate it in the recipe card below. Sign up for my email newsletter or follow me on Instagram, Facebook, Youtube, Pinterest or Twitter for more vegetarian inspiration.
Bharwa baingan are small eggplants or brinjals that are filled with a mixture of spices and sautéed with potatoes. This North Indian stuffed eggplant dish is a calming, healthy, and filling meal that is served with a side dish of roti or paratha.
Preparation time fifteen Minutes
cooking time 20th Minutes
total time 35 Minutes
Servings 3
units
Cooking modePrevent your screen from going dark while preparing the recipe
preparation
First, in a bowl or plate, mix all six spice powders along with salt – garam masala powder, chilli powder, turmeric powder, coriander powder, cumin powder, and amchur powder (dried mango) and salt. Hold aside.

Rinse the eggplants and dry them with the kitchen towel. Cut the stem from the eggplant.

Cut each eggplant into 4 parts, being careful not to cut the entire eggplant. Fill them evenly with the spice powder mixture. Set aside all the filled eggplants.

Peel and dice the potatoes. If you are using baby potatoes, chop them up when they are medium in size. If they are small, leave them whole, with or without the peel.
Making Bharwa-Baingan Making
In a wok or kadai or a heavy-bottomed pan. Heat the oil.

Then add the chopped potatoes. Fry the potatoes until they change color and are lightly browned around the edges.

Add the stuffed eggplant, stir, and sauté for a minute. Then cover the pan and cook the filled aubergine on a low flame.

Check a few times and stir the vegetables. Cover and then continue cooking.

Once cooked, soft and fork tender, then add the remaining seasoning powder mixture.

Stir well and fry for a minute. Check the taste and add more salt if necessary.

Serve Bharwa baingan ki sabzi hot with phulka or simple paratha or bread. It can also be packed for a lunch box. For the best taste, you can have this dish hot or warm.
This Bharwa-Baingan recipe can be scaled up.
You can leave out the potatoes. If you're not using potatoes, replace them with the same amount of baby brinjals.
This dish is not spicy. If you prefer a spicy taste, you can increase the amount of red chili powder.
Use baby brinjals as they work best in this recipe.
You can use mustard oil or any other neutral flavored oil.
These approximate nutritional values ​​apply to a serving of Bharwa Baingan with sunflower oil and potatoes.
Nutritional information
Bharwa Baingan | filled aubergine
Amount per serving
Calories 223
Calories from Fat 135
% Daily Value *
fat 15g23%
Saturated fat 1g6%
Polyunsaturated fat 1g
Monounsaturated fat 12g
sodium 794mg35%
potassium 577mg16%
carbohydrates 22g7%
Fiber 5g21%
Sugar 4g4%
protein 3g6%
Vitamin A 229IE5%
Vitamin B1 (thiamine) 1mg67%
Vitamin B2 (riboflavin) 1mg59%
Vitamin B3 (niacin) 2mg10%
Vitamin B6 1mg50%
vitamin C 19mg23%
Vitamin E. 6mg40%
Vitamin K 6µg6%
calcium 27mg3%
Vitamin B9 (folate) 32µg8th%
iron 2mg11%
magnesium 35mg9%
phosphorus 74mg7%
zinc 1mg7%
* The daily percentage values ​​are based on a 2000 calorie diet.
Do you like our video? Then follow and subscribe to us on YouTube for the latest recipe video updates.
All of our content and photos are protected by copyright. Please do not copy. If you as a blogger would like to adapt this recipe or create a Youtube video, please write the recipe in your own words and provide a clickable link back to the recipe on this URL.
This Bharwa Baingan recipe post from the archives (July 2009) was republished and updated on June 10, 2021.