Culinary Reward Ideas – A Christmas Reward Information for Cooks
Happy Holidays everyone! I have created this culinary gift guide to help each of you shop for the chefs in your family. All items are things I've used (and loved!) In my own kitchen, or are items from manufacturers I know and love – with a few wildcards for fun. I tried to highlight an assortment here, highlighting handcrafted or small business products. Enjoy!
Small Citrus Trees ($ 32- $ 54) – Four Winds Growers //
I have a containerized collection of citrus (most bought from Four Winds Growers) on our patio. It's amazing to see how they change and grow over the year. Not to mention the fruits, what I like best about them is the scent of the flowers. My collection includes Chinotto, Rangpur Lime, Market Lime, Moro Blood, Kishu Tangerine, and a few others. They also sell non-citrus trees.
Poudre des Bulgares (~ $ 10) – Epices Roellinger //
A nice mix of palm blossom sugar, sesame, vanilla, flaxseed, saffron and other spices. Perfect in yogurt, shortbread, baked oatmeal, crumble and chips.
Ristra Chile Garland ($ 230) – Flamingo Estate //
My kind of luxury. A 5-foot chile ristra, hand-drawn from New Mexico.
For pasta lovers //
Missy Robbins' Pasta Book ($ 37) and those brass pasta tools.
Original Egg Spoon ($ 310) – Permanent Collection //
An article for the ages. This beauty was generously gifted to me shortly after we moved to LA, and I use it constantly, a few times a week, for perfect eggs for breakfast sandwiches. It's also the first thing we pack all year round when we go camping.
Gjusta Coffee Box ($ 98) – Gjusta Goods
For the coffee lover. A pair of cute ceramic mugs next to the Common Room Roasters Gjusta mix.
Ankarsrum Original Mixer ($ 699) //
For the serious home baker. I invested in an ankarsrum last year after burning the engine in my longtime mixer. I wanted something with more capacity, more power, and I liked the free access to the mixing bowl from above. It's a bit quirky and takes a bit of time to get to know, but I love mine. I found the Ankarsrum group on FB helpful.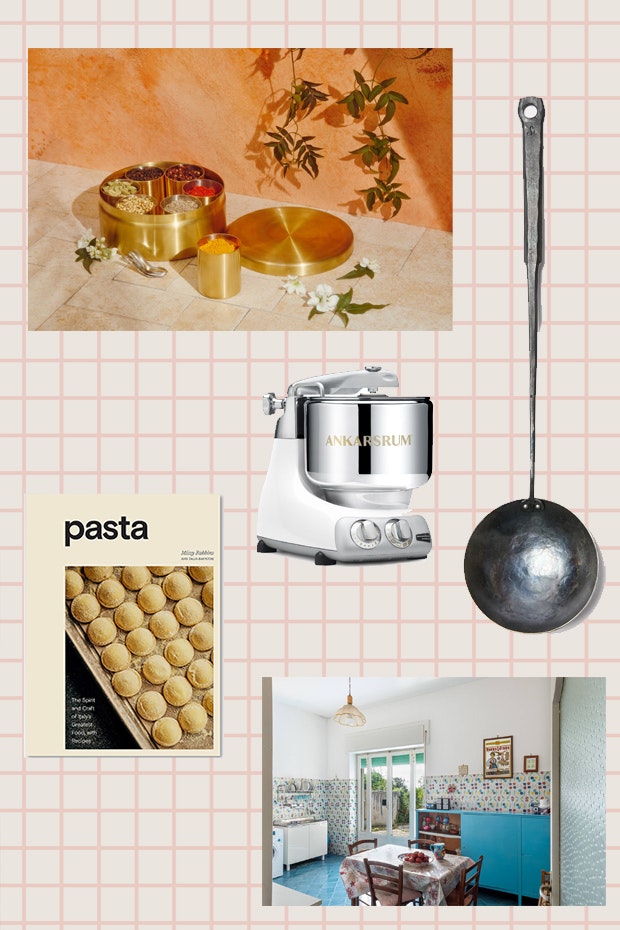 Brass Cake Server ($ 150) – Kneeland Co. //
One of the treasures I took home from my last trip to Jaipur was one of those beautiful brass cake servers that are now available at Kneeland Co.
For cooks who love flowers //
Edible Flowers ($ 32) – I contributed a chamomile miso soup recipe to this beautiful in-depth volume on edible flowers by Monica Nelson.
Nested Indigo Bowls ($ 350) – Silvia Song //
I miss seeing Silvia and her beautiful work in the San Francisco Bay Area. We met at various holiday markets and events throughout the year. The pieces I have collected from her over the years are some of my most amazing.
To inspire all of your 2022 parties //
Arty Parties – the new book by Julia Sherman.
This kitchen in Procida – Sotheby's //
Dare to dream;). On our last trip to Italy we made a day trip by ferry from Naples to Procida. It was incredibly charming and I've been dreaming of life and the candy-colored houses by the sea ever since. I stumbled upon this offer a few months ago and can't get over it – scroll into the kitchen: Photo 6 of 21. Also omg the tile!
Brass Masala Dabba ($ 125- $ 285) – Diaspora Co. //
I love my masala dabba very much. I even take it with me when we're on the Airstream so that I have a processing of my favorite spices with me for the trip. There are several ways to achieve this – if you already have seasonings, you can get an empty masala dabba. Work from scratch? You can build your own set. And if necessary, you can buy a katori set here.
For gluten-free bakers //
The book to give to every gluten-free baker in your life – Cannelle et Vanille Bakes Simple
($ 32)
The Artist Capsule ($ 150) – Brightland Co. //
A beautiful 4-pack of Brightland olive oil with special labels – lemon, chilli, basil and garlic.
MY NEWSLETTER + EBOOK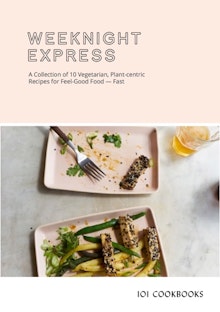 Sign up for my weekly ad-free newsletter, with recipes, inspiration, what I'm reading / watching / shopping.
(You will receive a link for a free PDF e-book with 10 recipes)