This site may contain affiliate links and advertising to enable us to provide recipes to you. Read my privacy policy.
This Hawaiian poke bowl is amazingly fresh and full of healthy ingredients! Skip ordering at a restaurant and make it at home in under 15 minutes!
If you love Hawaiian food you MUST TRY this amazing baked chicken, teriyaki chicken skewer, or this incredible macaroni salad. They are perfect for any meal you prepare!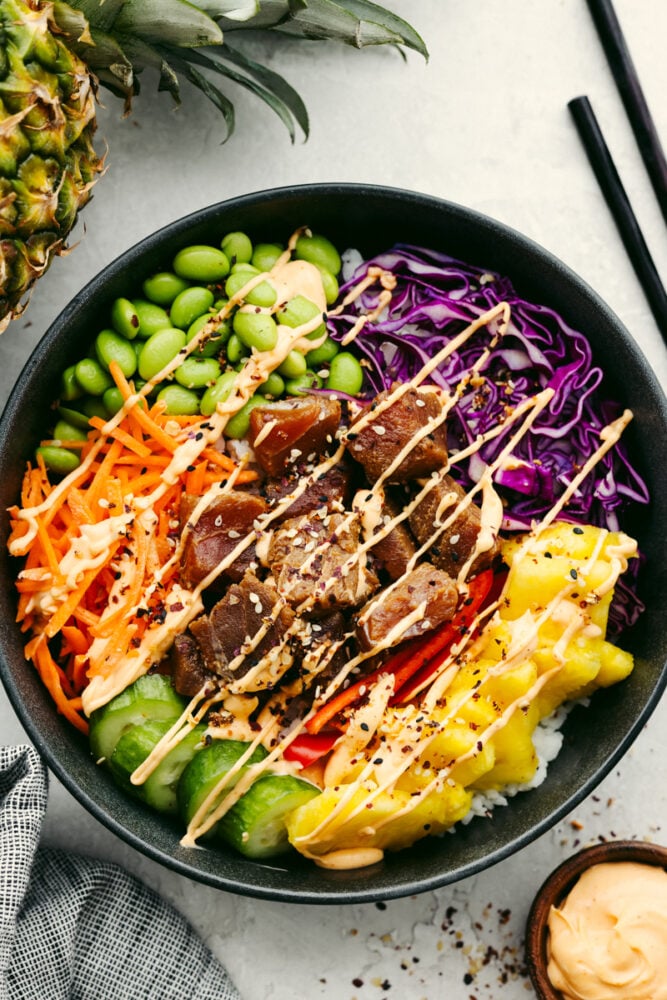 Hawaiian poke bowl
It doesn't get any tastier than this Hawaiian poke bowl. The delicious soy sauce marinade is absorbed into the fresh tuna and packs it with taste. Then you add all the fresh vegetables and the combination of flavors is amazing! And can we talk about how beautiful and colorful this dish looks on your table? With all that added color and flavor, you really can't go wrong with this recipe!
Once you have all of your ingredients gathered this is a breeze. No longer do you have to go to a restaurant to get a delicious Hawaiian poke bowl because this recipe will knock your socks off. And now you can have it whenever you want! Don't forget to top it with the tangy aioli sauce… It really takes it to the next level! Then impress all your friends and family with this dish and serve this Buddha bowl to your vegetarian guests!
Ingredients for a Hawaiian Poke Bowl
I know you normally only see this dish in a restaurant, but don't let that intimidate you! It is so good that you can enjoy it in the comfort of your home. The exact amounts of ingredients can be found on the recipe card at the end of the article.
Sushi quality tuna: You can use ahi, salmon, or yellowtail.
soy sauce: To be a little healthier, you can use coconut aminos instead.
Rice vinegar: I prefer to use this rice vinegar.
Sesame oil: I love using this sesame oil in my recipes that call for it!
Ground Ginger: This gives the tuna a great taste.
Darling: To sweeten the taste, I like to add a little honey.
Sea-salt: You can use Hawaiian sea salt too!
Green onion: When you chop it up, it gives the marinade a delicious taste.
Spicy aioli sauce
Mayonnaise: This is the base of the sauce.
Sriracha Sauce: That's what adds some warmth! Use less or more depending on the heat level you want!
Poke bowl ingredients
Steamed white rice: You can use sushi, brown rice, or jasmine rice for best results.
Carrots: Grab a bag of matchstick carrots from the store and save time!
Fresh pineapple: I like to cut them into large pieces. You can use canned pineapple if that's all you have on hand.
Red cabbage: Crush this to give you that gorgeous purple color in this Hawaiian Poke Bowl.
Edamame: Make sure the shells have been removed and the edamame is cooked.
cucumber: I don't peel my cucumber, but you can if you want!
Sesame seeds: These will garnish the top!
Optional additional coverings: Avocado, macadamia nuts, peppers.
Let's make a poke bowl!
This Hawaiian poke bowl is about to become your new favorite recipe! It's that good and only takes about 15 minutes to assemble!
Whisk the marinade: In a medium bowl, add the soy sauce, rice vinegar, spring onions, sesame oil, ginger, and honey. Whisk until combined.
Dry the tuna and add: Pat the tuna dry with a paper towel. Cut into ½ inch cubes and then add to the bowl with the marinade.
Stir and chill: Throw carefully. Cover and refrigerate while you prepare the bowls.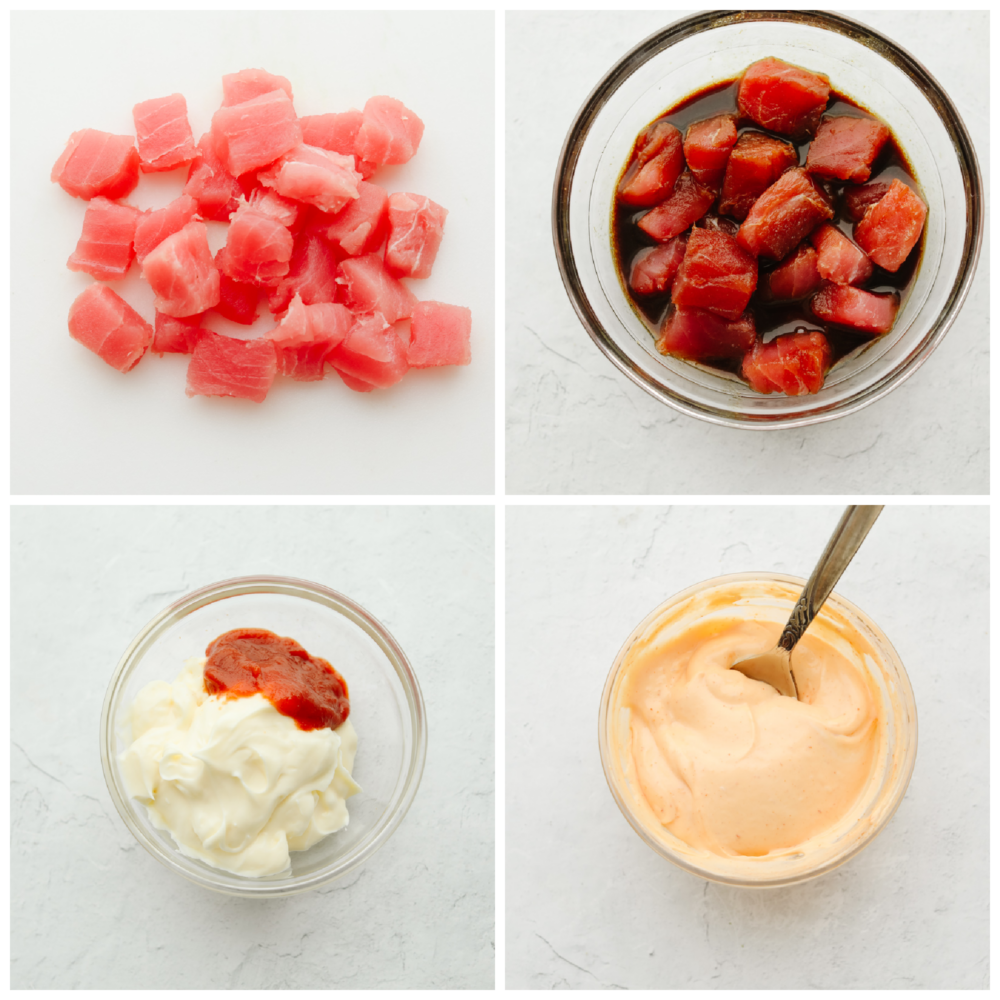 Tips and variations
If you want this Hawaiian Poke Bowl to be your new favorite, follow these tips to top it all! They'll fill your poke bowl with so much goodness and flavor you'll never order this from a restaurant again!
Coverings: Don't limit yourself to the toppings in this recipe! Try adding some macadamia nuts, water chestnuts, or even red peppers. Really, you can't go wrong with anything you add!
Marinate: Do not marinate the tuna for too long. It only takes 5-15 minutes and then you're good to go!
Rice: For best results, use sushi, whole grain, or jasmine rice.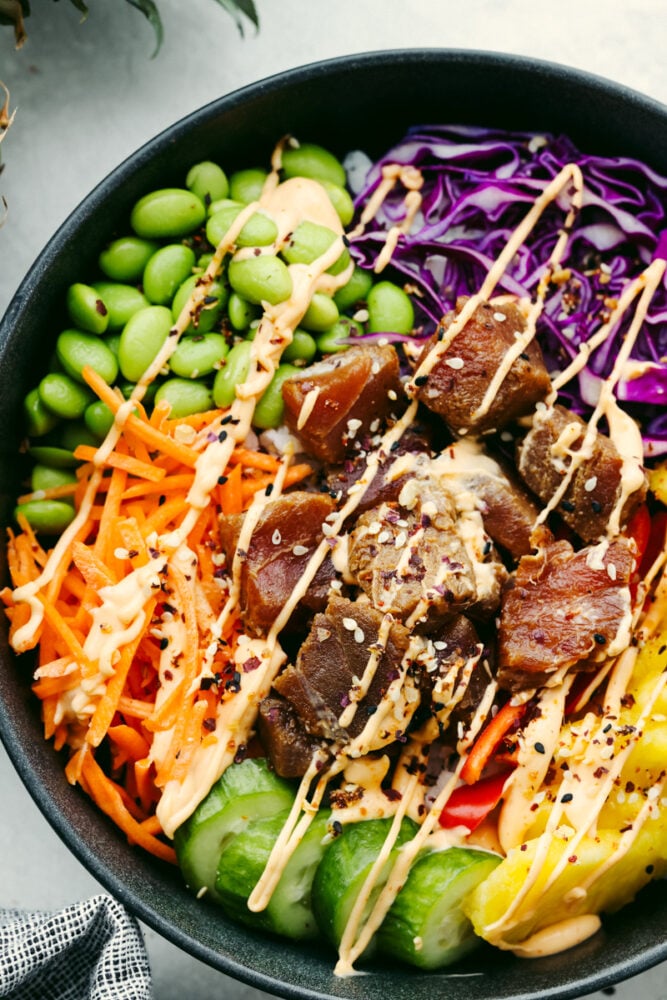 Is it safe to keep leftovers?
If you are cooking with raw fish, it is best to serve it right away. This Hawaiian poke bowl can be kept in your refrigerator for up to 24 hours, but I always recommend eating it fresh.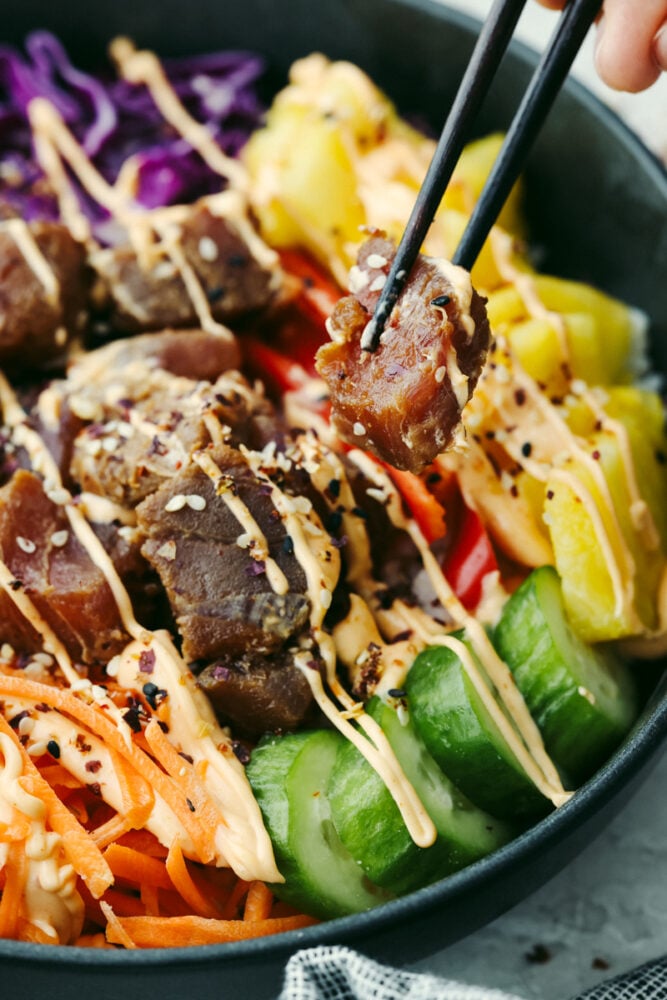 More Hawaiian main dishes to try
Hawaiian food is a family favorite in our home and an easy sell to get my kids to eat! I've rounded up a few more of my time-tested Hawaiian recipes that your whole family will go crazy for. There are many options, so there should be something for everyone!
Poke Bowl Ingredients
▢.

4th

cups

steamed white rice

(sushi, whole grain, jasmine)

▢.

1

Cup

Carrots, chopped up

▢.

1

Cup

fresh pineapple, cut into pieces

▢.

1

Cup

Red cabbage, shredded

▢.

1

Cup

red pepper, sliced

▢.

1

Cup

Edamame, shells removed, cooked

▢.

1

Cup

Cucumber, diced

▢.

1

tablespoon

Sesame seeds or Japanese sesame seeds

▢.

Optional additional toppings: avocado, macadamia nuts, red pepper flakes.
Pat tuna dry with a paper towel. Cut into bite-sized cubes with a sharp knife.

In a medium bowl, add the soy sauce, rice vinegar, sesame oil, ginger, honey, and sea salt. Whisk until combined.

Put the diced fish in the bowl with the marinade. Swirl gently, then cover and refrigerate while you prepare the bowls.

For the aioli sauce, mix the mayonnaise and sriracha sauce. Put aside.

When assembling the bowls, the 1-cup quantities of each topping can easily be divided into 4 bowls. Simply distribute evenly in ¼ cup quantities. However, you can do any amount of any item you want. You can even omit or add anything you like.

First, add 1 cup of rice to each bowl. Next, divide and add the desired amounts of vegetables, pineapple and marinated fish.

Place the aioli sauce in a plastic sandwich bag and use scissors to easily cut a tiny edge off the corner of the bag. This way you can drizzle the aioli sauce over the poke bowls. You want the cutout to be small so you can control how much comes out. Sprinkle with sesame seeds and enjoy this island meal!
Serves: 4th
All nutritional information is based on third party calculations and is only an estimate. Each recipe and nutritional value depends on the brands used, measurement methods and serving sizes per household.
course dinner lunch
kitchen asian american
keyword Hawaiian poke bowl