Mango Tea (Mango Iced Tea)
What's better than a plain iced tea? A delicious fruity mango tea! This mango iced tea recipe uses fresh Alphonso mangoes, black tea, and very little sugar. So each sip of this midsummer beverage not only brings relief from the scorching heat, but refreshes as well. Don't forget to try this drink this mango season.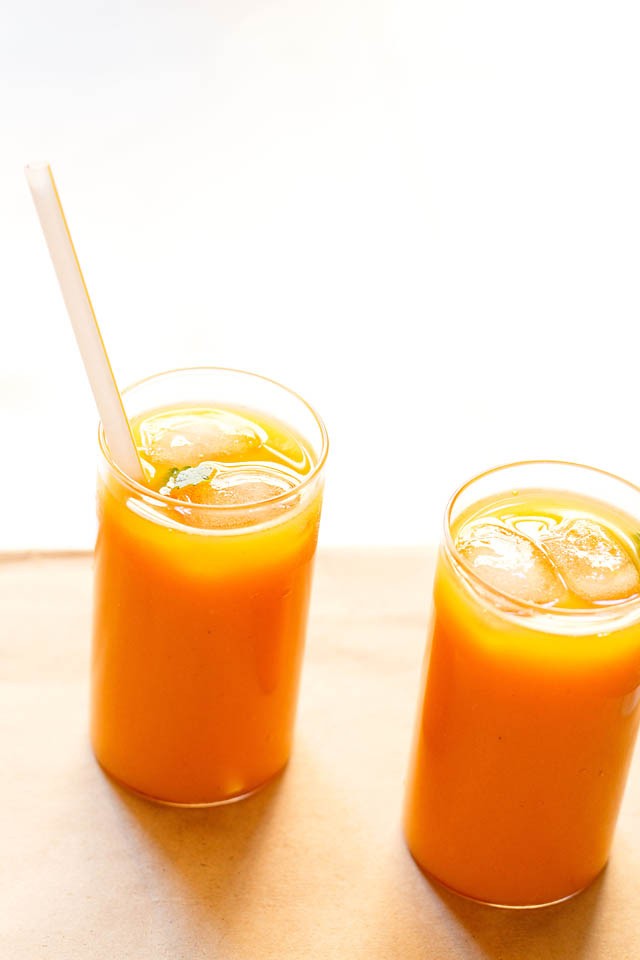 India, for 'tea'
We Indians love tea. Period. I can't imagine starting a new day without sipping a ginger tea in my favorite mug at home. And I'm sure many of you feel the same way.
When it comes to our comfort hot beverages, tea has always been, is and always will be more popular than coffee. In fact, for many people, coffee is love. But many others see tea as an emotion! Whether with or without milk, spices, sugar; It has always been a breakfast drink.
However, as India has 4 major seasons with extreme temperatures in many parts of the country, consuming a hot cup of tea is not the best. Especially in summer, the body needs something cooling and energizing.
This is when an iced tea comes to your rescue. And what better way to boost this light drink by using the "king of fruits" in season. Mango Tea will soothe your soul and keep you energized on a muggy day!
About mango tea
Besides mangoes, there are other flavors you can choose from to make your iced tea. For example, there is peach, rose, apple, lemon, raspberry, hibiscus, etc.
Since I've always been a mango lover and hoarder, I decided to create this mango tea recipe. I am sure you will like it too. So make sure you prepare a tall glass, refrigerate and enjoy whenever you feel like sipping on something mangolic cool.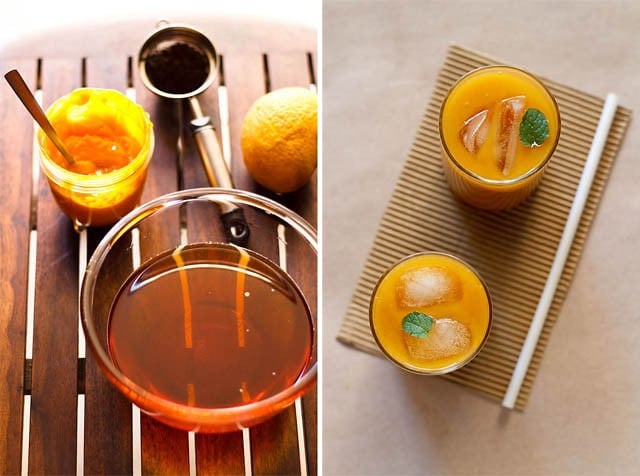 For this mango tea I used the beautiful mango variety Alphonso. For the tea infusion I used black tea, which only needs to be infused with hot water and then cooled.
Although I did add some unrefined cane sugar to the tea, whether or not to use a sweetener depends entirely on how sweet the mangoes are. If the fruit is too sweet, it is best not to add any additional sweetener.
Ice tea through the ages
Iced tea is primarily a type of chilled tea that can also be sweetened and flavored with various fruits. This mango tea recipe is one of the Indian versions that are made during the mango season.
The earliest mention of iced tea dates back to 1823. Some of the oldest iced tea recipes can be found in the cookbooks: Estelle Woods Wilcox's Buckeye Cookbook (1876) and Marion Cabell Tyree's Housekeeping in Old Virginia (1878).
From India, Nepal, China, Japan, Hong Kong, Vietnam and Indonesia to Greece, Turkey, Austria, Belgium, Bulgaria, Sweden, Norway, UK, USA and more, the iced tea has cultural differences in different parts of the world.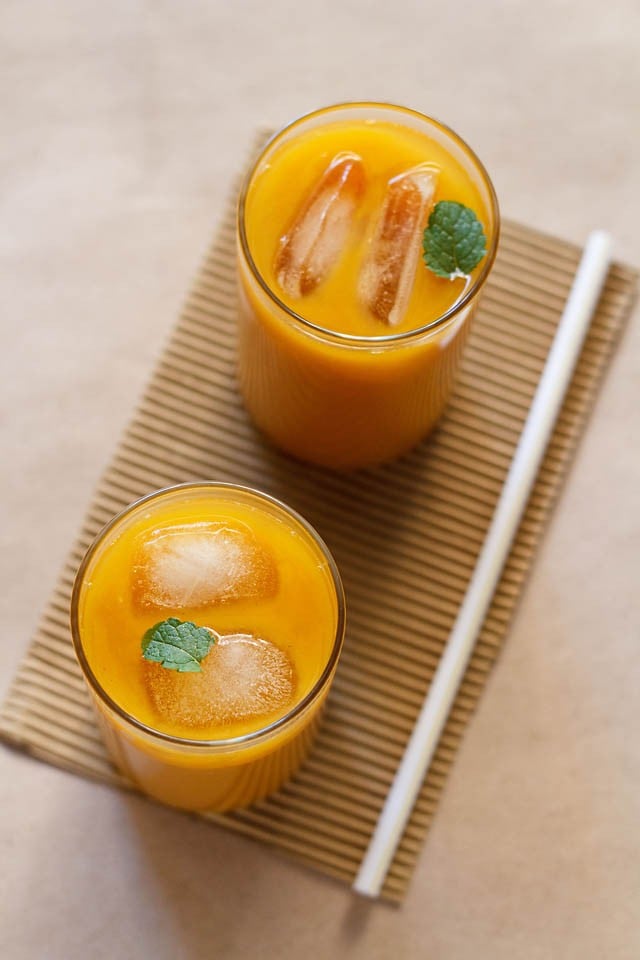 Iced Tea Varieties
While this mango iced tea, iced tea, and mint iced tea are the ones I usually make at home, there are other varieties around the world that you may or may not have heard of.
So here is the list to give you a glimpse of iced teas that exist in the world:
Based on the brew – This includes those made with black tea/herbal tea in the southern US, China and Switzerland; Jasmine tea in Asia or Earl Gray tea. In India, a spiced iced chai is a well-known drink.
sweet tea – Popular in the US, this is made by heavily brewing the tea with lots of sugar. Water is then added to thin the mixture and served with ice and lemon.
Unsweetened tea – This is nothing but the regular iced tea, just named differently in the southern regions of the US.
sun tea – This type is made by brewing tea leaves or bags with water in sunlight, resulting in a smoother taste. This may or may not be sweetened or served with lemon.
fridge tea – Consuming this tea can be harmful to your health as the tea is never heated enough to kill the bacteria it contains. Fridge tea brews tea in the fridge overnight.
Commercially manufactured – These include Bottled Iced Tea, Fountain Iced Tea and Half-and-Half made with iced tea and lemonade.
Long Island Tea – Another popular cocktail that can be described as pseudo iced tea is the Long Island Iced Tea. It is made from various alcoholic straight drinks and cola. Doesn't have tea but is so called because of the colour.
More mango drinks to try!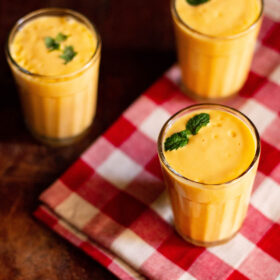 beverages
mango lassi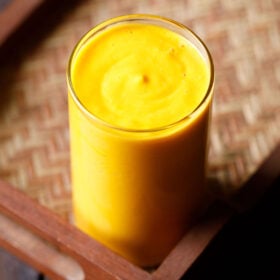 world recipes
Mango smoothie (5 ways)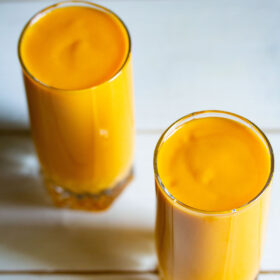 Milkshake Recipes
Mango shake (2 ways)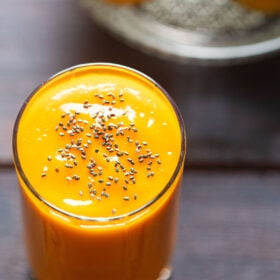 beverages
Mango juice recipe
Please be sure to rate this recipe in the recipe card below once you have made it. For more vegetarian inspiration sign up for my emails or follow me on Instagram, Youtube, Facebook, Pinterest or Twitter.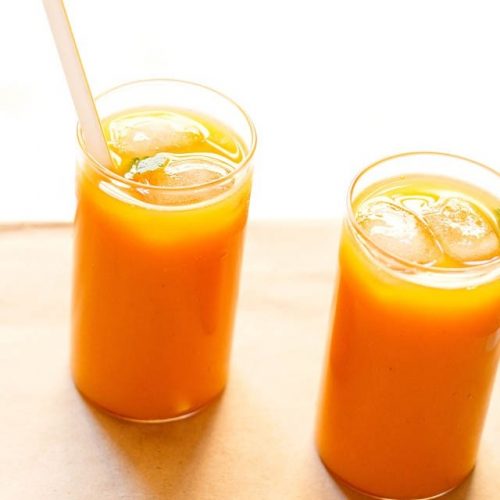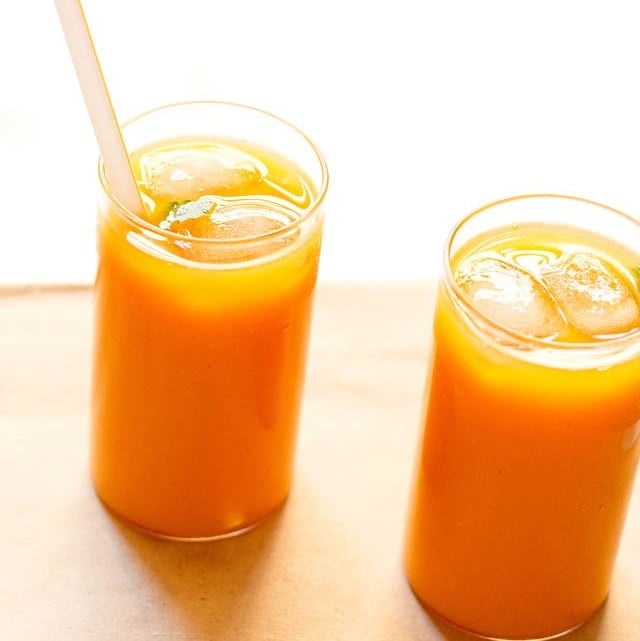 Mango Tea (Mango Iced Tea)
Mango Tea is a refreshing and deliciously fruity summer drink made from ripe sweet mangoes and black tea. This recipe is for a mango iced tea and can also be made with green tea.
preparation time 10 minutes
cooking time 5 minutes
total time 15 minutes
cooking modePrevent your screen from going dark while preparing the recipe
Peel and chop mangoes. Throw away the stones.

Puree them in a blender and put the mango puree in the fridge until you brew the tea.

Heat water until it boils on a stovetop or in the microwave.

Remove the pan of hot water from the stovetop

Add the black tea powder or tea leaves. Stir to combine.

Cover pan with a lid. Steep the tea in the hot water for 3 to 4 minutes or longer if you prefer a stronger tea.

Strain into a bowl or glass using a tea strainer. Cover and refrigerate the brewed black tea.

Once the tea has cooled, take it out of the fridge.

Pour the tea into a blender.

Add mango puree, lemon juice and sugar as needed. Before you add sugar, consider the sweetness of the mangoes.

Stir everything until smooth. If you have a small blender, blend in batches.

Place a few ice cubes in tall glasses and pour over the Mango Iced Tea. Garnish with mint leaves and serve immediately. You can choose to add mango slices or lemon slices as a garnish.
Use mangoes, which are sweet and have firm flesh. Alphonso mangoes work best for this recipe, but any type of sweet mango will work. Just make sure the mangoes aren't fibrous.
Instead of black tea, you can also prepare this mango tea with green tea. When steeping green tea, let it steep for less time, otherwise the tea can become bitter.
If you wish, you can omit the addition of sugar. Or add your favorite sweetener.
You can also add some boba (tapioca pearls) and make mango bubble tea. Prepare and boil the boba pearls before mixing them with the tea.
nutritional information
Mango Tea (Mango Iced Tea)
amount per serving
calories 105
Calories from fat 9
% Daily Value*
Fat 1g2%
Saturated Fat 1g6%
Polyunsaturated Fat 1g
Monounsaturated Fat 1g
sodium 18mg1%
potassium 238mg7%
carbohydrates 26g9%
fiber 2g8th%
Sugar 24g27%
protein 1g2%
Vitamin A 1496 IU30%
Vitamin B1 (thiamine) 1mg67%
Vitamin B2 (Riboflavin) 1mg59%
Vitamin B3 (Niacin) 1mg5%
Vitamin B6 1mg50%
vitamin C 51mg62%
vitamin E 1mg7%
vitamin k 6µg6%
calcium 26mg3%
Vitamin B9 (folate) 60 µg15%
iron 1mg6%
magnesium 17mg4%
phosphorus 20mg2%
zinc 1mg7%
*Percent Daily Values ​​are based on a 2000 calorie diet.
First released in May 2013, this Mango Tea from the archives was re-released and updated on May 19, 2022.