Mushrooms from the air fryer
This site may contain affiliate links and advertising to enable us to provide recipes to you. Read my privacy policy.
A batch of juicy, tender Airfryer mushrooms make the perfect side dish for dinner! They're tossed in a garlic and parmesan sauce for a hearty, juicy flavor you can't get enough of. Ready in 10 minutes, there's no better way to make them!
If you haven't already been able to tell, the air fryer is my favorite kitchen tool. No matter what kind of food you are preparing, the hot air fryer always works its magic! Vegetables are one of my favorite things to cook in it because they always turn out so fresh and tender! Crispy Parmesan Brussels Sprouts, Garlic Broccoli, and Roasted Cauliflower are other air fryer vegetable recipes you should definitely try!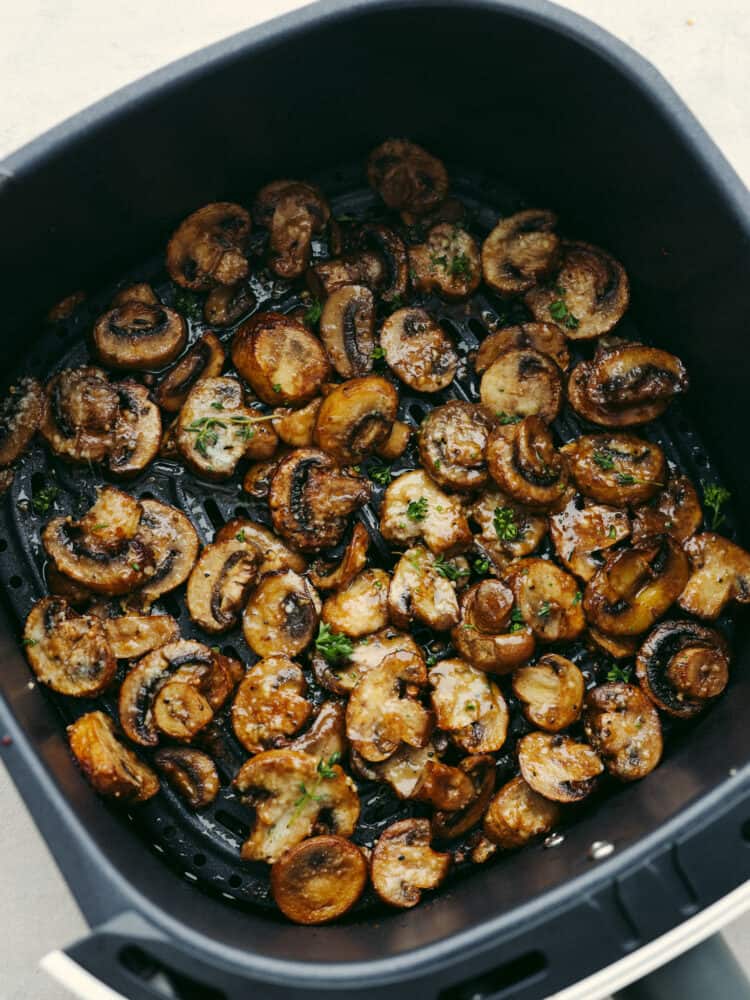 Air Fryer Garlic Parmesan Mushrooms recipe
Nothing complements a hearty dinner quite like mushrooms. They are so tender, meaty and flavorful! That's why they're so popular when served with steak! It's the perfect combination. Getting steakhouse-worthy veggies can be tricky, though. Especially if you are short on time!
This is where the air fryer comes in! With an air fryer, you can have perfectly cooked vegetables in minutes! And did I mention how delicious and tender they are?! You will love this easy air fryer mushroom recipe. I added a super light soy sauce, garlic, and parmesan sauce for you to toss in. It imparts the juiciest, tastiest flavor to every bite! Let's cook!
Everything you need to make the best Air Fryer Mushrooms
You only need a handful of ingredients to make this mushroom lover's dream come true! These simple ingredients help enhance and tenderize the mushrooms to perfection! You can find all measurements in the recipe card at the end of the post.
Mushrooms: I used white button mushrooms, but feel free to swap them out for your favorite kind of mushroom! Cremini and portobello also work great, but you may need to add a minute or two to the cooking time since portobello mushrooms are so large.
olive oil: Adds moisture and helps your mushrooms sizzle to perfection!
soy sauce: Makes the mushrooms nice and tender and gives them a savory taste.
Parmesan Cheese: Nothing complements garlic and fresh herbs and grated parmesan! It's a heavenly combination of flavors.
Spices: I used garlic powder, fresh thyme, and salt and pepper for the best savory flavor in every bite! Don't skip the thyme – it adds amazing flavors and a woody flavor that really takes the flavor of these air fryer mushrooms to the next level.
How to cook mushrooms in the air fryer
This is the perfect way to cook mushrooms! No roast, no mess. It's so easy and they turn out absolutely delicious every time!
Clean mushrooms: Rinse your mushrooms with water to ensure they are dirt free. Pat dry.
Combine all the ingredients: In a bowl, add mushrooms, oil, soy sauce, parmesan, garlic powder, thyme, salt and pepper. Stir everything together.
air fry: Put in the Airfryer basket. Cook at 380 degrees F for 5 minutes.
Shake basket, air fry again: Shake the basket and cook another 5-7 minutes or until tender.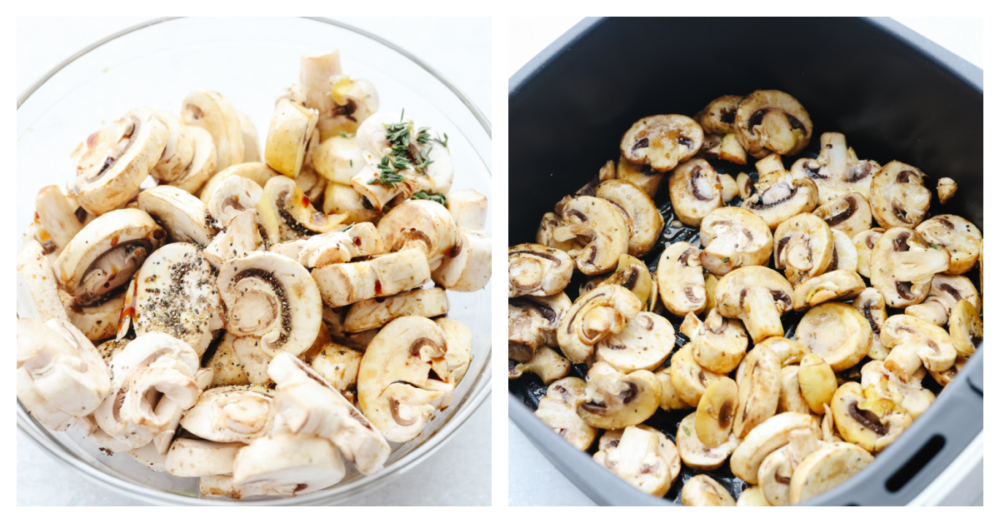 Tips for cooking mushrooms in the air fryer
These tips may seem like a no-brainer, but they're super important when you're preparing veggies in the air fryer!
Cook a single layer at a time: Airflow is crucial when cooking anything in your air fryer, but especially vegetables. Cook mushrooms one layer at a time, making sure there is enough space between the pieces to allow them to cook through completely.
Don't forget to shake: Shake your basket halfway through cooking to ensure your mushrooms are evenly cooked. This will keep your mushrooms from getting mushy or undercooked.
store leftovers
Leftover mushrooms are the best! You can use these bad boys on salad, pasta, stir fry and more! Here is my full list of mushroom dishes.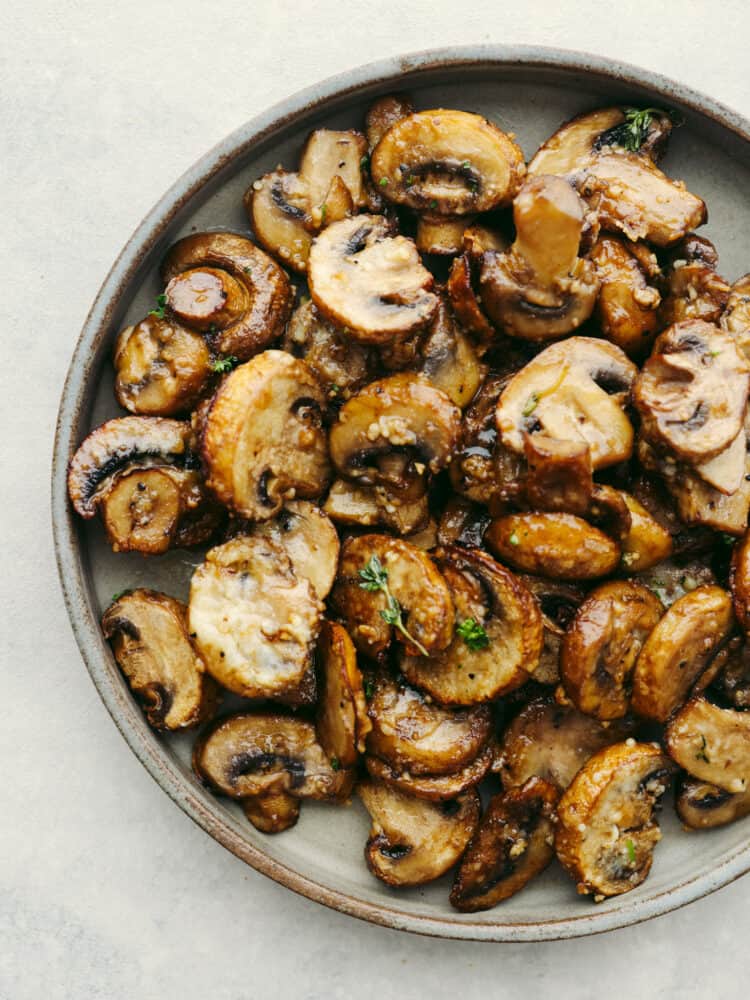 More quick and easy air fryer vegetable recipes
Perfect for any dinner, these vegetarian side dishes take no time to make! If you haven't tried cooking your veggies in the air fryer yet, you really have to! It makes them perfectly soft and tender! Whether you're a salt-and-pepper type or like your veggies loaded with flavor, I've got you covered! You will love how these recipes turn out.
In a bowl, add mushrooms, oil, soy sauce, parmesan, garlic powder, thyme, salt and pepper.

Stir everything together. Add it to an air fryer. Cook at 380 degrees for 5 minutes.

Shake the basket and cook another 5-7 minutes or until tender.
serves: 4
calories111kcal (6%)carbohydrates5G (2%)protein6G (12%)Fat8thG (12%)Saturated Fatty Acids2G (10%)Polyunsaturated fat1GMonounsaturated fatty acids5Gcholesterol3mg (1%)sodium865mg (36%)potassium400mg (11%)fiber1G (4%)sugar2G (2%)Vitamin A57ie (1%)vitamin C3mg (4%)calcium42mg (4%)iron1mg (6%)
All nutritional information is based on third party calculations and is an estimate only. Each recipe and nutritional value will vary per household based on the brands you use, measurement methods, and serving sizes.
course garnish
kitchen American
keyword Recipe for air fryer mushrooms