Mutton Haleem – mutton steamed with wheat and dal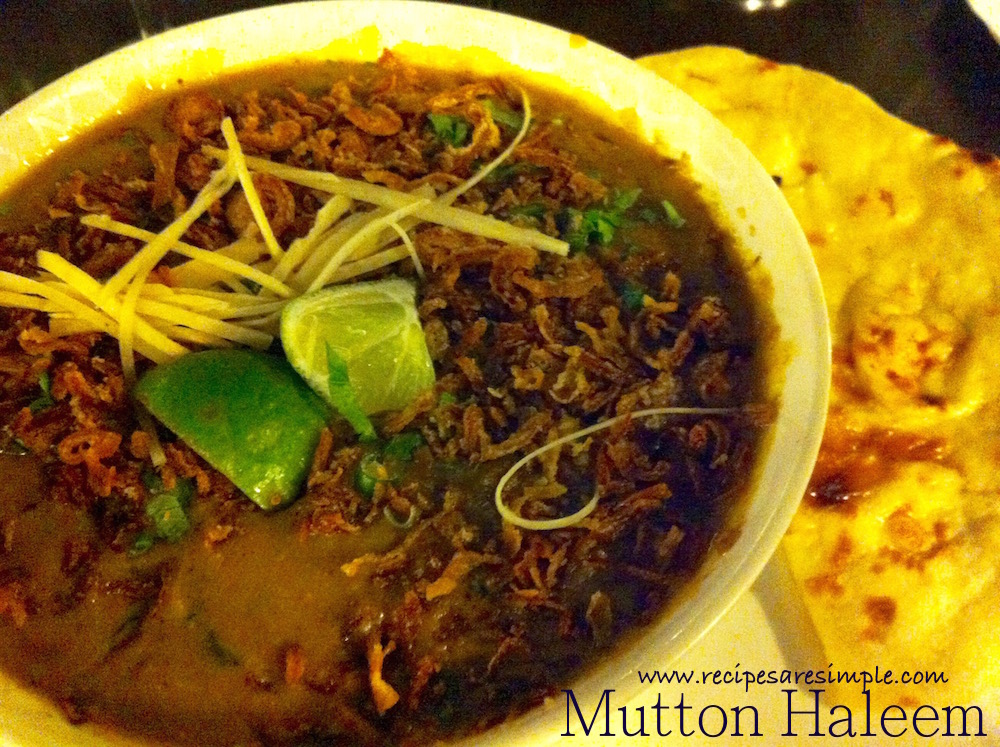 Haleem is very popular in the Middle East, Central and South Asia. This delicious Haleem recipe is a soothing meat dish cooked with wheat and various dals. That's how I make mutton Haleem. Beef Haleem can be made in the same way.
Absolutely delicious, served with hot naans, this dish is fairly simple, though you will have to plan to soak the wheat and barley … and the time to cook the meat until it's absolutely tender. Delicate enough to crush into pieces
Mutton Haleem
You are here: Home> Beef and Mutton> Mutton Haleem
Recipe Name: Hammel Haleem

Cuisine: Pakistan

Author: Shana c / o Recipes 'R' Simple

Preparation time: 20 min

Soak time: 8 hours or overnight

Cooking time: 1 hour

Total time: 1 hour 20 minutes plus soaking

Yield: (8-10 servings)
Ingredients:
1½ kg of prime mutton – boneless, fat-free – you can also use beef
1 ½ cups of wheat / gehun / گیہوں (I often use cracked wheat / broken wheat)
½ cup hardly / jau / جو
Pinch of baking soda

1 cup of Chana Dal

¼ cup of Masoor Dal
¼ cup of Moong Dal (yellow)
¼ cup split Urudh Dal / Mash Dal (white)
3 onions, very finely chopped
2 tablespoons ginger-garlic paste
¾ – 1 cup of ghee or oil for frying
2 tbsp kashmiri chili powder – reduce to taste
2 tbsp coriander powder
1½ tsp turmeric
2 whole bay leaves
Salt to taste
Spices to be ground:
1 tsp Shahi Jeera / black cumin / سیاہ زیر
1 tsp black peppercorns
½ tsp nutmeg / jaiphal / جائفل
½ tsp mace / Javaitri / جاوتری
½ tsp cumin / زیر
½ tsp cardamom
½ tsp cloves
For garnish:
Ginger Julienned
Sliced ​​green chillies
Fresh mint
Fresh coriander
Lime wedges
Chat Masala
Method:
Rinse the barley and wheat together.
Soak in cold water overnight.
Next day:
Soak all dals together in water for 1 hour.
Dispose of the soaking water from wheat and barley. Add plenty of fresh water and a pinch of baking soda.
Puree the wheat barley. Pressure cooker to shorten the cooking time.
No salt is added.
Boil the dals separately in plenty of water until they can also be mashed. (No salt is added). Strain the dals and reserve the broth.
Mix the cooked dals with the wheat and barley mixture. The wheat mixture should contain plenty of liquid. It should be pourable and not too thick.
Place all the spices to be ground in a dry mixer and grind to a powder.
Cook the mutton in water until it is also absolutely tender. It should be tender enough to shred.

You can cook the mutton yourself. Or you can add it to the Qorma and cook it with the spices. Don't shred now.

Cut the whole onion into thin slices. Use about 2 cups of it for frying.
Heat the ghee and fry the onions in portions until golden and crispy.
Drain the kitchen towel.
Make the Qorma:
Take 3-4 tablespoons of ghee / oil with which the onions were fried.
Place in a large / deep saucepan.
Add the rest of the onion and fry light golden.
Add the ginger and garlic paste and cook until it no longer smells raw.
Now add the chili powder, the coriander powder as well as the turmeric and the bay leaves.
If it is aromatic, sprinkle some water so that the spices do not burn.
Add the cooked meat and throw it into the Korma Masala.
Add salt to taste and just enough water to cover the meat.
Bring to a boil. Reduce the heat and start crushing the cooked meat with a wooden trowel. The tender meat should be crushed very easily to shreds.
Now pour the Dal-Wheat mixture into it.
Add more salt if necessary.
Bring to a boil. Reduce the heat and cook for 15 minutes.
Use a hand blender to thoroughly mash the lentils and meat to get an extremely smooth haleem.
Place all the side dishes and the fried onions on a serving plate and spread them on the hale before serving. Don't put all the fried onions together. Add as needed. Or individuals can help themselves.
Mutton Haleem
Remarks:
Hand blender – Buy it on Amazon.
Sometimes I like to use shallots for frying instead of onions. Adds more flavor, but takes longer to peel and slice thinly.
Just add a small amount of baking soda. It helps to crush the wheat well. If you add too much, the taste will be ruined.
Main ingredients: mutton, dals, wheat, barley, spices, onion, ginger, garlic, herbs (coriander & mint), lime, green chillies, ghee, salt.
Leave a comment if you tried Mutton Haleem. Comments from you motivate you to keep the driving force behind this blog and regularly bring you more delicious and perfected recipes. I love hearing from you.
You may also like: