This site may contain affiliate links and advertising to enable us to provide recipes to you. Read my privacy policy.
Flavored with garlic and basil, these roasted cherry tomatoes are bursting with perfection. It's an easy and delicious side dish that you'll want to pair with every meal!
Roasted vegetables are so delicious and go with everything! Try these Cauliflower, these delicious Roasted Lemon Garlic Broccolini, and these Brown Butter Honey Garlic Carrots. You will never eat raw vegetables again!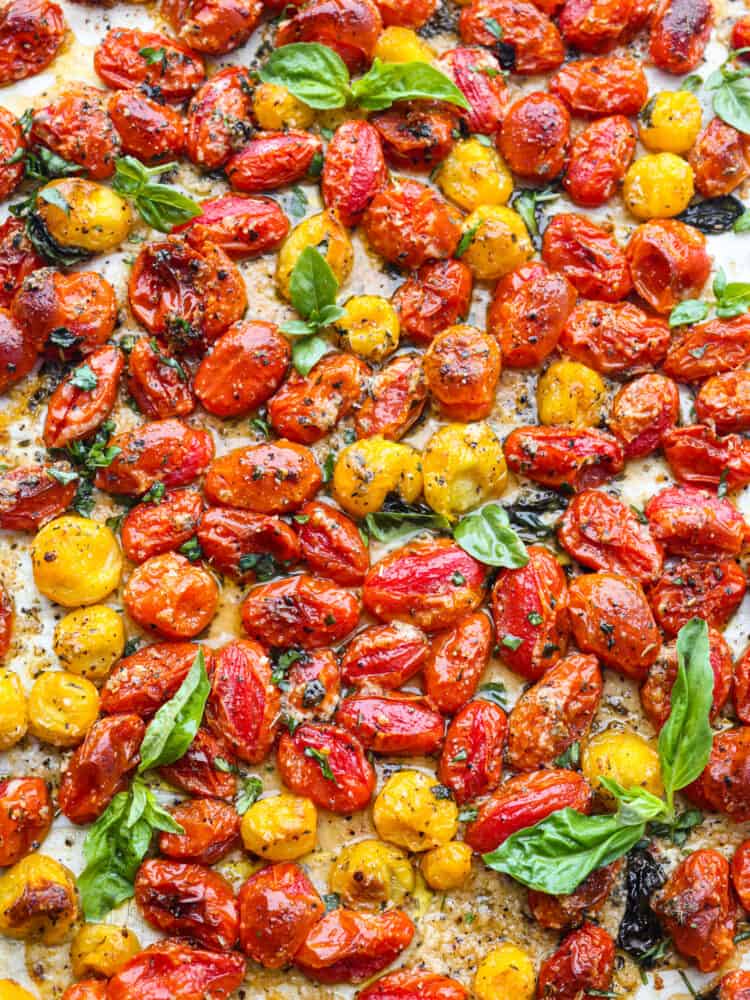 Roasted cherry tomatoes recipe
I can't decide what I like most about these roasted tomatoes. Is it the basil, or the garlic, or the delicious, roasted exterior? These tomatoes start out firm and plump, but as they cook in the oven they literally burst creating the most delicious texture! They are so juicy and full of flavor that I literally want to pair them with everything I cook for dinner.
Not only do these taste delicious, but they are so easy to make! The seasoning you toss them in is so delicious and the flavors of Italian spice and basil pair beautifully with the fresh tomatoes. Also, my garden is full of tomatoes this time of year and this is a great way for me to use them all! I love all roasted veggies, but I have to say, this might be my new favorite!
Ingredients in roasted cherry tomatoes
These Roasted Cherry Tomatoes are so good my kids even love them. And let's be honest… Anytime I can get my kids to willingly eat some veggies, I call that a win! You can find the exact measurements on the recipe card at the end of the post.
cherry tomatoes: I like to use different colors of cherry tomatoes to make this look colorful!
Olive oil: You will drizzle olive oil on the tomatoes to help the spices stick.
Parmesan cheese: Sprinkle some parmesan cheese on top, it adds a delicious flavor. Don't skip this!
Garlic cloves: If you don't have fresh garlic cloves, use minced garlic instead. ½ teaspoon is about 1 clove of garlic.
ItaLian Spice: Try making your Italian seasoning from scratch with this recipe. It has classic flavors like thyme and oregano that go so well with tomatoes.
Salt and pepper: These enhance all of the flavors in this Roasted Cherry Tomato recipe.
Basil: Fresh herbs are always a good idea and the taste of fresh basil really finishes off this recipe.
How to make roasted cherry tomatoes
You can whip up these Roasted Cherry Tomatoes in no time! Just eat them, toss them in a salad, or add them to any main dish. You will be enthusiastic!
Preheat: Preheat the oven to 400 degrees F.
Combine: In a large bowl, combine the cherry tomatoes, olive oil, parmesan, garlic, Italian seasoning, salt and pepper and stir to combine.
Add basil: Place the mixture on a parchment-lined rimmed baking sheet and place the basil on top.
Cook: Cook for 15-20 minutes or until tomatoes are crisp and bursting.
Grape vs. cherry tomatoes
You can definitely use grape tomatoes instead of roasted cherry tomatoes! However, grape tomatoes tend to be less sweet than cherry tomatoes and also have a slightly irregular shape. Just keep both in mind when deciding which tomatoes to use in this recipe.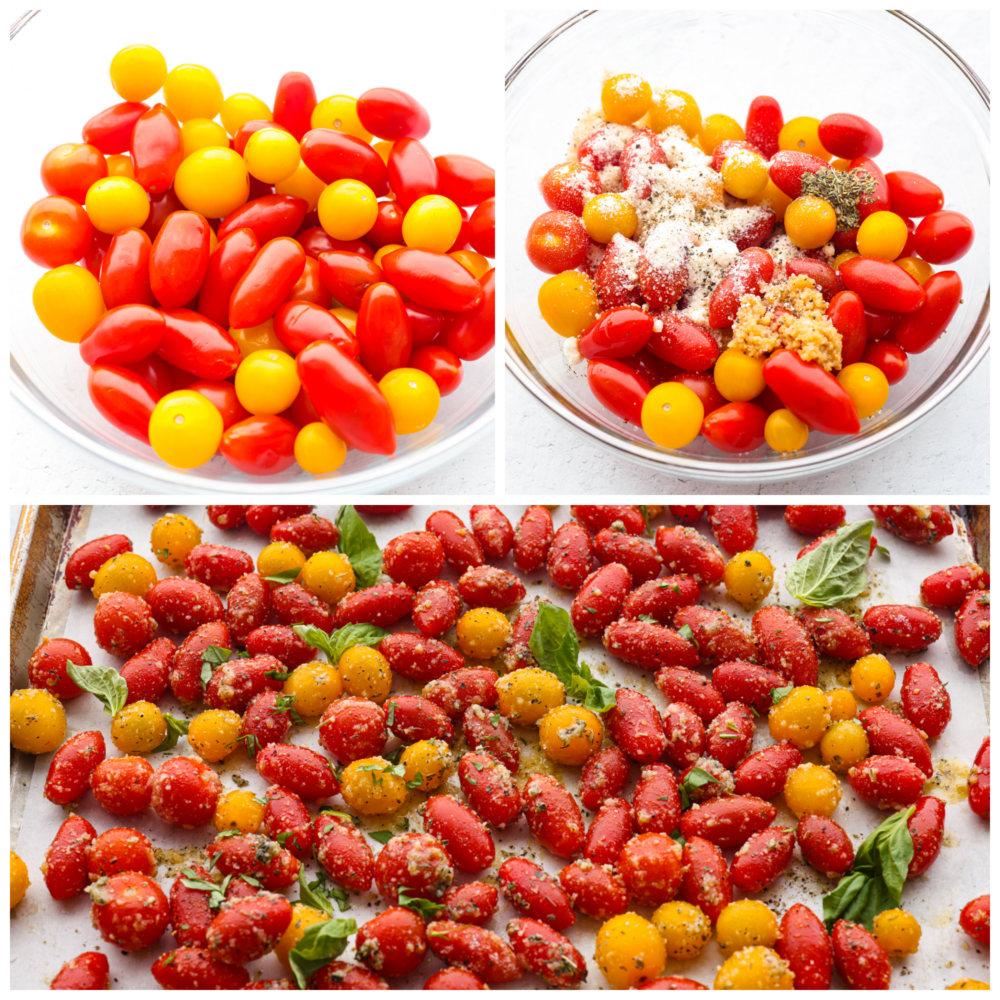 Half or whole tomatoes
You can cut these roasted cherry tomatoes in half if you like! I like to leave them whole because I like the look of the burst tomatoes. However, if you want a slimmer presentation, cut it in half. They are roasted just like that and keep their shape because they don't crack. It won't change the taste, just how they look, so it's up to you to decide!
More delicious tomato recipes
I love tomatoes and how versatile they are! You can use them in salads, as a side dish or in your appetizer. I wanted to save you some time and include here a few of my favorite tomato recipes that you MUST try next! I know you will love her!
Preheat the oven to 400 degrees F.

In a large bowl, combine the cherry tomatoes, olive oil, parmesan, garlic, Italian seasoning, salt and pepper and stir to combine.

Place on a parchment-lined baking sheet and top with basil.

Cook for 15-20 minutes or until tomatoes are crisp and bursting.
serves: 6
calories157kcal (8th%)carbohydrates8thG (3%)protein3G (6%)Fat13G (20%)Saturated Fatty Acids2G (10%)Polyunsaturated fat1GMonounsaturated fatty acids9Gcholesterol4mg (1%)sodium285mg (12%)potassium369mg (11%)fiber1G (4%)sugar4G (4%)Vitamin A833ie (17%)vitamin C37mg (45%)calcium67mg (7%)iron1mg (6%)
All nutritional information is based on third party calculations and is an estimate only. Each recipe and nutritional value will vary per household based on the brands you use, measurement methods, and serving sizes.
course garnish
kitchen American
keyword Cherry Tomatoes, Roasted Cherry Tomatoes