This website may contain affiliate links and advertisements so that we can provide you with recipes. Read my privacy policy.
Homemade blueberry syrup is the best addition to your breakfast menu. It's cute, decadent, and you'll want to put it on everything!
It takes less than 10 minutes and only a few basic pantry ingredients are required! Serve this on buttermilk, corn bread, or waffles for a breakfast that is sure to be a hit with the family!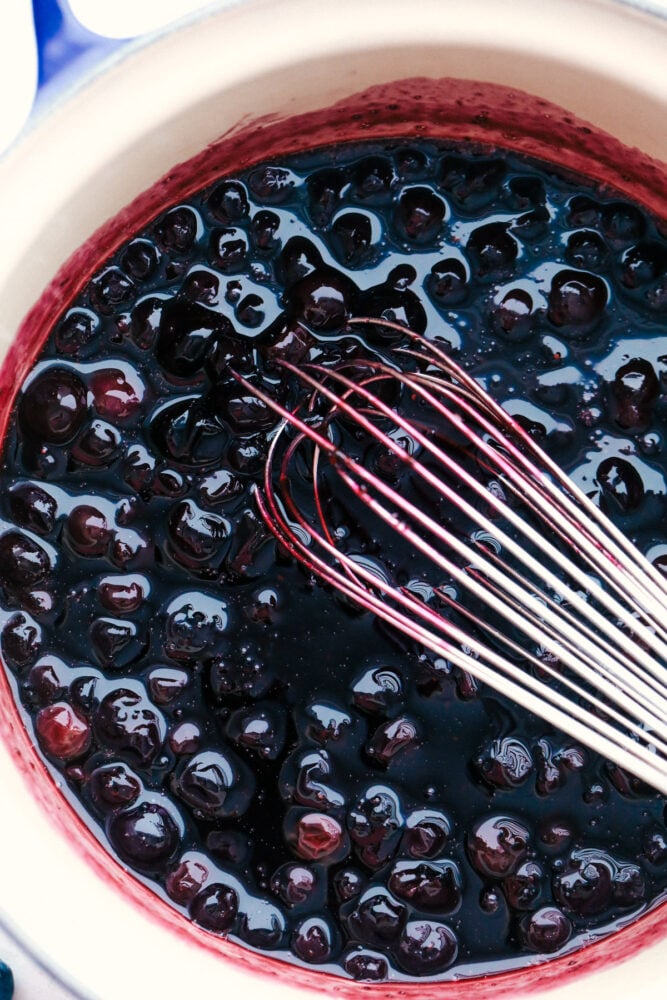 Blueberry Syrup Recipe
It's time to step up your pancake game! This homemade blueberry syrup is fresh, delicious, artificial sweetener free and SO versatile! It only takes a few minutes to assemble and it tastes better than anything you can find in the store! Top pancakes, waffles, crepes or other baked goods with this syrup for an extra sweet and fruity taste. You can even add this syrup to our homemade lemonade to create the perfect summer drink!
This blueberry syrup has become a HUGE HIT in my family and my kids love to use it on everything. You can swap the blueberries in this recipe for raspberries or strawberries to create different syrups for an IHOP-style breakfast! The possibilities are endless and I know you will love having this syrup on hand in your kitchen!
Simple homemade blueberry syrup ingredients
The best thing about this homemade blueberry syrup is that it only takes 4 simple ingredients to make! Make this syrup in a snap!
Sugar: This melts into a perfect syrupy texture and counteracts overly tart fruit flavors.
Corn starch: Creates thickness for perfectly rich syrup.
Lemon juice: You can use either freshly squeezed or bottled lemon juice.
Fresh blueberries: Fresh blueberries are best for getting the perfect taste and texture, but you can use frozen blueberries as substitutes too!
How to make blueberry syrup from scratch
The steps to make this syrup are so simple that even the youngest chefs in your home can help! Mix this syrup together with this pantry pancake pancake mix for a perfect combination breakfast in just a few minutes!
Whisk: In a medium saucepan, add the sugar, cornstarch, water, and lemon juice and whisk.
Cook: Bring the mixture to a boil over medium heat and add your blueberries.
Cook: Simmer for 4-5 minutes until the blueberries pop and the syrup begins to thicken.
Serve: Remove from heat and serve.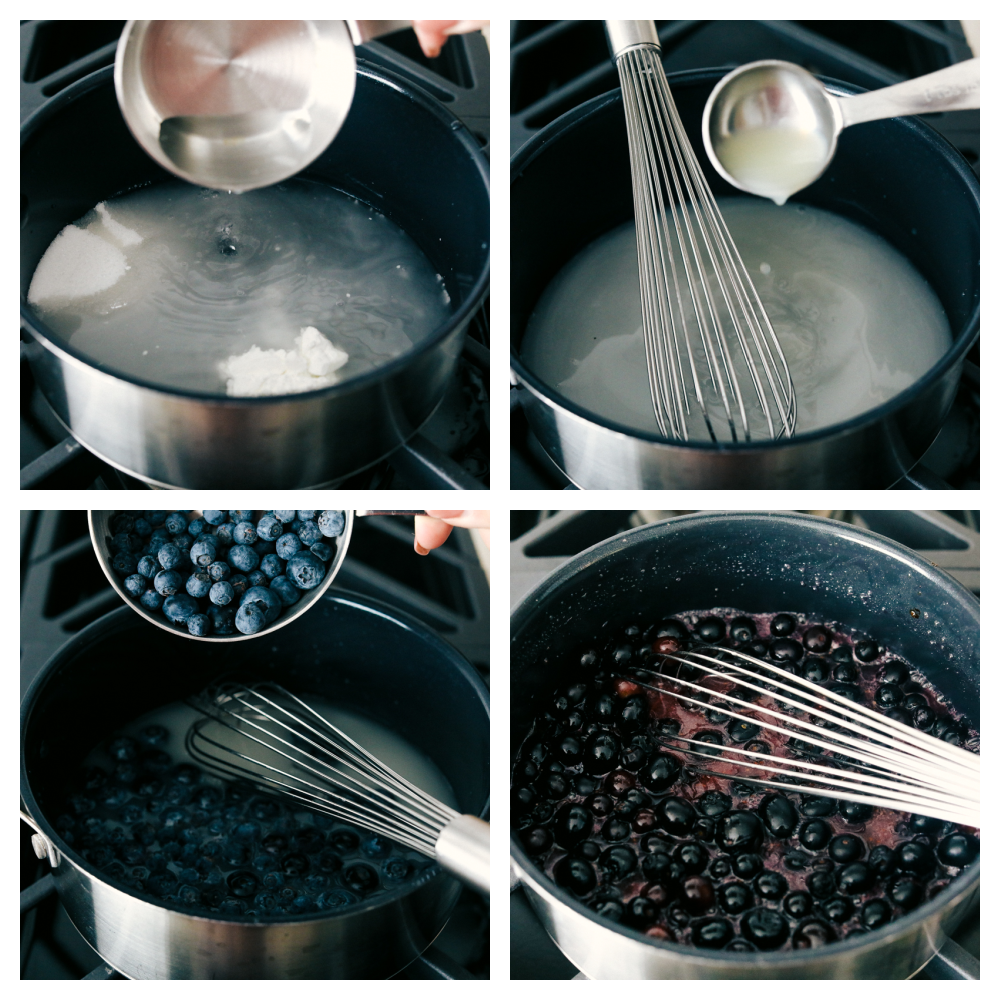 The best blueberry syrup tips
Here are some tips to help you perfect your blueberry syrup! And if you're a big blueberry fan like me, you have to try our awesome blueberry banana bread and blueberry pie muffin bread with lemon icing!
Blueberries: Ripe blueberries become large and plump and slightly gray on the outside. Make sure they are dark blue around the berry – any signs of red could mean they are not yet ripe and too tart.
Temperature: Be careful not to cook your mixture over high heat. Simmering allows it to hold in moisture while creating the perfect syrupy texture.
Texture: If you don't want to have pieces of fruit in your syrup, you can use a colander or colander to make it thinner.
Fruit substitute: If you plan to make your syrup with larger fruits like strawberries, chop the fruits up or pass them through a food processor before adding them to your sugar-water mixture.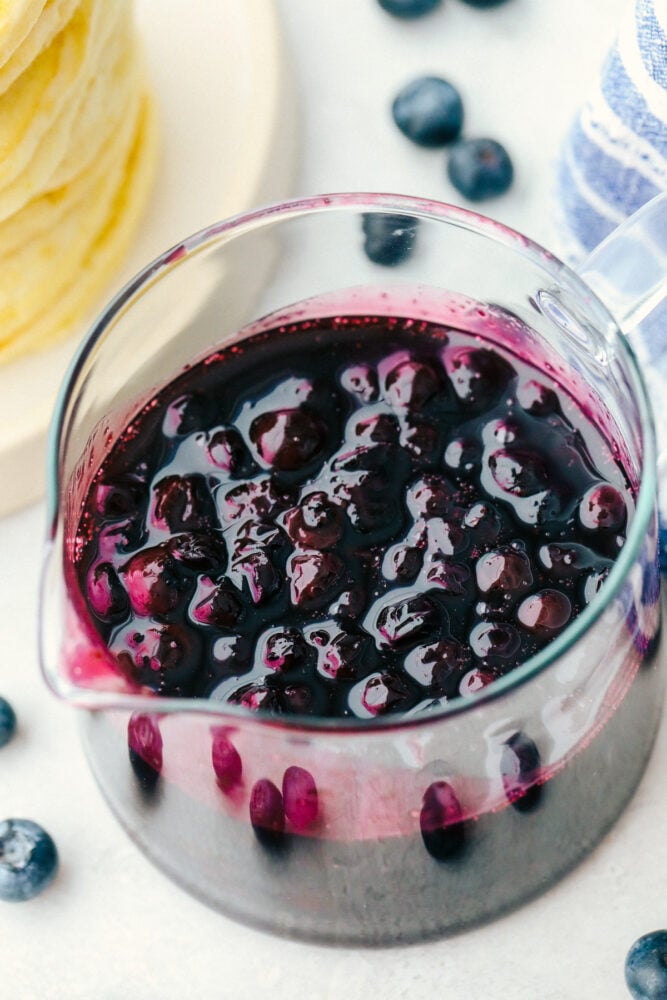 What to serve with homemade blueberry syrup
Blueberry syrup with breakfast food is a classic. Try serving it over my German pancake! You can also put it on cheesecake and cheesecake bars for added decadence. Blueberry syrup is sooooo good for so many different things – in drinks, as a salad dressing, or even to drizzle on mini fruit pizzas! It's a delicious staple that you will LOVE!
Storing your homemade syrup
You can store your homemade blueberry syrup in an airtight container in the refrigerator. It should stay fresh for about a week. You can also freeze your syrup so it will last for months! When freezing, leave an inch of space in your container as the syrup will expand. If you're ready to use it, let it thaw in the refrigerator for a few hours before consuming.
Fridge: Store in an airtight container or jar in the refrigerator for about 7 to 10 days.
Freezer: This will freeze for 3 months in an airtight bag or jar. When reheating, warm slowly and stir occasionally.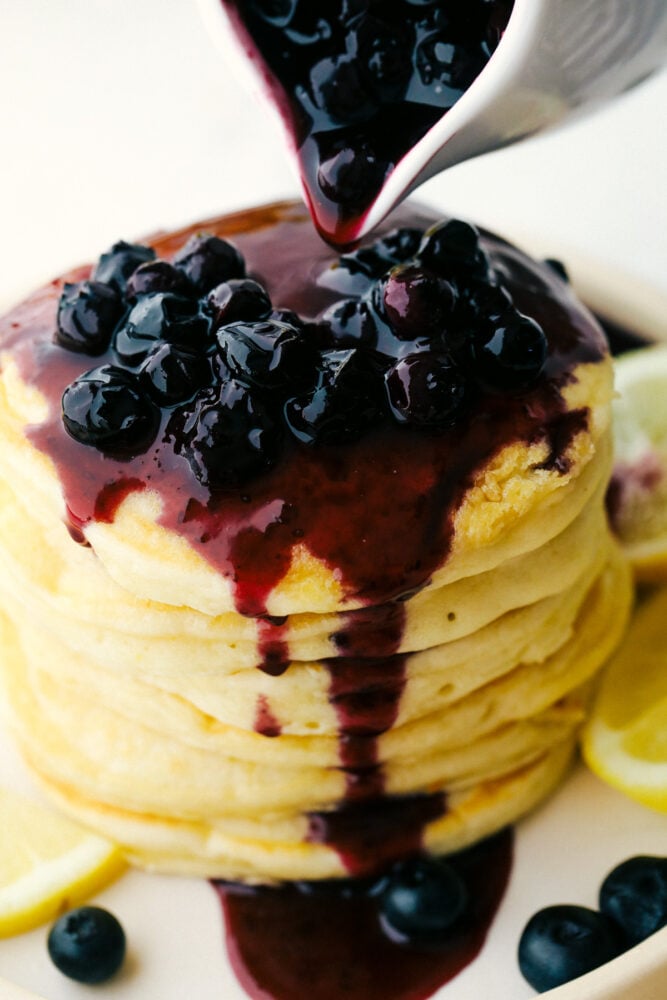 Try these other breakfast recipes
If your family is anything like mine, they always want to change breakfasts and keep things fresh and new. Adding a syrup like this buttermilk or pancake syrup is a great way to enhance your breakfast! Here are some other proven recipes for changing things up with a delicious new take on breakfast classics!
Serves: 8th
Calories74kcal (4%)carbohydrates19thG (6%)protein1G (2%)fat1G (2%)Saturated fat1G (5%)Polyunsaturated fat1GMonounsaturated fatty acids1Gsodium1mgpotassium31mg (1%)Fiber1G (4%)sugar16G (18%)Vitamin A20thIEvitamin C4thmg (5%)calcium3mgiron1mg (6%)
All nutritional information is based on third party calculations and is only an estimate. Every recipe and nutritional value depends on the brands, measuring methods and serving sizes used per household.
course breakfast
kitchen American
keyword Blueberry syrup, homemade blueberry syrup