Today's recipe? It's all the things you love about a taco, in salad form. Tempeh Taco Salad – Shredded tortilla chips bring the crunch, black beans and crumbled tempeh coated in taco seasoning bring the substance, and a strong smoked paprika and cider dressing brings it all together. It's a meal in itself and most components can be made ahead of time, making this salad a great option for weeknight dinners and potlucks. You can see it come together in the taco salad how-to video below. Enjoy!
Taco Salad Variations
As I mention in the video, I like to change up this salad with the seasons. Cherry tomatoes (raw or roasted) or grilled zucchini are great in summer, roasted squash or mushrooms are great in fall. Basically, if you start with the base of beans and tempeh, plus romaine and dressing, you can build and customize from there—a big dollop of guacamole is always good.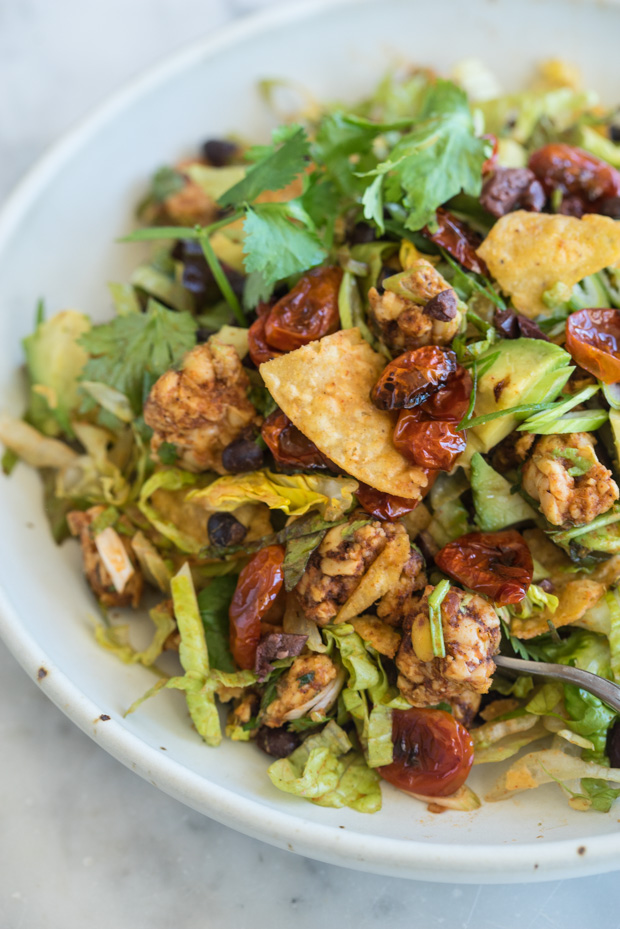 More salads!
There are so many great salads in the archives so be sure to poke around. I love this awesome Kale Salad, Sriracha Rainbow Pasta Salad, Garlic Lime Lettuce Wraps, and Grilled Wedge Salad. You can also find the list of all past salad recipes here. Enjoy!
More tempeh!
I really enjoy tempeh in this taco salad (and so many other ways!). If you're curious about tempeh and want to try some absolutely delicious recipes, here are my tips. Don't skip this Andrea Nguyen inspired Spicy Tempeh Crumble Bowl, I make it a few times a month and it's amazing. I also love that Orange Pan-Glass Tempeh and of course another vote for the lettuce wraps.
101 Cookbooks Membership

Ad-free premium membership includes:
-Ad-free content
-Print-friendly recipes
– Weekend Express PDF
– Surprise bonuses all year round