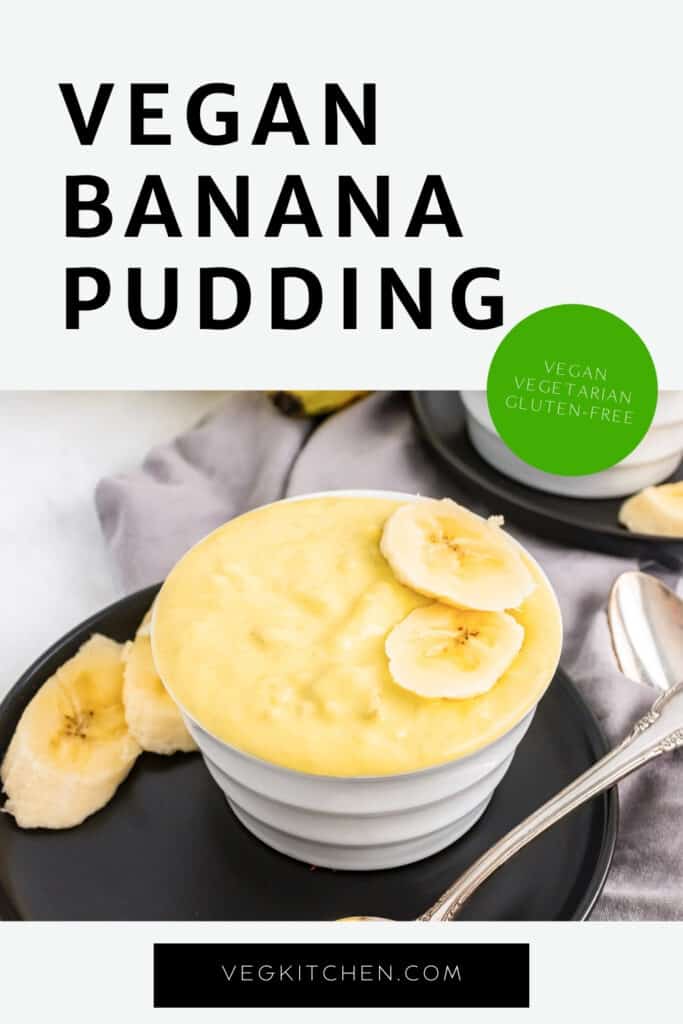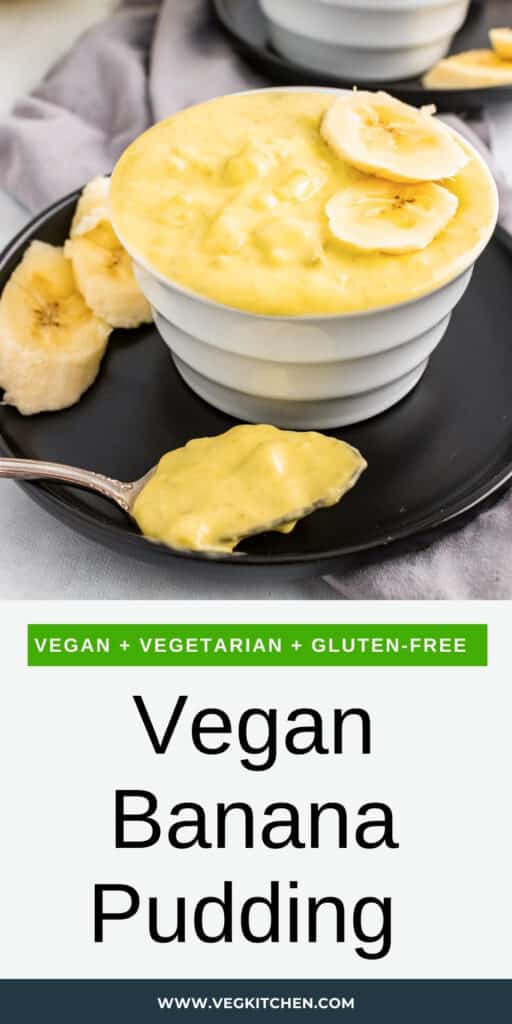 You can serve it creamy and tasty with just a few ingredients Vegan banana pudding. Full of sweet banana flavor, this pudding is sure to be a hit. Add a dollop of creamy vegan whipped cream and enjoy!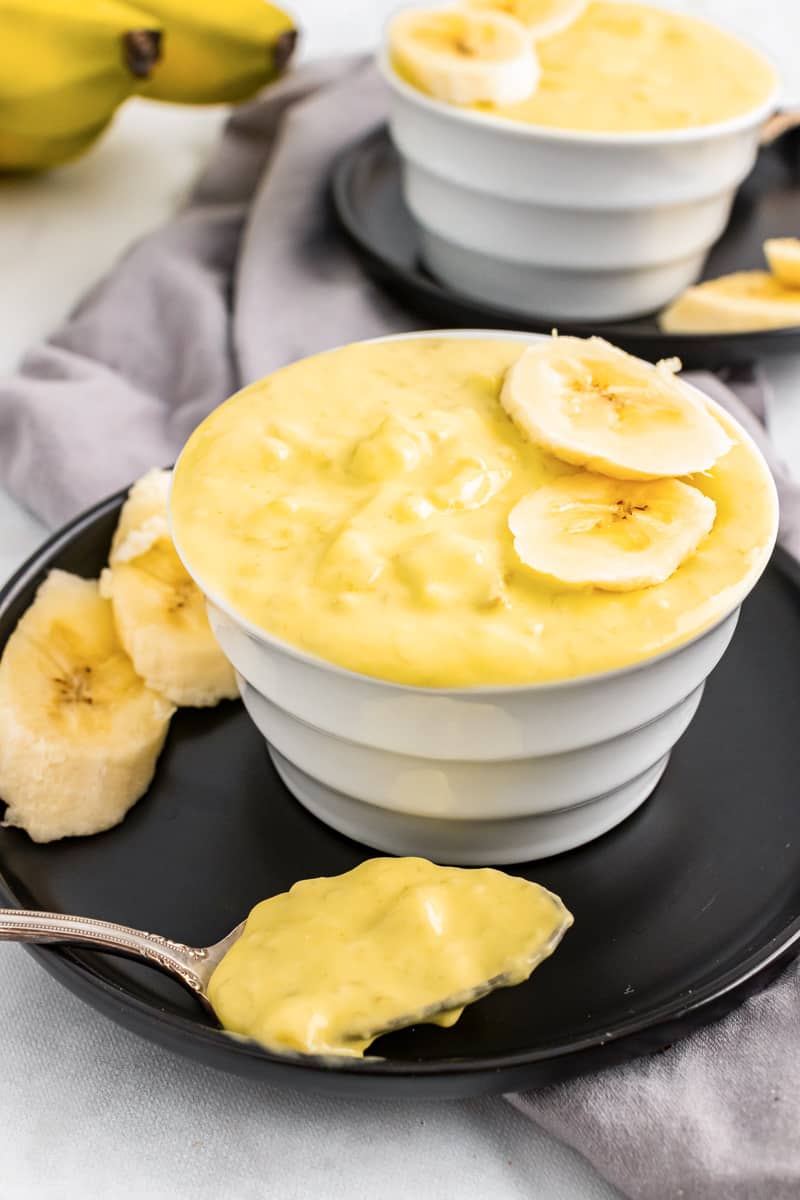 Jump to:
Whip your pudding in 15 minutes, then place it in the refrigerator to cool and then stand on top. This dessert is one of our family favorites!
This vegan banana pudding recipe is …
Vegan
vegetarian
Non dairy
Gluten free
Made with real bananas
Self-made
How to make vegan banana pudding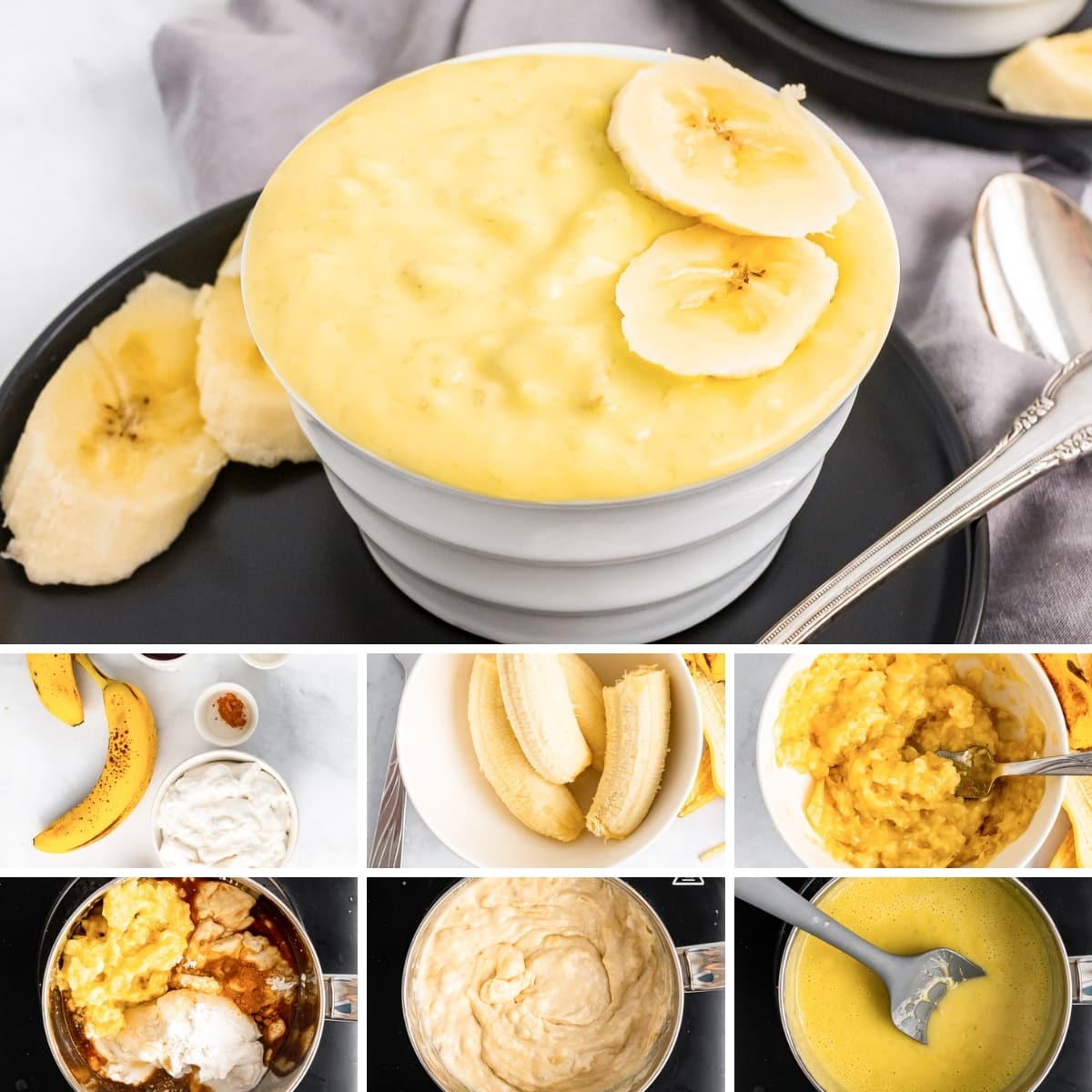 Mash the bananas in a bowl. Then put in a saucepan on the stove.
Add coconut cream, maple syrup, vanilla, salt and turmeric.
Mix well and heat over medium heat to a boil. Stir often.
Pour the mass into a heat-resistant container and cool in the refrigerator for at least 4 hours.
As soon as the banana pudding is firm, cover with bananas and serve.
For full instructions on how to make vegan banana pudding, see the printable recipe card below.
Tips & tricks for vegan banana pudding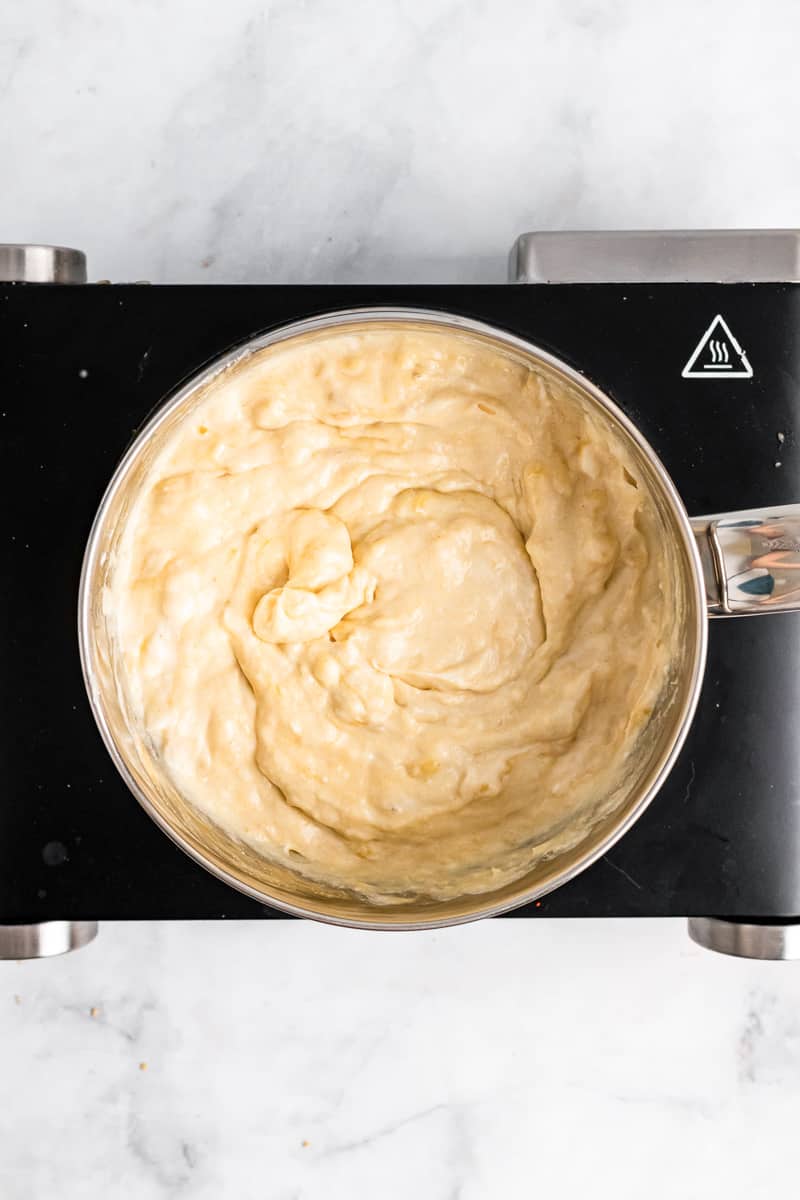 Banana pulp
Be sure to use ripe bananas for this recipe. Then you want to mash them with a fork. You should work out large lumps so that your pudding has a nice creamy texture.
Stir frequently
The pudding needs to be stirred frequently on the stove. If you don't, the pudding can burn to the bottom of the pot and ruin your dessert.
Food processor
If you really don't want any lumps, you can use a food processor to pulse the banana mixture to make your pudding ultra creamy.
Variations on vegan banana pudding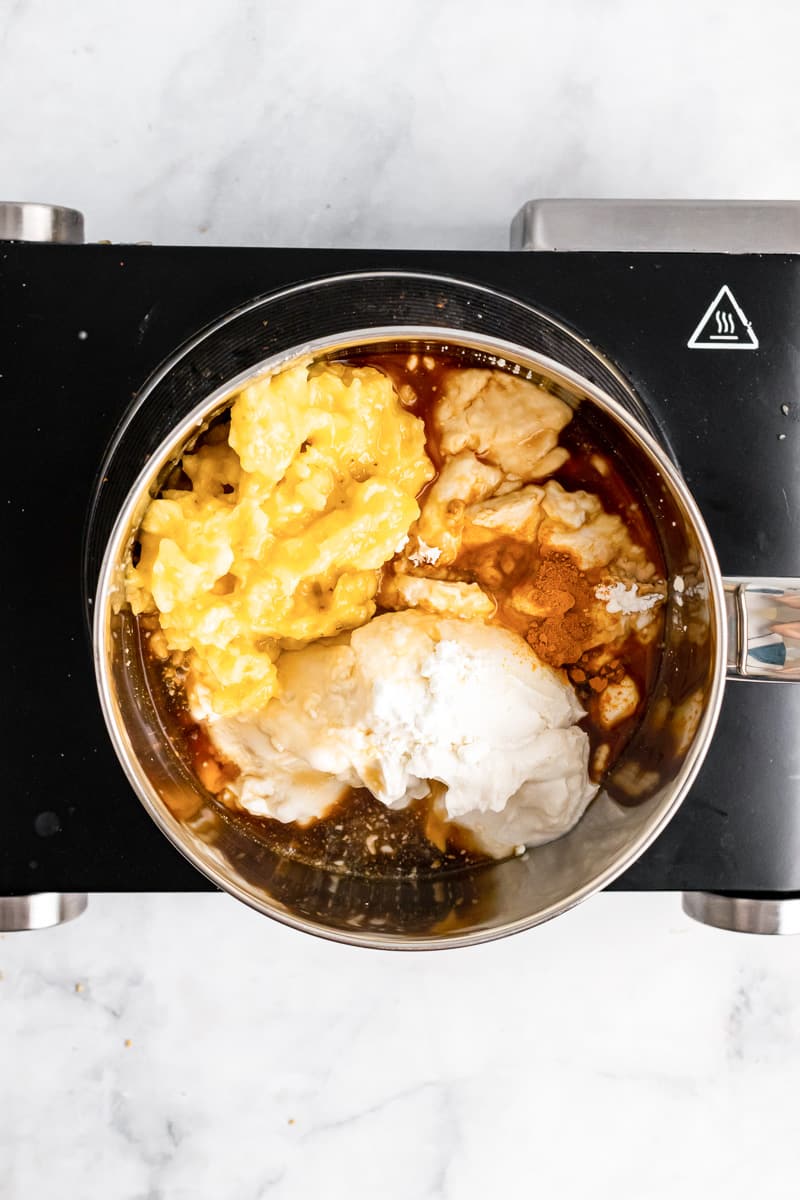 Sugar-free alternative
I used maple syrup for this recipe. However, if you want, you can replace the syrup with an artificial sweetener to reduce some of the sugar content.
turmeric
Turmeric is optional, but it will add a nice color to your pudding. You can also use yellow food coloring to give your pudding a yellowish color.
Parfait
With this vegan banana pudding you can prepare delicious parfaits. Use a vegan-friendly cookie or graham cracker for the first layer of your parfait. Then add a layer of pudding and a layer of vegan whipped cream!
Frequently asked questions about vegan banana pudding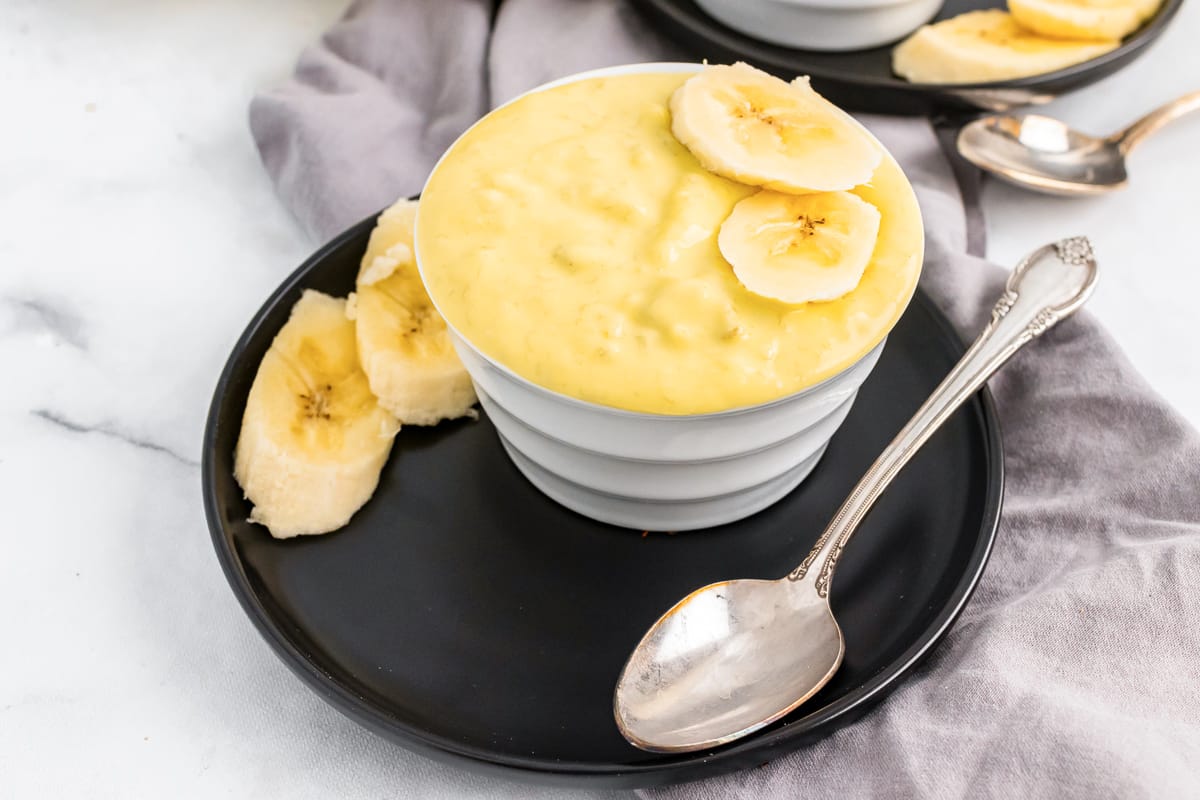 Is coconut cream the same as coconut milk?
Coconut cream and coconut milk are not the same, so make sure you buy canned coconut cream. Coconut cream is ultra thick and gives the banana pudding its rich taste and creamy texture.
What is the cornstarch doing in this recipe?
The cornstarch in this recipe will help thicken the pudding while it cooks on the stove. Without cornstarch, your pudding would take a lot longer to reach the consistency you want.
How can I make this pudding less sweet?
If you want to tone down the sweetness of this pudding, just use less syrup. Just measure out half the amount given in the recipe. Then you can add more syrup if you want the dish to be a little sweeter.
How should I store banana pudding?
Banana pudding must be stored in an airtight container in the refrigerator. It can be kept in the refrigerator for up to 5 days. Serve the pudding cold and enjoy with your favorite garnish – whipped cream, cherry, freshly cut bananas, etc.
recipe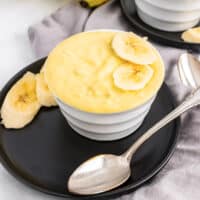 Vegan banana pudding
You can serve this creamy and delicious vegan banana pudding with just a few ingredients. This pudding is sure to be a hit!
To press
Pen
rate
E-mail
Course: dessert
Kitchen: American
Diet: Gluten free, vegan, vegetarian
Keyword: Banana pudding recipe, how to make vegan banana pudding, vegan banana pudding
Preparation time: 5 protocol
Cooking time: 10 protocol
Rest time: 4th hours
Total time: 4th hours fifteen protocol
Servings: 2 Servings
Calories: 937kcal
ingredients
2

medium-sized bananas

1 ½

cups

Coconut cream

½

Cup

Maple syrup

1

tablespoon

Cornstarch

1

teaspoon

vanilla

¼

teaspoon

salt

prize

Turmeric for color

Optional

sliced ​​bananas

optional for garnish
instructions
Mash the bananas in a small bowl.

Place the mashed bananas, coconut cream, maple syrup, cornstarch, vanilla, salt, and turmeric (if used) in a medium saucepan.

Heat ingredients on medium heat until they just start to boil, stirring frequently.

Place pudding in a heat-proof container and place in the refrigerator until cooled and thickened, at least 4 hours.

Serve the pudding with sliced ​​bananas if you like.
Remarks
If you want your pudding to be less sweet, use only half of the maple syrup in the recipe.
To make the pudding extra thick, double the amount of cornstarch.
If you mash the bananas with a fork, they won't be perfectly smooth, so the pudding will have small lumps. For a completely smooth pudding, use a food processor to mash your bananas.
This recipe calls for coconut cream – not coconut milk. They are not the same!
nourishment
Calories: 937kcal | Carbohydrates: 97G | Protein: 8thG | Fat: 63G | Saturated fatty acids: 55G | Polyunsaturated fat: 1G | Monounsaturated fatty acids: 3G | Sodium: 307mg | Potassium: 1192mg | Fiber: 7thG | Sugar: 63G | Vitamin A: 76IE | Vitamin C: fifteenmg | Calcium: 114mg | Iron: 5mg
Vegan-ize any recipe!Grab our free vegan cheat sheet filled with my favorite simple substitutes to make any recipe vegan.