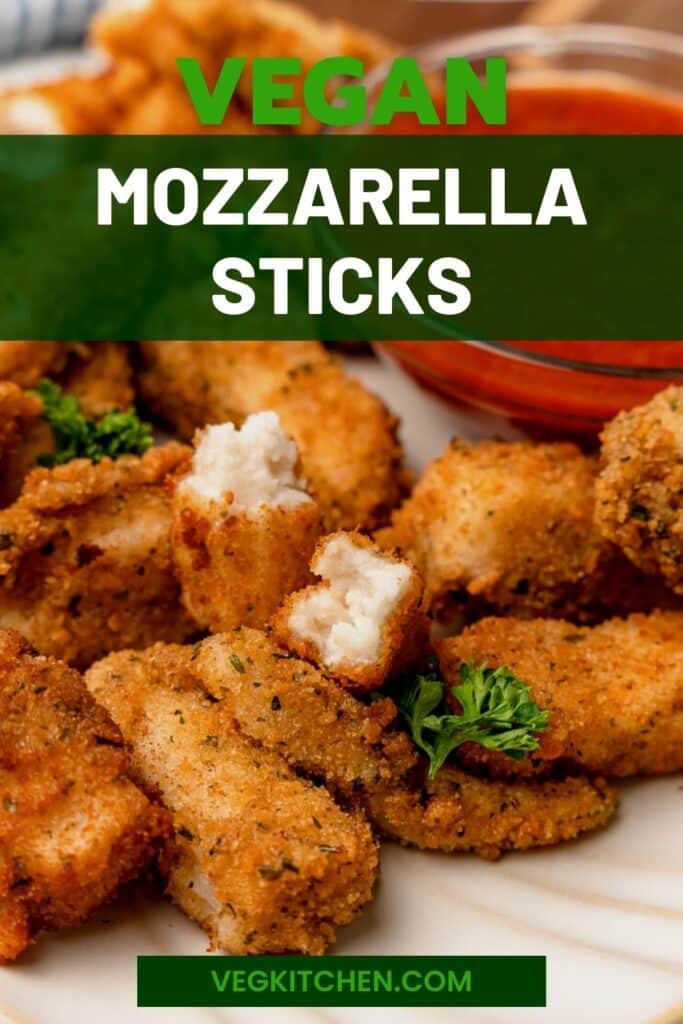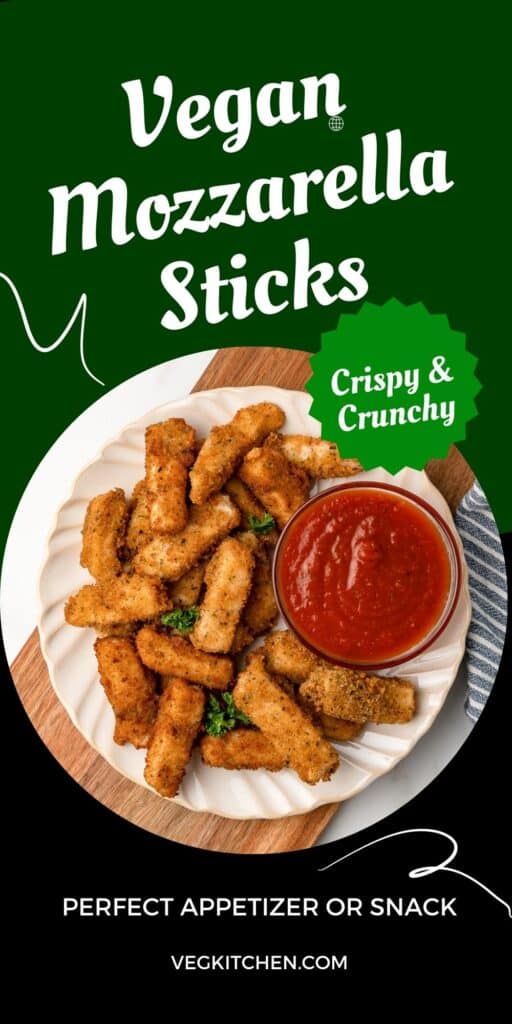 Learn how easy it is to make this Vegan Mozzarella Sticks recipe. It's a vegan mozzarella cheese that's coated in breadcrumbs and deep fried until crisp. This vegan appetizer or snack convinces with a crispy bite.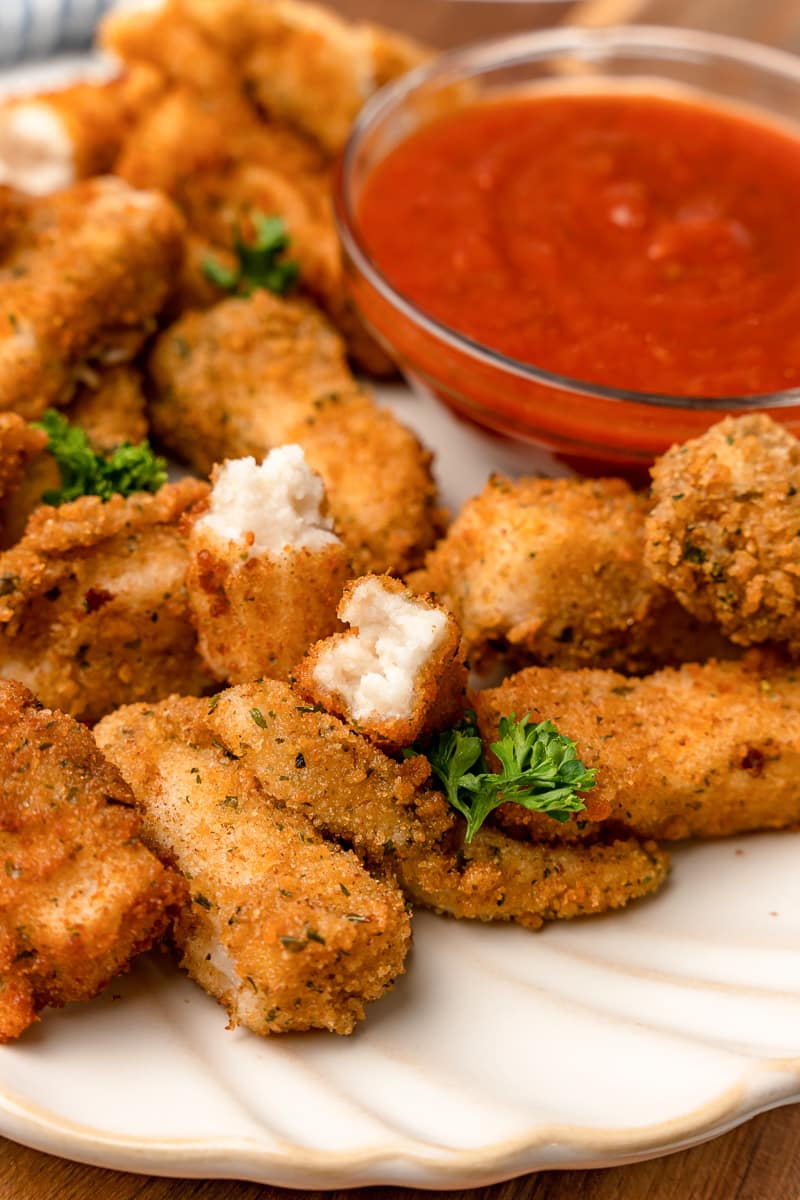 Be sure to check out my vegan cheese sauce, it contains no nuts. Or check out these vegan appetizers to consider. If you haven't tried vegan cheese recipes yet, you need to. It gives you flavors similar to cheese but without the dairy.
This recipe for vegan mozzarella sticks is…
Vegan
vegetarian
Non dairy
appetizer or snack
Easy to do
Fried in a pan
How to make vegan mozzarella sticks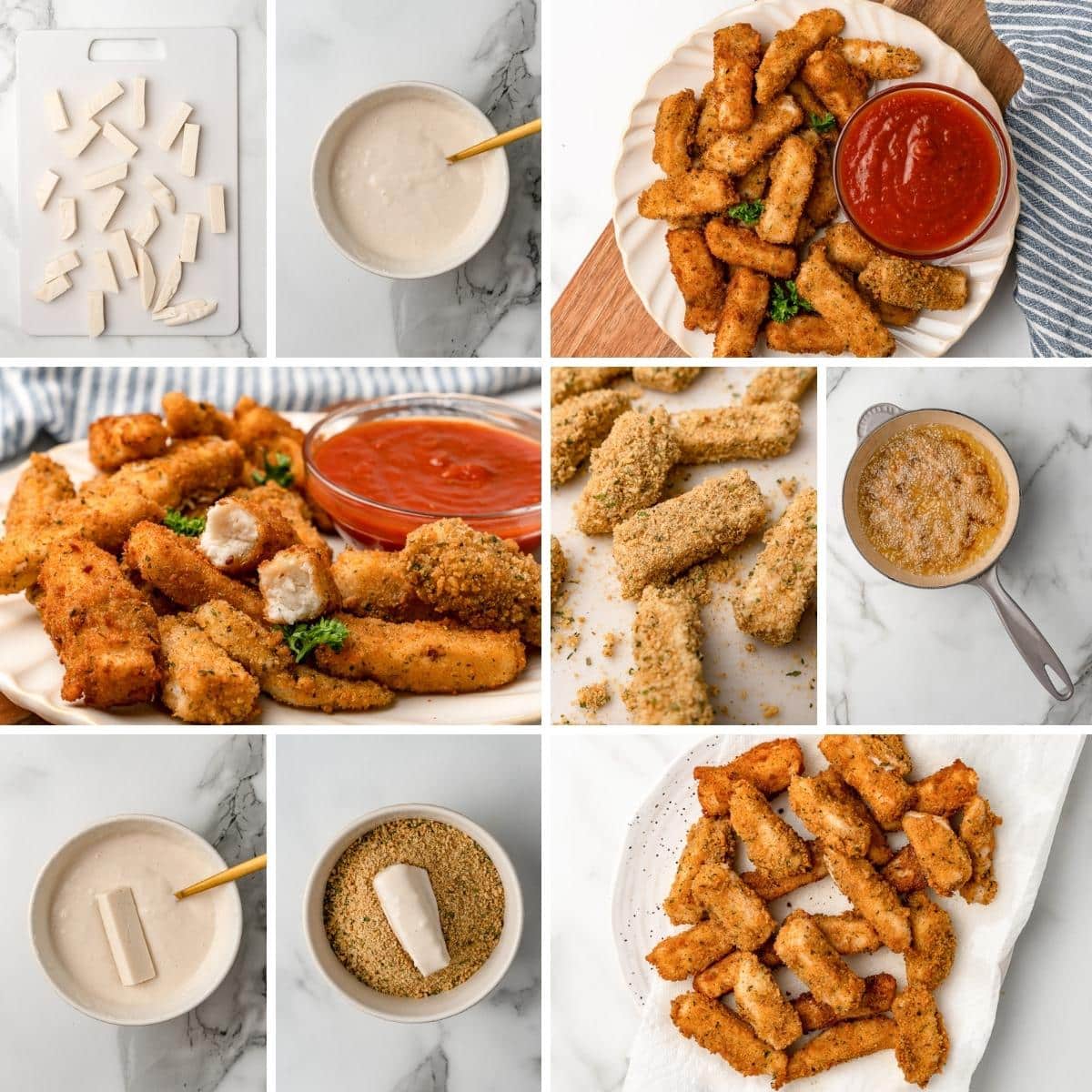 See the printable recipe card for full steps on how to make vegan mozzarella sticks. This is a quick guide on how to make it.
Heat the oil in a heavy pan. Make sure it reads 350 degrees.
Then you cut the vegan cheese into rectangular pieces.
Whisk together the flour, milk and salt in a bowl.
Dip in the flour mixture and then roll in the breadcrumbs.
Fry it in the pan, making sure it is golden brown on the outside.
Serve with marinara dip, if you like.
Helpful tips for making vegan mozzarella sticks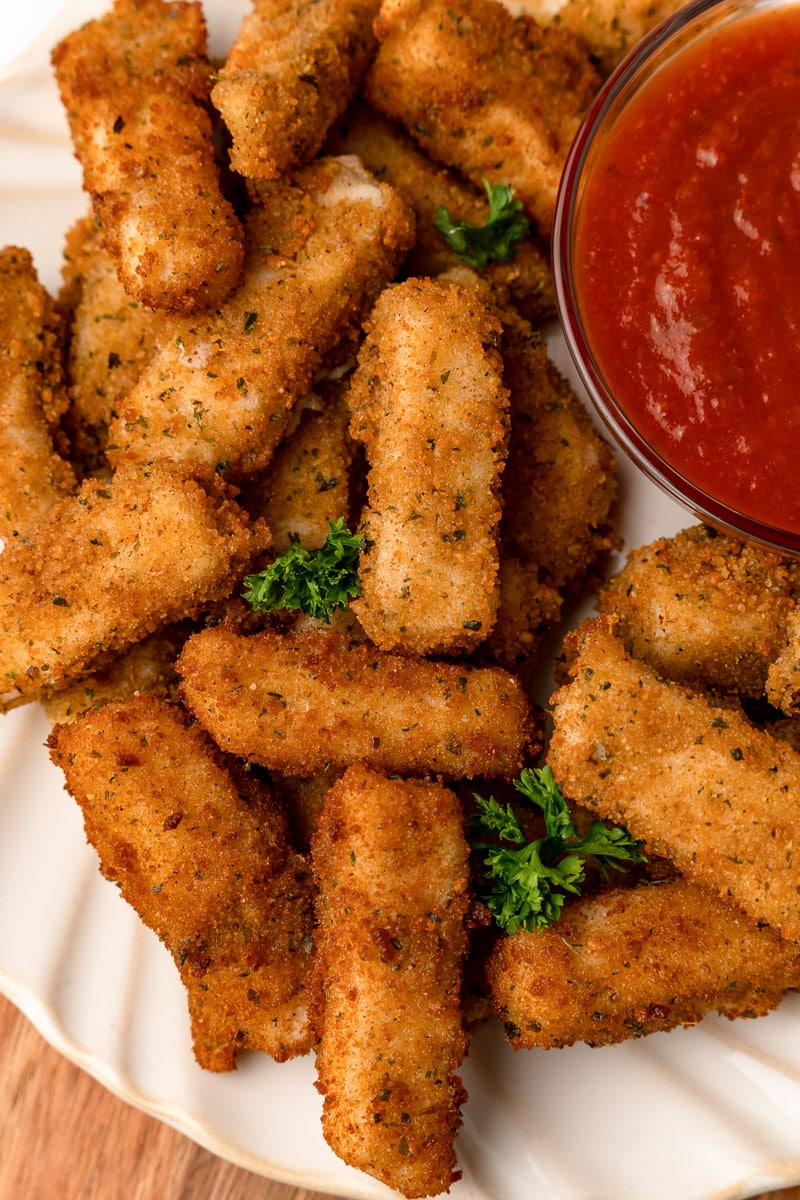 cutting cheese
I like to cut into long rectangles to look just like a traditional mozzarella stick you would order at a restaurant. Depending on how big or small the cooking time varies.
pan for frying
A sturdy pan allows the oil to heat up evenly. If your pan is light, it can create hot and cool spots and potentially cause you to have uneven cooking.
Vegan Mozzarella Sticks Variations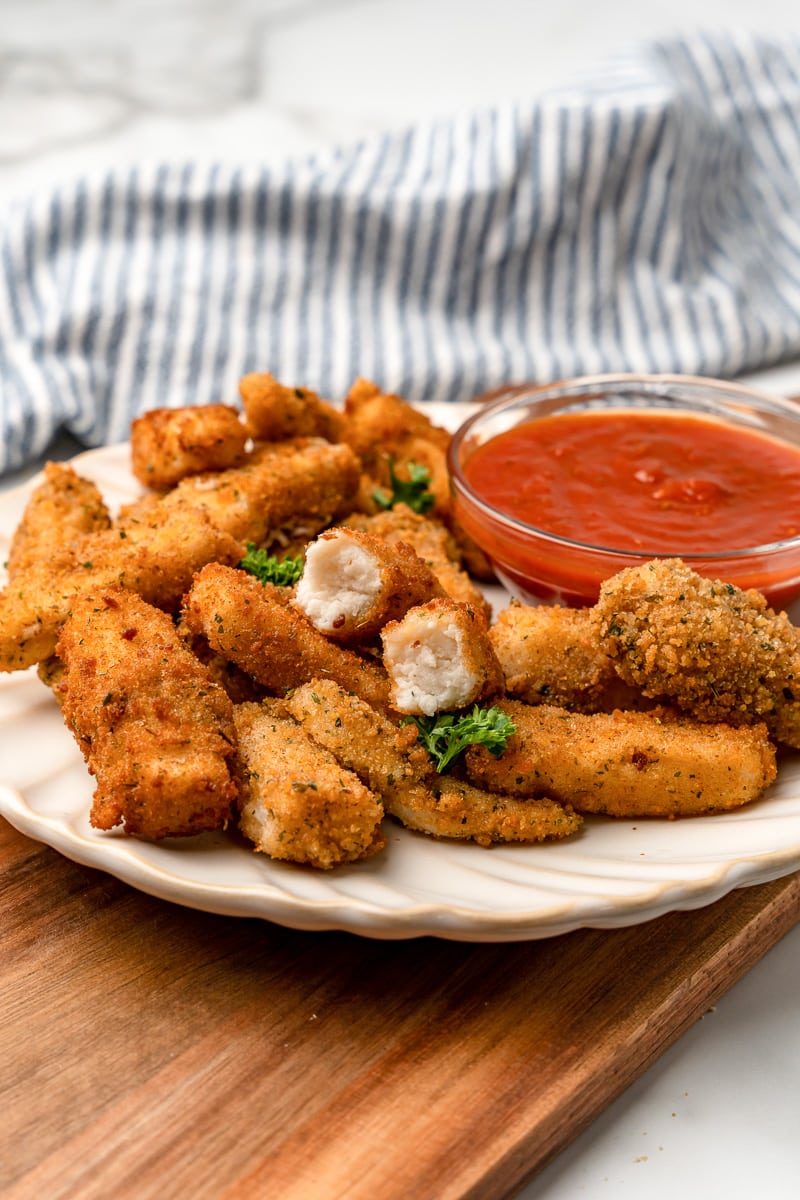 Cheese
I used a cashew-based vegan mozzarella cheese. Feel free to swap it out for any vegan cheese of your choice.
breadcrumbs
I used Italian flavored breadcrumbs, but you can substitute regular breadcrumbs for them. Then add any spices you wish to flavor your mozzarella sticks.
oven baked
Instead of pan frying, you can place these sticks in a single layer on a baking sheet. Spray with cooking oil and bake at 425 for about 10 minutes. I flip half through and then spray the other side with cooking spray. The cooking spray makes the sticks crispy.
Frequently asked questions about vegan mozzarella sticks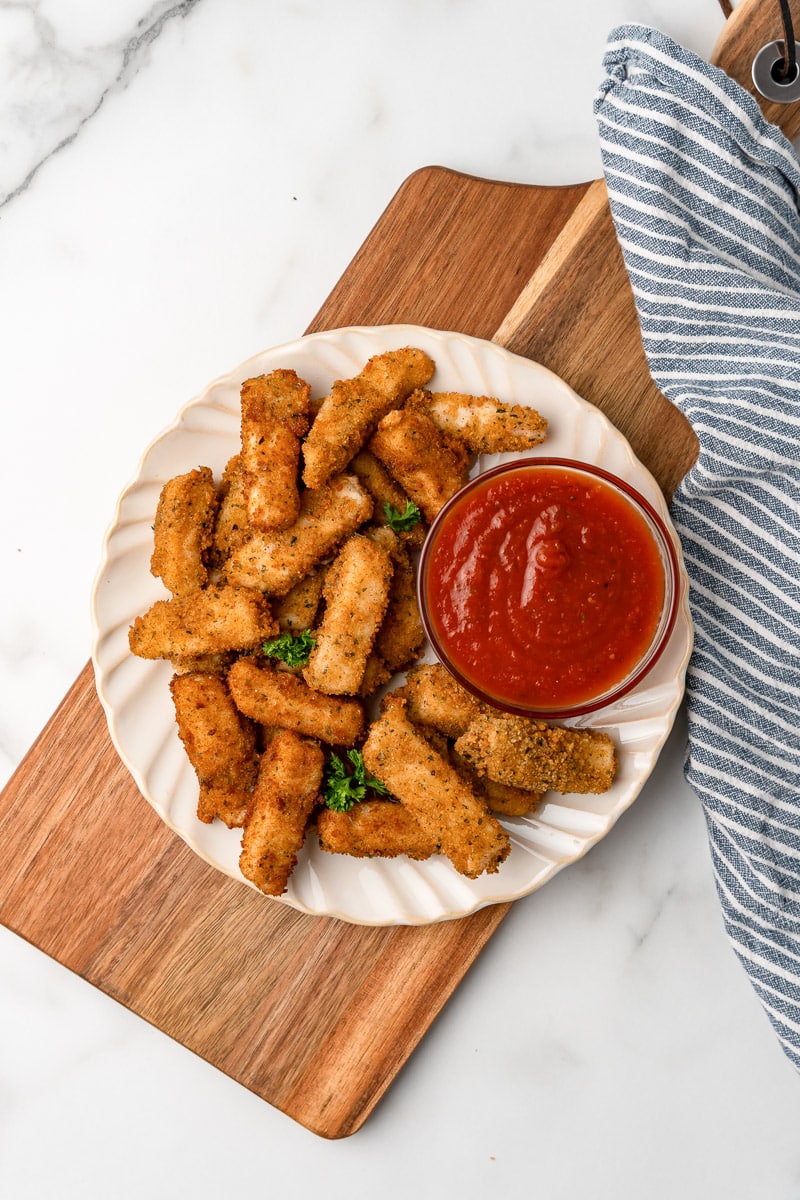 What is vegan mozzarella cheese made of?
Vegan cheese is usually made from nuts. They are made with plant-based proteins instead of dairy.
Is Vegan Cheese Healthier Than Milk Cheese?
Vegan cheese is a healthier alternative to dairy cheese. There are no dairy proteins, fats etc. You will find that dairy free is recommended.
Can you freeze vegan mozzarella sticks?
After beating the sticks, place them on a lined baking sheet. Then freeze for 30 minutes to 1 hour. Once frozen, place them in a freezer container and freeze for 1-2 months. Then when you cook the mozzarella sticks, cook straight from the freezer.
How are leftover mozzarella sticks stored?
If you don't eat all of your mozzarella sticks, simply place them in the fridge in a sealed container or freezer bag. Store in the fridge for 3-4 days. You can eat them cold or warmed up. You will find that the crunch is softer on the outside.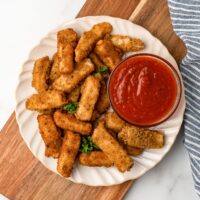 Vegan mozzarella sticks
These vegan mozzarella sticks are the perfect plant-based appetizer! Stretchy vegan mozzarella is tossed in a crunchy breadcrumb topping, fried to perfection and served with a marinara dipping sauce.
To press
Pen
rate
E-mail
Course: Snack / appetizer
Kitchen: American
Diet: Vegan, Vegetarian
Keyword: Plant-based appetizer, vegan mozzarella, vegan mozzarella sticks
Preparation time: 10 protocol
Cooking time: fifteen protocol
Total time: 25 protocol
Servings: 24 pieces
Calories: 63kcal
ingredients
8th

oz.

vegan mozzarella cheese

½

Cup

unsweetened almond milk

⅔

Cup

flour

1

teaspoon

Salt

1

Cup

Italian style breadcrumbs

Rapeseed oil for frying

Marinara to serve

Optional
instructions
Preheat the oil in a large, heavy-bottomed skillet to 350 F

While the oil is heating, cut the vegan mozzarella into small square pieces

Whisk together the flour, almond milk, and salt in a medium bowl

Dip the mozzarella pieces into the flour batter, then shake off the excess.

Next add to the breadcrumbs.

Repeat until all of the mozzarella is covered.

Carefully drop a few sticks of mozzarella into the hot oil, being careful not to overcrowd the pan, and fry for a few minutes. Then use tongs to gently remove them onto a paper towel lined plate

Repeat until all of the mozzarella sticks are fried

Serve warm with marinara
Remarks
These are just as tasty as "regular" mozzarella sticks, the taste is perfect, the only difference is that the vegan mozzarella cheese doesn't "stretch" as much.
The cheese is easy to work with because it doesn't melt and expand, so it doesn't need to be refrigerated before frying
I used a cashew-based vegan mozzarella cheese
nutrition
Calories: 63kcal | Carbohydrates: 8thG | Protein: 1G | Fat: 2G | Saturated Fatty Acids: 1G | Polyunsaturated fat: 0.2G | Monounsaturated fatty acids: 0.1G | Cholesterol: 0.05mg | Sodium: 265mg | Potassium: fifteenmg | Fiber: 1G | Sugar: 0.3G | Vitamin A: 10ie | Vitamin C: 0.1mg | Calcium: 23mg | Iron: 1mg
Veganize every recipe!Get our free vegan cheat sheet, packed with my favorite easy substitutes to make any recipe vegan.