This site may contain affiliate links and advertising to enable us to provide recipes to you. Read my privacy policy.
Yakitori sauce is a Japanese condiment traditionally used on grilled chicken skewers. Sweet, savory and smoky, it's the perfect sauce for all your grilling needs this summer!
Making homemade sauces is the best! You get all the delicious flavor with no preservatives or additives. Plus, you can customize the flavor to your liking! Homemade yum yum sauce, hoisin sauce, and teriyaki sauce are all great for adding a dash of Asian flavor to your cooking!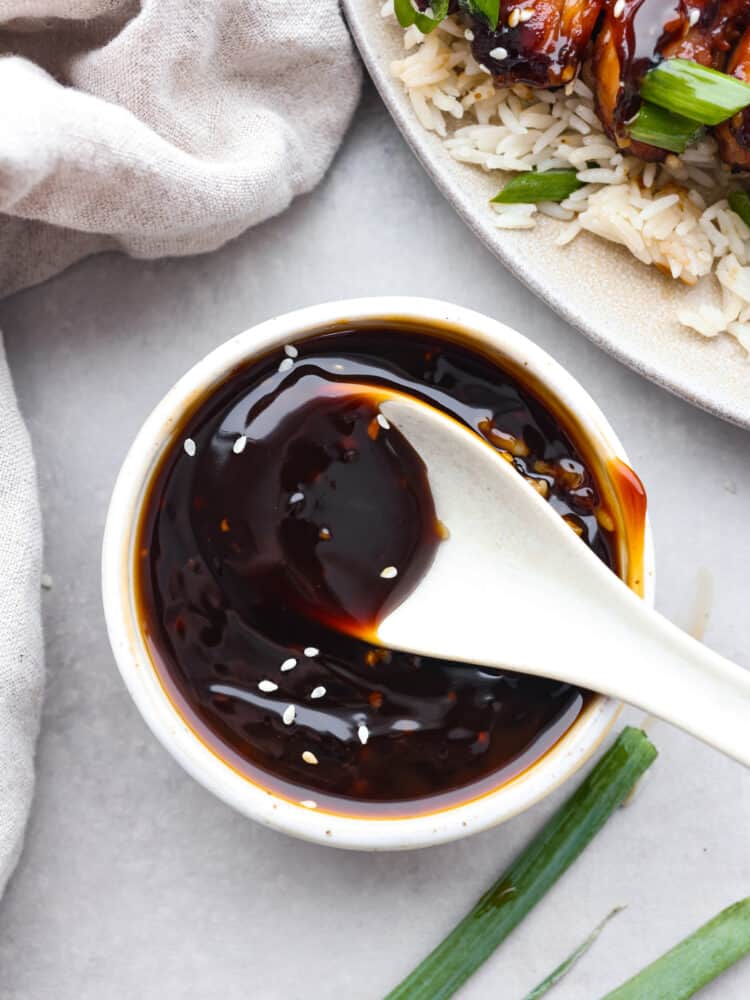 What is yakitori sauce?
If you've never tried yakitori, it's essentially different types of grilled chicken glazed in a sweet and smoky sauce. It's a common street food in Japan. You can also find it in izakayas (the equivalent of a Japanese pub), paired with alcohol. There's a reason it's so popular – the meat melts in your mouth and is so flavorful! You can bring these delicious Japanese flavors into your own kitchen with just a few simple ingredients.
The yakitori sauce is based on soy sauce and then flavored with brown sugar, garlic, cooking rice wine and sake! The taste is incredible. It's everything you could want in a grilled meat glaze! Sweet, smoky and savory with a touch of spice. The yakitori sauce is the perfect consistency too! It's thick and glossy and will make your mouth water just looking at it. Here's everything you need to know to whip it up at home!
What is yakitori sauce made of?
Many of these ingredients will likely already be in your pantry, but you may need to make a trip to your local Asian market to cook up rice wine and sake. They complete the taste! Note: You can find the measurements for each of these ingredients in the recipe card at the bottom of the post.
Soy sauce: Soy sauce is the perfect savory base for this sauce and helps tenderize meat.
Brown sugar: Adds a deep, smoky sweetness.
Mirin rice wine: Cooking rice wine adds just a hint of sweetness and gives the yakitori sauce the perfect glossy sheen.
favor: Adds a spicy, complex flavor and helps tenderize grilled meat. You can replace this with cooking wine or rice wine vinegar.
Chopped Garlic: No savory sauce is complete without some garlic!
water: Activates the cornstarch and helps to mix all the ingredients together smoothly.
cornstarch: Makes your yakitori sauce nice and thick!
How to make yakitori sauce
Yakitori sauce is so easy to make! All you have to do is whisk everything together over the stove. Then it's ready for all your favorite grilled foods and veggies! It's also a great sauce for chicken wings!
Whisk ingredients: In a medium saucepan over medium heat, whisk together soy sauce, brown sugar, rice wine, sake, and garlic.
Thicken: In a small bowl, whisk together the water and cornstarch. Pour into the pot and whisk. Continue cooking until it starts to thicken.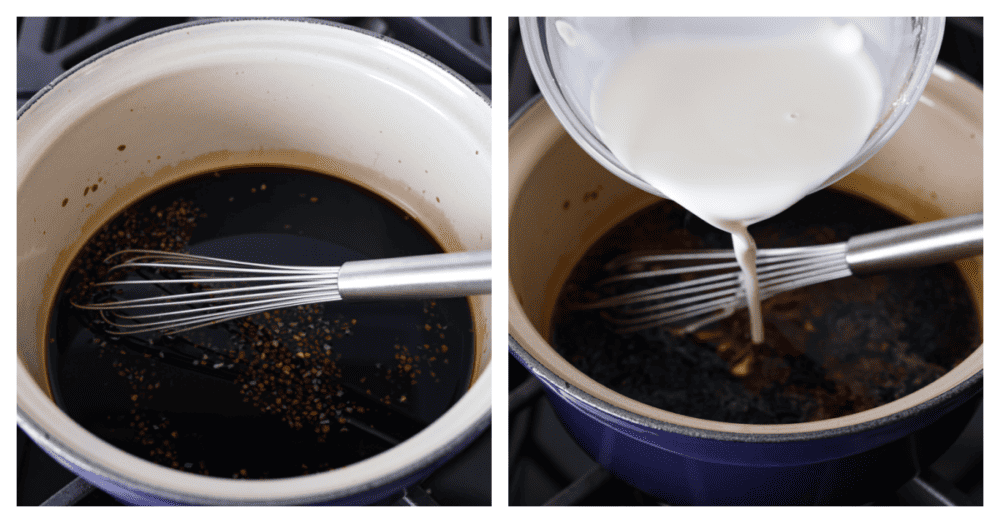 Slight variations
Here are a few easy ways to customize your yakitori sauce!
Gluten free Execution: You can easily make your yakitori sauce gluten-free by swapping out regular soy sauce for a gluten-free variety.
flavor additives: Customize the flavor of your yakitori sauce by adding things like lemon juice, grated ginger, honey, sesame oil, or chilli powder for a touch of spice!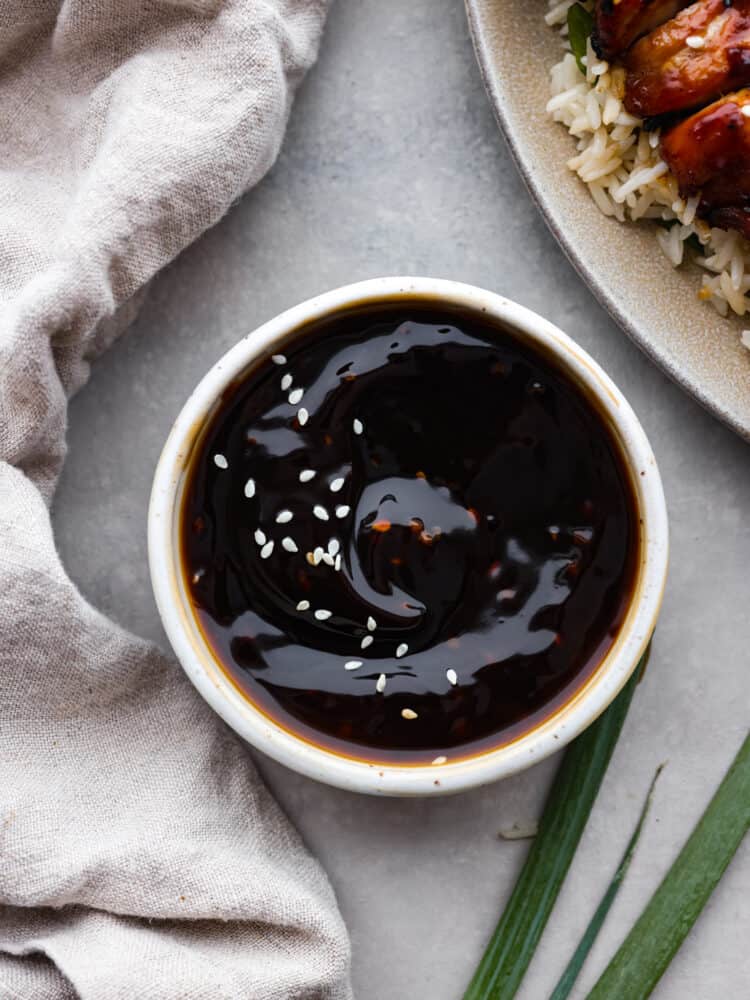 store leftovers
The great thing about homemade yakitori sauce is that it keeps for a really long time! As long as you store it in an airtight container in the fridge, it will last for a few months. Throw it away if mold or a bad odor develops.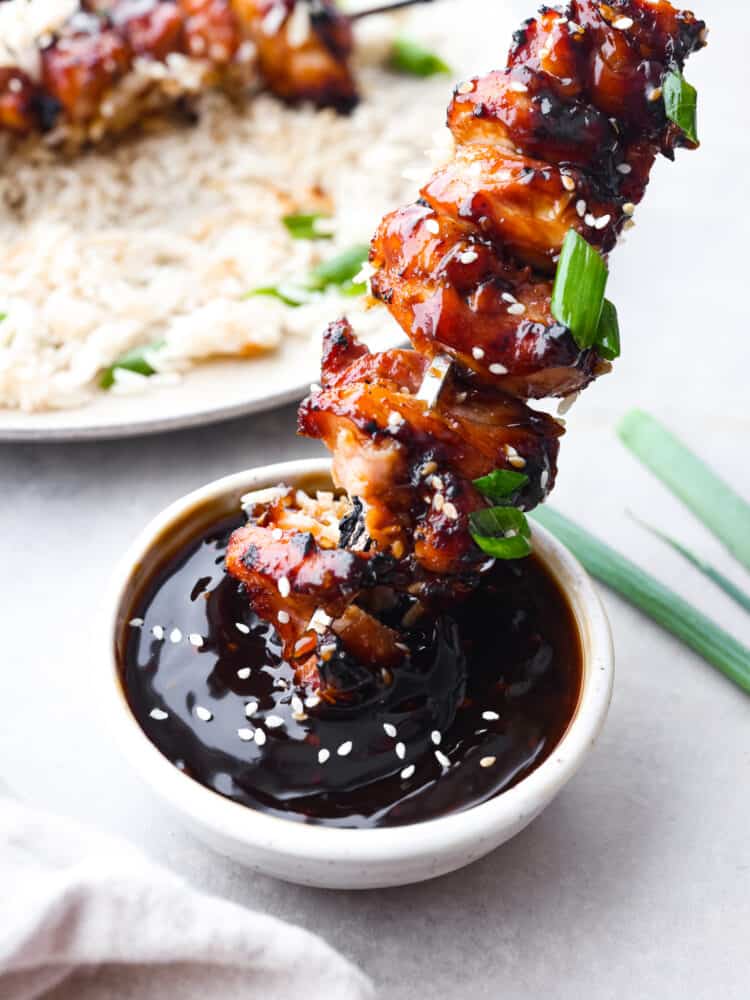 More homemade sauces
Homemade sauces have the best taste ever! They are so fresh and you know exactly what's in them. This makes it easy to customize them to your liking. I've compiled a few of my many favorites. Whether you use them for dipping or to add a flavor boost to meat and veggies, they won't disappoint! And the best? Most are up and running in minutes. You can find my full list here!
In a medium saucepan over medium-high heat, whisk together soy sauce, brown sugar, rice wine, sake, and garlic.

In a small bowl, whisk together the water and cornstarch. Pour into the sauce pan and whisk. Continue cooking until it starts to thicken.
serves: 4
calories114kcal (6%)carbohydrates21G (7%)protein4G (8th%)Fat0.1GSaturated Fatty Acids0.01GPolyunsaturated fat0.02GMonounsaturated fatty acids0.01Gsodium2166mg (90%)potassium113mg (3%)fiber0.4G (2%)sugar14G (16%)Vitamin A0.2ievitamin C1mg (1%)calcium24mg (2%)iron1mg (6%)
All nutritional information is based on third party calculations and is an estimate only. Each recipe and nutritional value will vary per household based on the brands you use, measurement methods, and serving sizes.
course sauce
kitchen Japanese
keyword Yakitori sauce